Nikola Uzunovski's contribution to Green Platform – Art Ecology Sustainability, an exhibition running until Sunday at the Strozzina in Florence, is a scientific experiment and an artwork that might be less utopian than it appears.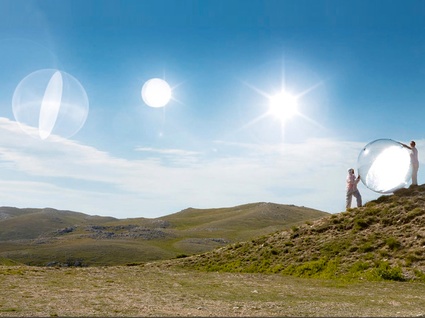 My Sunshine, 2009, rendering project. Courtesy the artist
When (or "if") fully developed, My Sunshine will reflect the sunlight and provide extra hours of lights in urban areas around the Arctic Circle, a region that receives no sunlight in Winter time due to the rotation of the Earth's axis. My Sunshine takes the form of a disc with integrated mirrors, suspended from a transparent aerostatic balloon. Climatologists, meteorologists, astrophysicists, aviation engineers, architects and designers were called by the artist to devise and agree on a theoretical groundwork that would enable these mobile reflectors to bring sunshine to Lapland at the height of winter.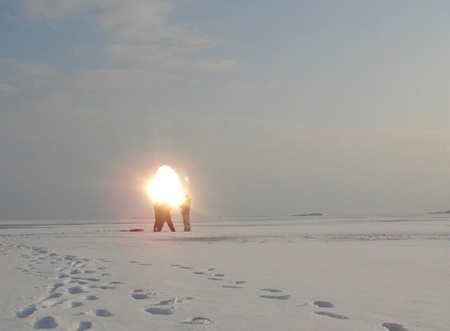 Uzunovski's room at the Strozzina presents his virtual mobile workshop to the public but also engages local design students in workshops that aimed to design the revolving rings on which the reflecting mirror will be anchored.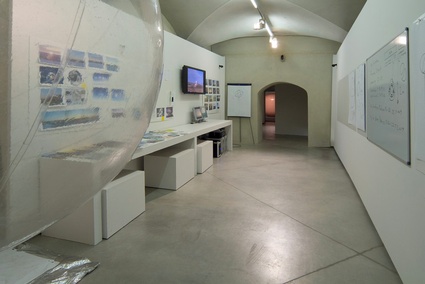 My Sunshine, 2009. Multimedia laboratory for work in progress. Photo Credit: CCCS, Firenze; Valentina Muscedra
The most important aspect of this research is the impact on the local population: an artificial sun also comes with improved social interaction and psychophysical well-being.
Nikola Uzunovski's personal artificial suns have been selected for the Macedonian pavilion of the 53rd Venice Art Biennale which runs until November 22 this year.
Interview with the artist.