Net_Dérive, by Atau Tanaka and Petra Gemeinboeck with the collaboration of Ali Momeni, is a location sensitive mobile media art piece that calls for an exchange between participants in the gallery and participants in the streets. Deployed on advanced mobile phones, the work seeks to create a kind of musical instrument, thinking of the city-as-instrument.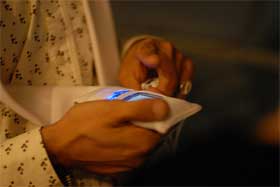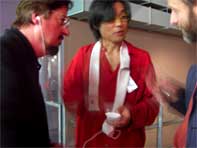 Participants are given a kind of scarf with a mobile phone in each end and off they go to explore the neighborhood. One of the phones takes pictures every 20 secs and collects sounds, the other talks to the GPS (also in the scarf) and to the server inside the gallery space. On a radar they can see themselves pictured as dots but also the images they're taking. The sounds and pictures collected in the streets are sampled and mapped to a 3D city map in the gallery. As users are walking they can hear some voice instructions through a pair of headphones. Those comments suggest paths to follow or turns to make, they are generated and heard in a musical fashion. The voice instructions are inspired by the old Situationist games and theory of the Dérive – now brought into the digital and mobile spheres. As the user chooses to heed or ignore these instructions, a trace of his/her path is carved out in the city.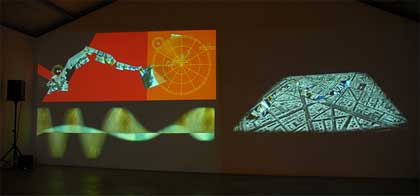 The engine then generates an audiovisual amalgam based on this information, and feeds it back as a live stream to each mobile client. The simultaneity, history, and memory of the various users' paths and images become an abstract narrative that is summed together and projected in the gallery space. A feedback mechanism is created as users' actions generate the collective narrative that in turn directs them.

Presented in Paris during the IntensiveScience exhibition of Sony CSL Paris, 6, 7-october 2006
Photos by Walter Kim and Dana Gordon. Images and information courtesy of Atau Tanaka.
UPDATE: Ali Momeni informs us that he has additional documentation (words, software, images and video) on his website.
Related: Sonic City, a wearable piece that enables people to compose music in real time by walking through the city; headphones that turn urban noise into music.
Atau Tanaka's talk at Futuresonic; Pixel bondage on rice paper.