Neighbourhood Satellites is one of my favourite projects. Ever. I've spammed Myriel Milicevic with messages asking her if she'd send me pictures, when she'll have something online, etc. So far, there's only the PDF of her brilliant thesis project. Proper website is coming soon.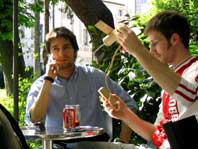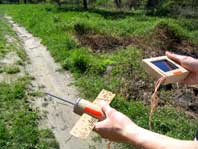 Neighbourhood Satellites are handheld sensing devices that monitor people's local environment. In its current prototype form, the satellite is able to sense air quality, light, and the presence of cell phone signals.
The data collected is presented in three different modes:
– In "status" mode, it displays the current conditions.
– In "game" mode, the satellite leads a parallel existence inside a video screen, navigating amongst the offending pollutants in need of analysis.
– In "map" mode, the system receives data from the other "satellites" carried by people in the area, and displays on a map, their location and contamination level. This mode could generate some interesting behaviours: A group of players, gathering in larger numbers at polluted street junctions, navigating their satellites through thick air, might just as well be interpreted as a silent protest.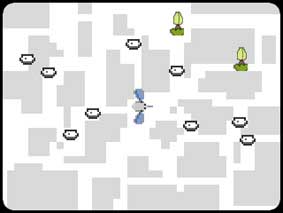 The way the satellite is tilted by the hand controls its navigation on the screen. So the satellite's position in the hand is just as relevant to the game as the position of the player inside a space.
The satellite also communicates through tangible behaviour. For example, when approaching air pollutants onscreen, the satellite inside the game will suck in air to capture specimen. Simultaneously, the physical satellite emits streams of air that the player can feel in his hand. A gentle vibration accompanies the sensation.
Note to Myriel: Hope you're not mad at me because I didn't wait for the website…
Related: Flower Power.