Nottingham-based technology artists, Active Ingredient (authors of 'Ere Be Dragons), are to launch an interactive game that will link the people of Leicester, Nottingham and Derby.
Love City will allow people to text each other in a game that awards points for making connections with people from the other cities.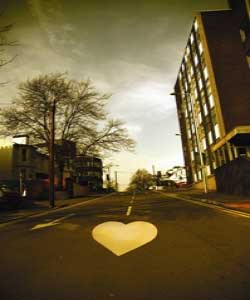 The game uses mobile cell location to track users' positions in the three cities. When a player moves between mobile phone 'cells', s/he (Player 1) receives an SMS that includes an update about Love City and the status of other players in their area or in one of the cities. Players can then connect with each other by sending a text to another person in another place. If Player 2 accepts Player 1's message of love, a connection is made and these form a "bonded pair". If a second connection is made from this group to a third player, then a triplet or Ménage à trois is created.
When a triplet is formed, Player 1 is awarded an avatar known as the "offspring" which acts as an agent for them in this particular cell. Subsequent connections with this agent are relayed to the original player who may be far from the cell but can still connect and initiate a process which leads to the creation of more offspring and points for them. Thus their empire grows.
The first test of the game, commissionned by Three Cities, will take place on April 3 – 9 2006.
The full-scale public project is likely to take place at the end of the year when a big-screen projection of the game will be broadcast in the main public spaces of each city.
Via Media Arts Education. Background information from 24hour museum and Three cities.