The Mignon Game Kit is a kitset created by Olaf Val to enable a minimalist Gameboy to be individually designed, programmed and built, allowing its owner to develop a personal relationship to her/his device through the processes of self-production and self-programmation.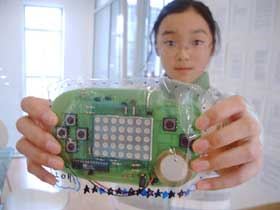 Workshops and online instructions enable advanced learners to invent and programme their own games. So the DIY console of the Mignon Game Kit provides not only the opportunity for basic experiments with micro-electronics for first time users (apparently 10 year old kids are very clever at it) but can also be used as a platform for individual computer games.
Just brilliant!!!
Via Chris who's still looking for suggestions about video game controllers used as peformance devices and musical instruments.