Public Broadcast Cart, by Ricardo Miranda Zuñiga (author of Vagamundo), is a shopping cart equipped with a microphone, a mixer, an amplifier, six speakers, a miniFM transmitter and a laptop with a wireless card.
This system allows any passer-by to become the producer of a radio broadcast.
As the Bush Administration and the FCC seek to hand over our media resources to the wealthiest corporate media entities looking to monopolize the media from print to radio to television, it is upto the independent producers to subvert big money domination of our culture.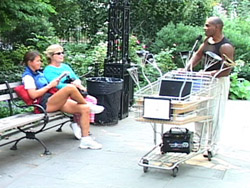 Canadian artist Michelle Teran uses also a cart in her ongoing project Life: a user's manual . This series of public performance walks and online mappings explore the stories captured by private CCTV.
Dressed as a homeless woman, Teran pushes a shopping cart containing, under rags and discarded objects, a mobile computing system that snatches surveillance broadcasts from the surrounding airwaves.
Along with the images displayed on screens visible on the side of the shopping cart, the captured sounds are broadcast, weaving a narrative of the unseen eyes and ears of private policing as Teran navigates both the real and virtual urban landscape. Here, the artist taps the potential of the invisible by giving it exposure to the world.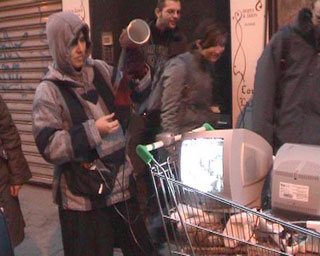 Life: a user's manual is exhibited in ECHO local, Gallery 400, Chicago, till November 27.