I just spent a couple of eventful days in Eindhoven, NL. Endless thankyouverymuch to my lucky star (in this case the MU art space) who brought me there as the Van Abbemuseum had just opened a fascinating and very timely exhibition dedicated to contemporary art and culture of the central and southern states of America. I'll come back with more details on Heartland but here's the appetizer:
Minoru Yamasaki, the architect of the WTC twin towers, authored another set of buildings that would end in gravel and dust in front of TV cameras, this time in St Louis, Missouri.
Designed in 1951, when the city was still segregated, the Pruitt-Igoe was a complex of 2,870 apartments. Originally, the city planned two partitions for the housing project: Pruitt for black residents, and Igoe for whites. But as segregation was ruled unconstitutional in the 1954, the project was opened as racially integrated that same year. Within two years, most white residents had found the means to relocate elsewhere.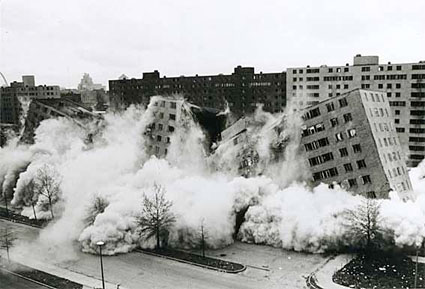 A building in the Pruitt-Igoe housing development collapses during its widely-televised demolition
Yamasaki's initial designed incorporated Le Corbusier's '3 essential joys of urbanism; sun, space and greenery'. Severe cuts in the budget forced the architect to compromise its original plan, leading eventually to the deterioration of the gym, playground and landscaping. The complex was vandalized and quickly fell into disrepair and disuse.
After several unsuccessful attempts to rehabilitate the area the St. Louis Housing Authority began demolition of the complex on March 16, 1972. It was regarded as a failure of architecture as a tool to solve complex social problems.
Ironically, the rubble was carted off to serve as landfill for luxury homes being built in the suburbs of Ladue, Missouri, the wealthiest and most expensive neighbourhood in the U.S. at the time.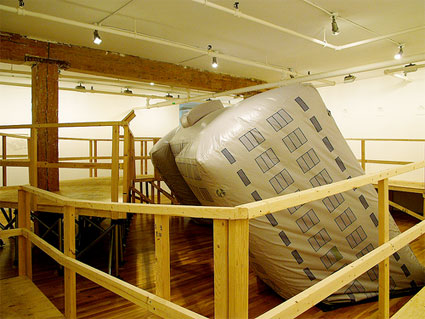 Michael Rakowitz, Dull Roar, 2005
Reports of the time say that the public attending the demolition let out a dull roar as the buildings fell. Artist Michael Rakowitz, famous for the paraSITE plastic shelters, recreated the Pruitt-Igoe housing project in the form of a big inflatable building. He called it 'Dull Roar'.
The inflatable structure is right at the center of a circular wooden ramp, and the public can walk up, gather around and watch the building deflating and then resurrecting, again and again. The spectacle evokes those images we all saw on TV a few years ago: on the screens the Twin Towers stood erected than fell, you'd switch channel and here they were again, up then down.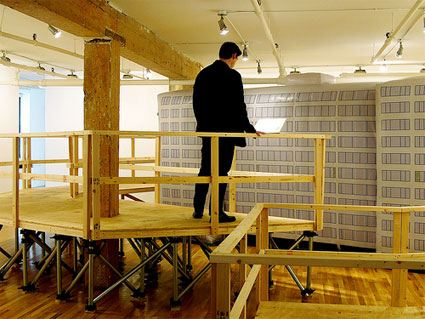 Michael Rakowitz, Dull Roar, 2005
Small drawings hanging around the inflatable evoke the local baseball team's loss the night of the implosion, the sad death of architect Louis Kahn in a Penn Station bathroom and, once again, the collapse of Yamasaki's World Trade Center.
The installation, featured in the the Heartland exhibition, is on view at the Van Abbemuseum in Eindhoven until January 25, 2009.