With Maximilian's Pet Shop, designers Ella Kilgour (see her Declic shoes) and Katie Higgs intend to change the perception of what a pet shop can be, using trends in society and fashion to design.
"Maximilian's designs are not exclusive to pet owners." Products within the range are designed to add theatre to the nature of the relationship between owners and their pets. With the consumer in mind, Maximilian designs products that animals can use, but people desire.
The Pet as Trophies series allows you to carry your pet with you, presenting extreme fashion accessories. They are Maximilian's take on the behaviour of stars such as Gerry Halliwell and Paris Hilton, who are regularly spotted pointing their pets at the camera.­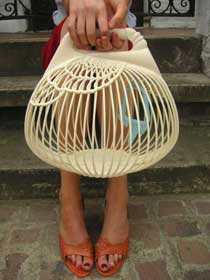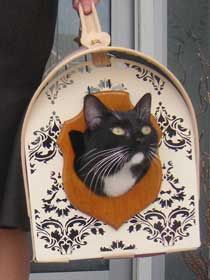 The Birdcage Bag possesses theatrical and poetic qualities. The concept of carrying your pet around with you as fashion accessory describes an absurd yet dramatic relationship between a bird and it's owner. The fashion accessory is both a bag and a birdcage individually.
The Taxidermy Kitty Carrier pays the ultimate tribute to your pet whilst you travel together. The tragic but audacious nature of the Kitty Carrier captures the essence of the Maximilian brand.
Inspired by burrowing animals, the Burrower knitwear branch of Maximilian is regal and aristocratic in appearance.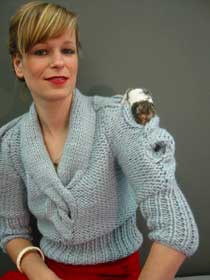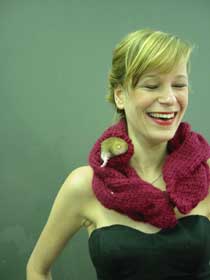 Both the cable-knit jumper and the collars establish a terrain where small rodents are free to burrow through a network of oversized cable-knit tunnels whilst remaining closely on your person.
The Playboy Mansion is a flat-pack hamster cage steeped in history. The aesthetic of the cage is representative of new-romanticism, a movement in which we are very much a part of. The dwelling is designed to appear more like a small architectural study rather than a cage for a hamster. The aesthetic of the living space is inspired by the style and personality of its resident whose tastes are not dissimilar to Playboy founder Hue Hefner.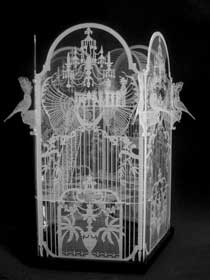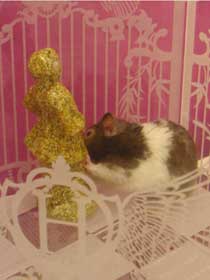 I've just blogged some more on popgadget.