Bioartists Marion Laval-Jeantet and Benoît Mangin from Art Orienté Objet question manipulation of living creatures by science and society. So they "manipulate" themselves to create art.
For Cultures de peaux d'artistes, for example, they asked researchers of the MIT skin production laboratory in Boston (its products are used in treating burns) to take biopsies of their epidermis. In return, they got samples deposited on a pig's dermis which they tattooed with animal motifs, usually of endangered species or those used in biology. The result is to be exhibited in galleries or to be implanted in people's arms.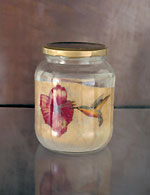 "The general public is shocked to see hybrids of our skin, but, in fact, what shocks is not so much the skin culture – even a hybrid one – as the fact of imagining the kind of world that such techniques imply," comments Marion Laval-Jeantet.
Their latest project, entitled Que le panda vive en moi, will consist of injecting themselves with panda's blood which has been rendered compatible.
Via RTD info.
Related, via Neural: Joanneke Meester made the tiny replica pistol with a piece of skin to protest against violence in society. The skin was surgically removed from her abdomen, then stretched and sewn over a plastic and fibre pistol mould.