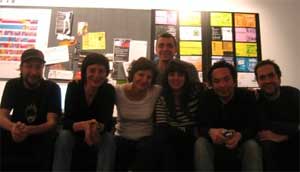 My three year long interest for new media art has brought me several time to Barcelona. At some point i even started wondering "Isn't there any other city that supports the world of art and technology in the Iberian peninsula?" There is! Gijon recently opened a very swanky exhibition centre for art, science, technology and advanced visual industries called Laboral (head to Douglas Edric Stanley's place to check out the videos and words) and the Spanish capital is getting increasingly busy showing, promoting and creating works of media art.
One of the main protagonists in the area is Medialab Madrid which aim is to bring art, science, technology, and society together. I got the opportunity to know more about it a few months ago when i met Marcos García during the festival Ars Electronica where MlM was exhibiting several projects developed during a workshop called Interactivos?. Together with Laura Fernández, Marcos is in charge of the activities of Medialab Madrid's educational program which they both started 3 years ago.
MLM is launching a second Interactivos? workshop inspired this time by the strategies of magic and illusion (deadline for applications is 27th April at 24h), which provides me with a very good excuse to ask them a few questions: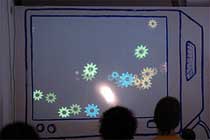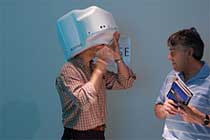 Magic Torch and xsense
I've been following the activities of Medialab Madrid from afar for a couple of years but i don't know its history. How did Medialab Madrid start?
Medialab Madrid started in 2002 as an initiative of the Cultural Center Conde Duque and the director Juan Carrete.
From the beginning it was conceived by directors Karin Ohlenschäger and Luis Rico as a transdisciplinary program focused on the intersection between art, science, technology and society. There were four channels of action: exhibitions, learning, support for artistic practice and research.
Under their guidance, four large international curatorial projects brought to Madrid some of the most outstanding new media art projects and the exhibitions were accompanied by an intense program of activities which included workshops and symposia where scientists, communication theorists, artists and activists discussed the themes of the projects and the day. Cibervision 02 (http://www.cibervision.org/), which explored the topic of fluid dynamics as a metaphor of life and communication processes; Banquete 03_Metabolism and Communication, a coproduction between the ZKM, Palau de la Virreina in Barcelona and Medialab Madrid; and Banquete 05_Communication in Evolution, which presented cultural, technological and biological evolution as inseparable processes.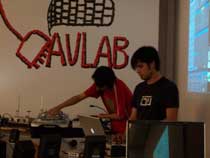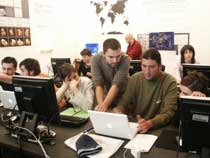 Experimental Music Encounter and Programming workshop
How did Medialab Madrid evolve over the years? Did the programme modified its objectives or fields of research?
Between the large events, we programmed workshops, seminars, presentations and smaller exhibitions were came to be quite celebrated. Through this intense education and community program a local group of curious visitors became regulars.
Our focus now is to create a structure to foster this local community. The orientation is towards research and production understood as permeable processes with the participation of anyone who comes. To make that possible we have started different stable lines of work which incorporate different models of participation – the learning should arise from the processes of research and production and the exhibition is tightly linked to the projects that are being developed.
So the main goal is to attend to the needs of the many different kinds of medialabmadrid users: from professionals to amateurs, from recognized experts to unkown experts, from regulars to first time visitors, and being able to integrate them into the research and production processes.
At the heart, we'd like to foster the figure of the collaborator. To make that possible it's very important to us the role of the cultural mediator, researchers that are always present here, studying the contents and welcoming the visitors, introducing them to the projects and giving them information depending on their demands.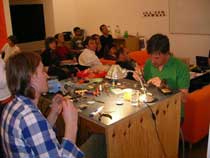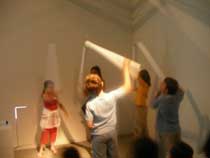 Interactivos?
During the last edition of Ars Electronica Medialab Madrid exhibited some of the projects developed over the Interactivos workshop. I heard that you are working on a new workshop. Can you tell us what it will be about, who will be leading it, what typically happens in those workshops and what you'd like to achieve with it?
Interactivos is an advanced workshop for the collaborative development of projects which are selected through an international open call. The topic for this year edition is "Magic and Technology", and deadline to present projects is 27th April. Once the projects are selected, we will issue a second call for people who want to participate in the development team of one of the selected proposals.
The workshop will be led by Daniel Canogar, Simone Jones and Zachary Lieberman.
We did the workshop last year, and in those two weeks, an intense work atmosphere is created. Artists, engineers, hackers, designers, musicians (and wizards in this case) work hand in hand to get the proposals developed with the help of the three teachers. And the whole process is open to the public, which can come into the working space, ask questions, talk to the developers or even join a team.
After these two weeks, the participants themselves set up their results in a full fledged exhibition here at the Conde Duque center. Last year's was a very popular success with visitors.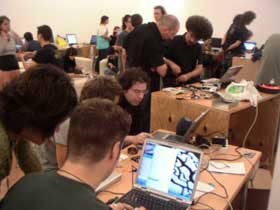 Another fundamental part of Interactivos? is the social interaction. Participants work together, exchange knowldge and ideas, and at night we take over Madrid as a huge group.
Additionally, the open source approach is an important focus. The workshop revolves around open software and open hardware tools like Arduino, PD and Processing. This year we will also be using openFrameworks, a c++ library that is available in pre-release, but will be released publically to coincide with this year's workshop.
Medialab Madrid is onto new adventures with upcoming new lines of work like a platform for research and production in data visualization. Why did you choose to focus on that particular field?
This platform is entitled "Visualizar� and it is directed by Jose Luis de Vicente, who has very interesting ideas about the social and communicative implications of data visualization. Data visualization is an area of work that tends to be collaborative. It's easy to see how one project might gather many different fields of knowledge together. It's also very clear that we live in a world that is generating a huge amount of data constantly.
This November there will be a symposium and a production oriented workshop where the participants will propose projects that explore ideas, data sets, design and visualization tools, and coding techniques in order to find new ways to represent and clarify complex systems.
Now there's also a net-culture platform and a Commons Lab in the pipeline. What are the objectives of these two projects?
The net-culture platform is called "Inclusiva-net� and it is run by Juan Martín Prada. It responds to the lack of theoritcal websites in both Spanish and English, and to the idea of creating a meeting point for the theoretic production at the medialab. It will be presented next week and like the other lines of work, functions with an open call for participation.
The "Commons Lab,� organized by Antonio LaFuente, consists of a group of twelve researchers from different fields such as biology, ecology, medicine, pharmacy, philosophy, law, activism, urbanism, economy, and technology, that will gather once a month in an open round table to discuss the commons, those resources that belong to all but also to no one like the air, the water, and the radio spectrum. One key objective of this project is to develop strategies to visualize these commons.
The overlaps between these projects are interesting. For example, this month we are celebrating a workshop of OpenStreetMap and cartography is a part of "Visualizar�, but also brings some questions about geodata's uses, property and licenses. Could the geographical information be considered as a common as well? These overlap are an important part of our programming.
How does Medialab Madrid function (how many people work there permanently or not, how do you get the fundings, etc.)?
Medialab Madrid is financed by Madrid`s City Council. There are seven people working permanently, in planning, administration, graphic design, audiovisual communication and technology. Also, we have two full time cultural mediators, who interface with the public, as well as a dedicated staff of interns and volunteers. In addition, for each line of work that we start, we collaborate with outside experts.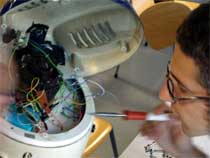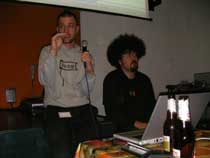 Dorkbot Madrid: Circuit Bending (image by Carlos Alarcón) and Hans C. Steiner + Javier Candeira
Are there other programmes, events, institutions or organizations in Madrid that do works similar to Medialab Madrid or is your programme unique in the Spanish capital? How does Medialab Madrid fit into the cultural panorama of the city?
Over the last years you can see that a very strong community is growing in Madrid, and it's clear that it's now a very exciting moment where a local community of makers, theorists and acivists are coming together.
It's important to highlight the role of Dorkbot Madrid in making this possible and the organizers Javier Candeira, a truly important figure in the spanish digital culture, and Juan Carlos Alonso, who has led the Arduino community here in creating an education system for secondary schools.
Intermediae is located at the old madrid slaughterhouse and, while recently opened, there are huge expectations about it.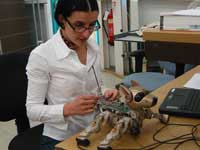 Last week the project Vida started with a new program of workshops with one given by France Cadet, with the notion of supporting more locally produced projects.
Another important media art figure in Madrid is Vicente Matallana, who has been fundamental for media art initiatives during last years in ARCO, like the Black Box and various symposia on digital art and intellectual property.
Finally, there is an extremely active center called La Casa Encendida, which organizes workshops, events, and an interesting radio laboratory.
Could you recommend us a few artists from Madrid who should get more attention from the public?
I would love to mention some collectives, which is a very popular way of producing work here in Spain. SinAntena is a community tv station based in the active neighborhood of Lavapies. That area also is home to Ladinamo, a very active cultural collective that hosts dorkbot.
La Fiambrera Obrera, a Madrid collective, are responsible for Border Games, a community based videogame production platform developed together with a group of young inmigrants to Madrid.
I would also like to highlight Manifestómetro, a group that has developed a very simple and effective way to calculate the number of participants in a demonstration, a very popular practice in the capital during the last years (image). The creators have just launched a new web project called Lo prometido es deuda: a record of polititians' promises in order to see if they are realized. And there's also a collective of architects called Basurama, who are working around creative uses of garbage.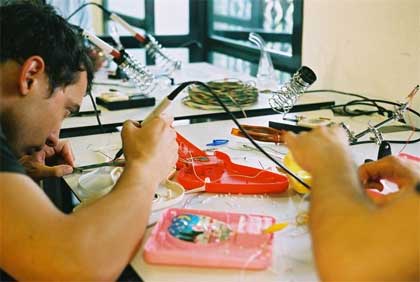 Basurama – circuit bending
All of these projects and more make Madrid an exciting and inspiring place to be working.
Thanks Marcos!
Hurry up! The deadline to submit projects for Interactivos: 27th April at 24h.