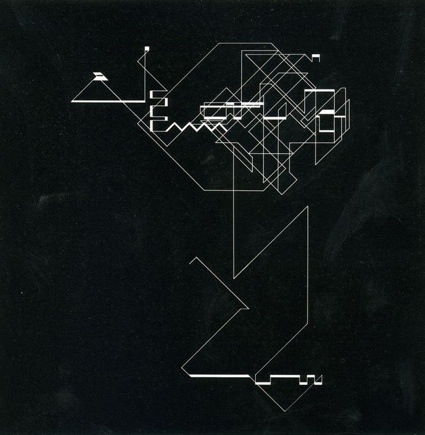 P-18 "Random Walk", 1969
The spotlight on computer art tends to fall on the shiny and new. Who won what at this year's edition of Ars Electronica, who's just designed a work of generative art for the promotion of a swanky car, who's exhibiting at the STRP festival. But a look back at the work of computer art pioneers sometimes proves to be a surprising and uplifting experience. To be honest, i was convinced that i'd find the exhibition Manfred Mohr: one and zero too austere, too abstract. A week ago however, i was walking down Eastcastle street on my way from the Alexey Kallima show at Regina Gallery (quite good) to the Vivisector at Sprüth Magers (very very good) and i thought it wouldn't hurt to push the door of the Carroll Fletcher gallery and have a look at Manfred Mohr's lines and cubes for a maximum of 30 seconds. I stayed almost half an hour staring at volumes emerging from flat surfaces and since then i've been telling people to go and see the exhibition. Today is Sunday, it's sunny out there and i won't pretend that i'm not copy/pasting a few paragraphs from the press release:
Beginning in 1969, Mohr was one of the first visual artists to explore the use of algorithms and computer programs to make independent abstract artworks. His early computer plotter drawings – when he had access to one of the earliest computer driven plotter drawing machines at the Meteorology Institute in Paris – are delicate, spare monochrome works on paper derived from algorithms devised by the artist and executed by the computer. P198aa (1977-79) is an elegant rhythmic composition of nine randomly rotated and cut cubes that hints at multi-dimensional space.
In other works that pre-date Mohr's pioneering work with the computer, his interest in systematic art-making can clearly be seen; Bild 24/768 (1968) is reminiscent of a simple circuit board with its curious symbols and hard-edged patterning.
one and zero explores how the complexity of the cube in 3, 4, 5, 6 and 11 dimensions, as well as the possibilities of going to even higher dimensions, have influenced Mohr's practice over the course of forty years. Originally a jazz musician, he compares the cube to a musical instrument and the detailed improvisation that the instrument allows within fixed tonal parameters. His large-scale wall relief – P-499A (1993) – is composed of fifteen unique laser cut steel pieces evolved from Mohr's investigation into the 6-dimensional hyper-cube.
In 1999, Mohr returned to the use of colour to emphasize and distinguish between subtleties in spatial relationships. P709b1-5 (2002), a large-scale digital painting on canvas shows five views of the 6-D rotation of a hyper-cube revealing an intriguing orchestration of solid greens, blues, purples and pink. More recently, digital technologies have enabled the artist to create works such as P1411-A (2010), in which a generative algorithm based on an 11-dimensional hyper-cube manifests an evolving progression of colour and shape as a screen based real-time computer animation.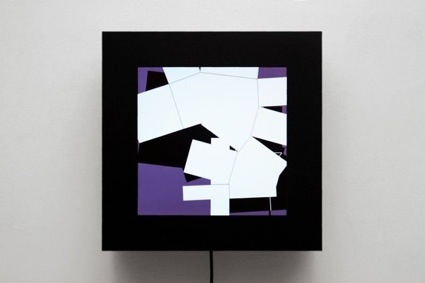 P1411-A, 2010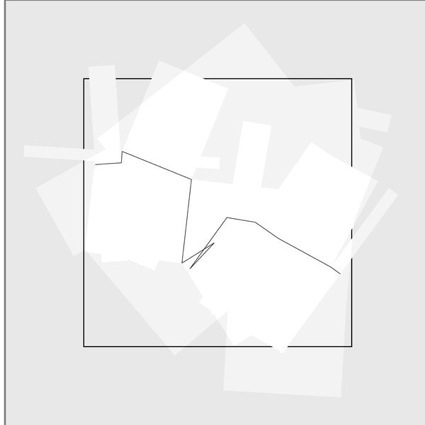 P1420-A, 2012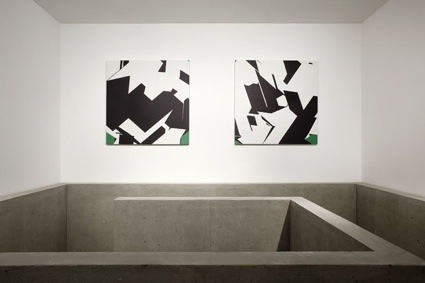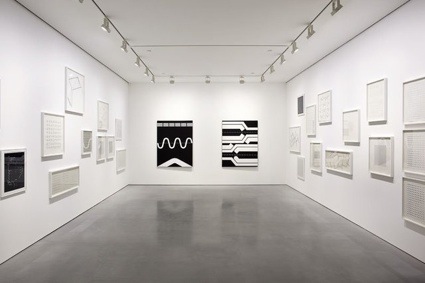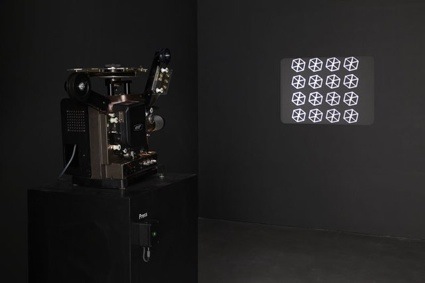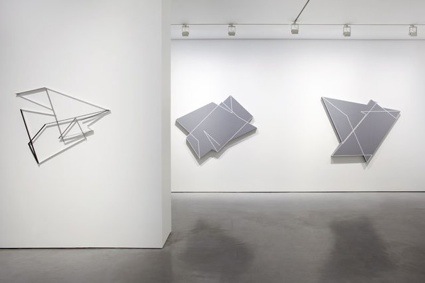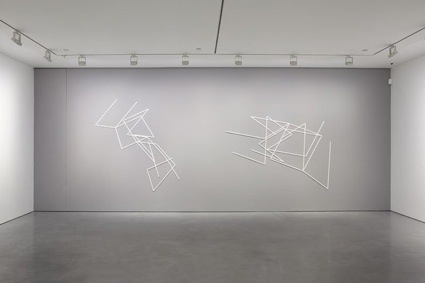 Manfred Mohr: one and zero is at Carroll Fletcher until 20 December 2012.