If you're as horrified as i have been by the endless queues to see the David Bowie exhibition at the Victoria and Albert museum, maybe you could walk by and try the ticket-free and crowd-free Making It Up: Photographic Fictions.
V&A has selected from its vast archives some 30 images that denies the assumption that photography captures 'the truth'. Since the early days of its history indeed, the medium has also been used to stimulate viewer's imagination or simply to deceive.
The exhibition is small but dense with narratives that entertain, betray, trouble or convey extra layers of information. Some of the stratagems used in these images are subtle, others are downright theatrical.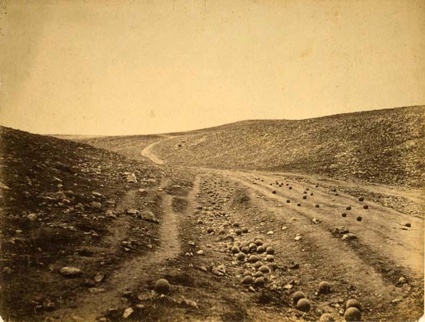 Roger Fenton, Valley of the Shadow of Death, 1854-5
Roger Fenton's Valley of the Shadow of Death photos are, i've been told, extremely famous. I must admit that i had never read about them before. Fenton was commissioned to document the Crimean War in 1855. Because of the limitations of photographic techniques of the time, because of the danger of entering the battlefield with a cumbersome photo equipment, but also because of the government's wish to present the war in a light that would not upset the public, Fenton couldn't represent the conflict directly.
Valley of the Shadow of Death is a striking example of how Fenton communicated the aftermath of a battle. The photo doesn't show corpses nor wounded soldiers but cannonballs strewn over a road near Sevastopol.
It was later discovered that Fenton had taken another photograph of this scene, with only rocks laying on the road this time. Historians speculate that Fenton probably staged the scene, moving cannonballs from the ditch onto the road in order to create an image dramatic enough to evoke human casualties on the battlefield.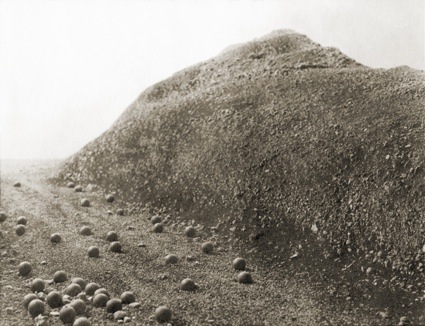 Timothy Eugene O'Tower, View of Crimean War Battle Scene, 2006
Terry Towery (born 1963) aka Timothy Eugene O'Tower (1829-1905) claims to have 'discovered' this photo by his descendant Timothy Eugene O'Tower, a 19th century photographer. The photo immediately recalls Roger Fenton's. O'Tower is in fact a figment of Towery's imagination and his photos show table-top constructions masquerading as landscapes.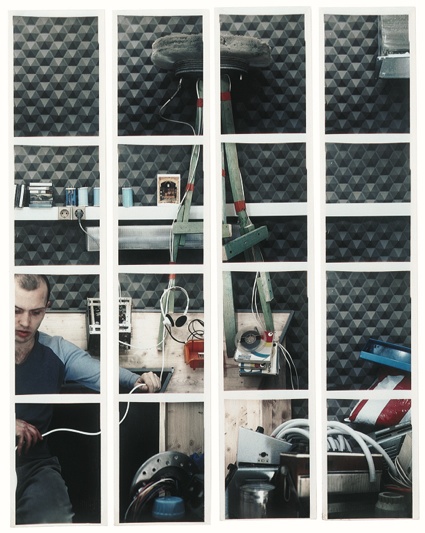 Jan Wenzel, Bastler V (Tinkerer V), 2000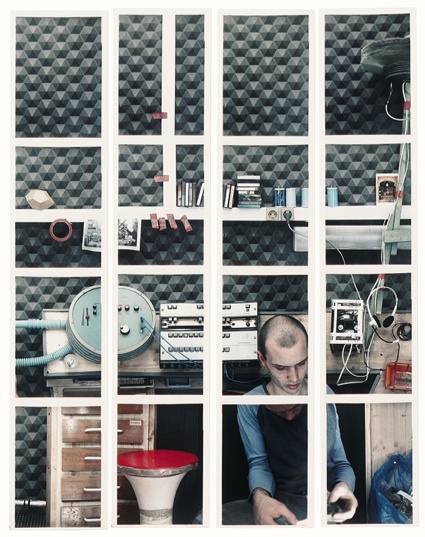 Jan Wenzel, Bastler VI (Tinkerer VI), 2000
Jan Wenzel's compositions are made entirely inside a photobooth. He used to work in a booth located in the Census Office of Leipzig until, in 1998, he found an old Fotofix booth, repaired it and installed it in his studio. For each of his tableaux, he would set up the scene inside the photo booth and rearrange each frame at 28-second intervals.
The photos above are not the ones exhibited at the V&A but they are close enough to give you an idea of his work.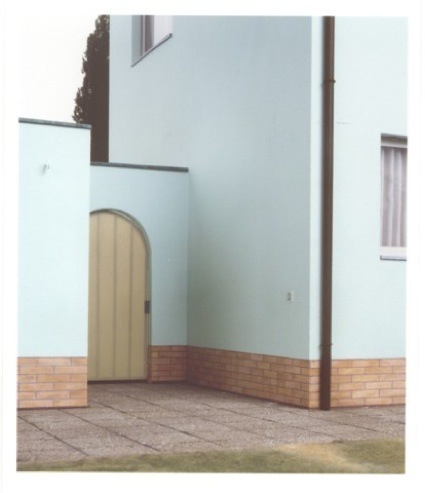 Oliver Boberg, Garteneingang, 2001
Nothing in Oliver Boberg's images is what it seems. He selects a location, takes a snap of it then goes back to his studio where he builds a model of the place, carefully lights it and then photographs the scene from predetermined vantage points.
He calls the result "generic modernism". His 'locations' are banal and familiar urban scenes, yet they are alien, stripped of any human or non human life. A reality so controlled and constructed, it becomes almost abstract.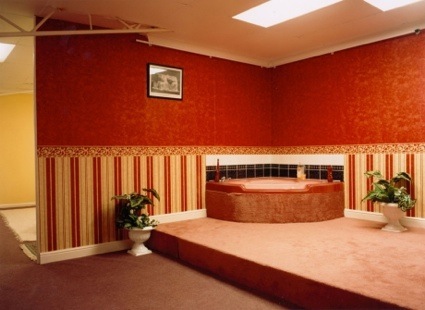 Bridget Smith, Glamour Studio (Bathroom), 1999
Bridget Smith´s image depict sets purposely built for an activity that the photographer does not represent as such. The bathroom above (the work in the V&A exhibition was a locker room but i couldn't find any photo of it online) is an empty stage set used in the porn industry. The photo is part of the series "Glamour Studios" which catalogues architectures of desire.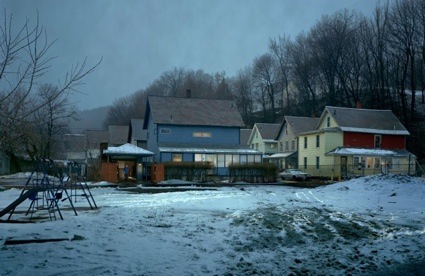 Gregory Crewdson, Untitled (Temple Street), From the series Beneath the Roses, 2006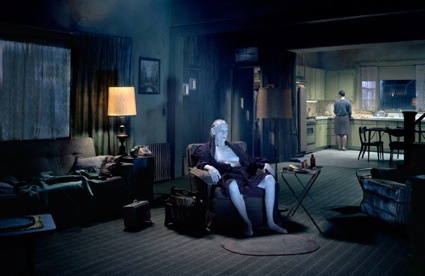 Gregory Crewdson, Untitled (The Father), from the series 'Beneath the Roses'. © Gregory Crewdson, 207
Gregory Crewdson works on a Hollywood movie scale with actors and a large crew but it is only after an elaborate process of digital editing that an effect of "hyper-visuality" arises in both the details and the ensemble of these Amercan suburb scenes. More than film stills, Crewdson's images are 'frozen moments', they allude to mysterious, disturbing events usually taking place at twilight. The puzzling scenes leave viewers wondering what has just taken place or what is going to happen.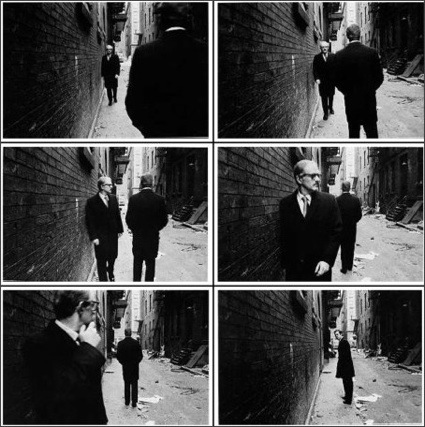 Duane Michals, Chance Meeting, 1972
Duane Michals uses sequences of photos to suggest a narrative. In this sequence, two men pass in an alleyway without incident, but the encounter seems loaded with significance.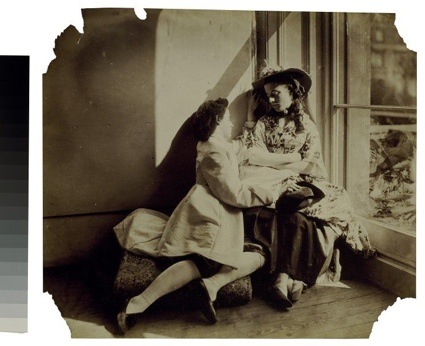 Clementina, Lady Hawarden, (Clementina and Isabella Grace Maude, 5 Princes Gardens) Studies from Life or Photographic Studies, about 1864
Lady Hawarden used her two eldest daughters as models who play out courtship scenes, dressed in 18th-century costume.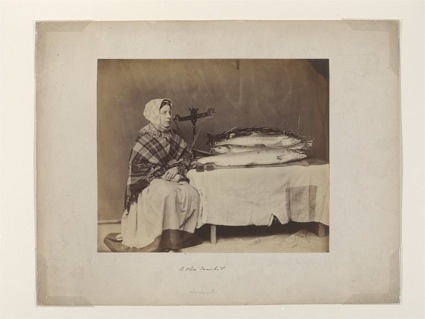 Robert Thomson Crawshay, A Slow market, 1868
Robert Thomson Crawshay was the owner of an ironworks and an amateur photographer. The sitter is not a fishwife but his own daughter whom he photographed in various guises.
More images from the show: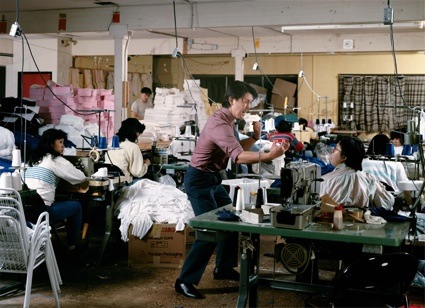 Jeff Wall, The Outburst. From the portfolio In a Dream You Saw a Way to Survive and You Were Full of Joy, 1989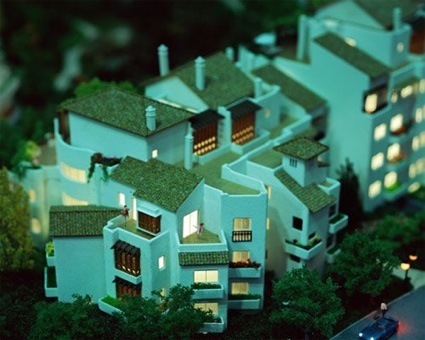 Xing Danwen, Urban Fiction, image 23, 2005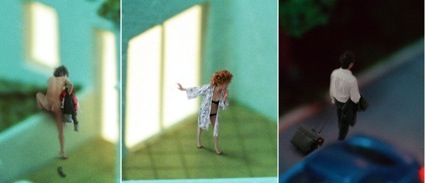 Xing Danwen, Urban Fiction, image 23, 2005 (detail)
Hannah Starkey, Untitled – May 1997 (Couch), 1997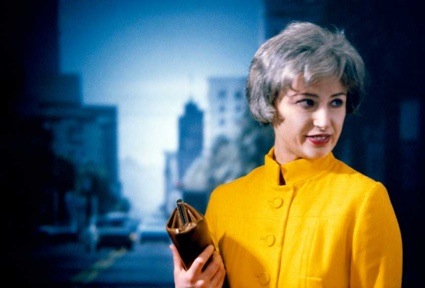 Cindy Sherman, Untitled 74, 1980
Making It Up: Photographic Fictions is at the Victoria and Albert Museum, London, until March 16th 2014.
Related story: Manipulating Reality – How Images Redefine the World.