Lucy Dunne is working on the Massage Shirts project which look at "the relationship between personality and desire to conceal or display technology." Each of the three shirts contains the same technology, a set of small motors which provide a vibrating shoulder and back massage, but with different degrees of visual integration into the garment:
– the subtle betrays no visual evidence of embedded technology,
– the moderate one dislpays only a graphic allusion to embedded technology
– the overt (see below) clearly shows the small pods that massage the wearer.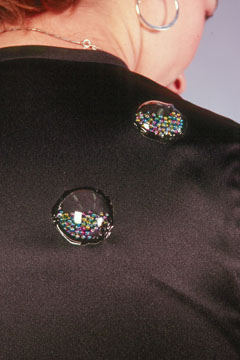 Via personal debris who points also to Philips Research Feels good kimono woven with conductive threads that de-stress the wearer. A conductive embroidered spine at the back, disperses an electrostatic charge via the fibres of the garment to create a tingling sensation. Inside the pocket, a remote device with settings allows to regulate the level of relaxation. Biometric sensors monitor the degree of relaxation and adjust the level of sensory stimulation accordingly.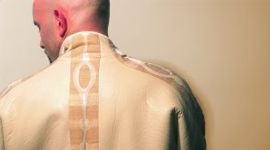 Two years ago, Italian fashion designer Alexandra Fede created the JoyDress which uses a network of flexible pads to give a soothing massage. A button of the electronic control unit enable the wearer to pre-plan the timing and strength of the massage.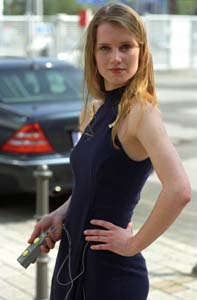 For massage in a scarf, see the Pod-Massager by Farrah Sit.
There's also the full body vibrating coat of Kelly Heaton.
P.S. Just because I actually bought them, believing they would annihilate my cellulite (I'm ready to try anything with "No cellulite" written on), I'll mention the many versions of massaging pants that promise to leave you with fat-free thights. Of course, they do not work.