Looks like Italy is finally warming to art beyond Botticelli and Umberto Boccioni. Last weekend MixedMedia brought pixels, electronic music and experimental installations to the Hangar Bicocca in Milan, in July BIP will "build interactive playgrounds" in Arezzo and yesterday AB+ in Turin was hosting the C.STEM conference, an event dedicated to the cultural circulation of generative and procedural systems in the field of experimental digital art.

The event was organised by 32Dicembre, Teknemedia, Fabio Franchino and moderated by Domenico Quaranta. Every single person involved in the event seemed to be genuinely interested in the subject and they knew what they were talking about (something which shouldn't be taken for granted in Turin when it comes to digital arts.)
I had read about generative art but listening to the artists discussing their methods, motivations and explaining how they work with code gave me a better grasp on the genre.
Generative art, writes Wikipedia, refers to art or design that has been generated, composed, or constructed in a semi-random manner through the use of computer software algorithms, or similar mathematical or mechanical or randomised autonomous processes. As Domenico Quaranta explained in his introduction, the genre exists for years but has never been really accepted by the world of visual arts. Generative art is not closed in its own bubble, it dialogues with other fields such as design, performative art or architecture, for example.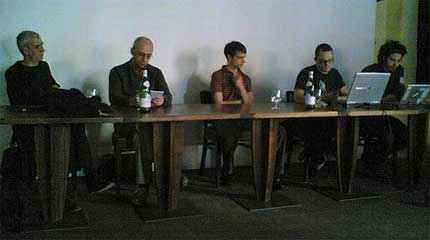 Paolo Rigamonti (Limiteazero), Alessandro Capozzo, Luca Barbeni (Teknemedia), Marius Watz and Fabio Franchino
The first artist invited to give his view on generative art was Marius Watz (Oslo/Berlin). If you want to know more about him, there's an excellent interview of Watz in artificial.dk and i'm also quite fond of his blog generator.x.
His first slide: "f(t) – Form as a function of time. In which an ex-designer talks about generative art, design and code. How software has become a function of space-time. An introduction to generator.x, a (semi)theorical platform."
Watz used to work as a graphic designer. He cannot draw but discovered that he can code. Lovely, lovely code. Code was his first tool, now it's his material. After some time, he realized that everything he was not able to do with his hands he can do with a computer. For example, programming could be used to create visuals. In the mid-'90s he worked in interaction art then turned to what is now called generative art but had no specific name at the time.

First work he introduced is System C. A Drawing Machine, a machine that once set into motion knows how to make a result on its own. The "time-based drawing machine" uses a software system to create rule-based images. Several autonomous agents move over a surface, making marks as they move, as a realtime two-screen projection.
The drawing process is modelled on a simple kinetic system. Each agent has a speed and direction that change for every step it takes. It experiment with both chaos and order and results in a great range of organic-like expressions. Watz explained how interested he is in such organic forms: they are voluptuous, almost excessive.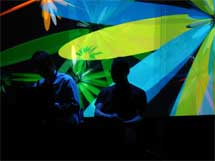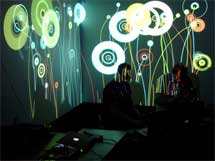 Images from Generator.x: The concert tour
"My work is about non-verbal experiences. It explores forms as a syaethetic space." Form as a function of time.
He then showed his Electroplastique pieces. The first one was created for an exhibition at Aix-en-Provence. He was inspired by Victor Vasarely, the father of Op-Art who explored the transformation of shapes and grids. Electroplastique has an esthaetics that translates forms into visual and spatial experiences (see also ElectroPlastique #2 which ran for three days at Transmediale.)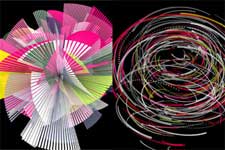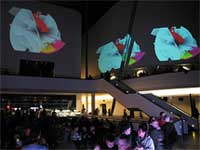 One of the works he showed i liked most is AV.06: Illuminations, commissioned by the AV.06 festival for the Sage Gateshead in Newcastle. The combination of forms projected were formulating a feeling of space. The 3D form systems were chosen in response to the architecture, to maximize the sensation of forms "pushing through" the walls of the concert hall concourse (designed by Norman Foster).
Watz likes to play with different parameters and with colours in particular to create a kind of visual hedonism, in a very direct way. For him, generative art also produces new tools for performances, both audio and visual ones. The software becomes a new performative extension of the artist him/herself.
Fabio Franchino's talk was next. He's been working with code in visual art for 2 or 3 years.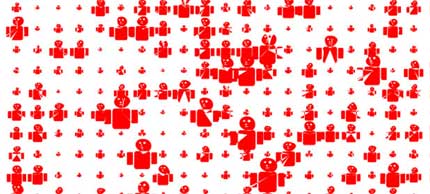 Kinetoh is a series of procedural artworks developed with the ambition to print the results in high resolution.
The work was featured in rhizome in an article that highlighted the cubism influence of Kinetoh, although the artist says that he didn't have any cubist esthaetics in mind when he started working on that project.

His main concerns are:
– to combine chaos and beauty, in order to find esthaetics in a chaotic system;
– to extract complexity from simplicity;
– randomness: he gives the general guide lines and lets the machine do the rest. He's not looking for a total control over the final result of the process. The process is only a series of rules that lead to a result within a specific amount of time to elaborate the art piece.