Animated computer-generated adverts are to appear on the sides of London's red buses. Outdoor ad company Viacom Outdoor will install digital screens on the side of 25 buses from October.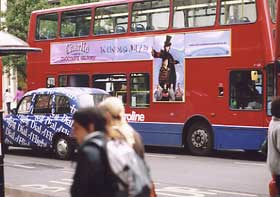 The bus sides, nicknamed "Via-vision", are not televisions, they show sophisticated computer graphics similar to animation on the giant billboards in Piccadilly Circus. To satisfy safety fears that the ads could potentially cause traffic accidents, the screens – half the size of full-length bus posters – will only appear on the side closest to the kerb, exposing them to the maximum number of pedestrians but the minimum number of car drivers.
A few months ago Viacom Outdoor had installed 66 similar panels along the escalator in Tottenham Court tube station.
The company is particularly pleased with the impact that the screens have at night. "It will look great, you won't be able to miss it," said Steve Cox, from Viacom. "On top of that, it has the ability to change your copy as often as you want, whenever you want. It will know where your bus is going to, so you are going to be able to change your copy depending on where you are."
Via The Guardian.