The Musée d'Art Moderne de la Ville de Paris is running a retrospective on Fischli & Weiss. It basically shows the same pieces as the exhibition that the Tate Gallery in London dedicated to the Swiss duo a few months ago.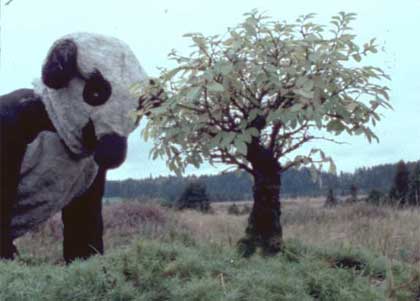 I particularly liked the photo series Airports (1987–2006) and the video The Right Way (1983): disguised as a rat and a bear, the two artists explore an unspoilt piece of Earth in quest of truths big and small (video extract and here). You know me by now: put two guys in grizzly suits and they get all my attention. The original costumes worn by the artists were also exhibited in a dark box.
But apart from that i didn't have much fun. There were a few amazing pieces yet i left the show with an aftertaste of dullness.
The Museum is also running a series of installations that Dominique Gonzalez-Foerster created in collaboration with an "exhibition team". That one was definitely worth the trip. Embodying the notions of "shared space" and "playground", the exhibition puts the viewer at the heart of the set. I wish i had been allowed to take pictures to show what the space looks like when there are visitors.