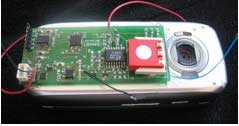 Last week in Oslo, i attended a very inspiring talk that Tom Igoe gave at the Oslo School of Architecture. He presented open source ideas and explained their impact on the way we think about space.
Among the projects he showed was Participatory Urbanism, a work by Eric Paulos, Ian Smith and RJ Honicky that turns the mobile phone into a "networked mobile personal measurement instrument."
On the one hand, there's a sophisticated device, the mobile phone, which provides us very little insight into the actual conditions of the terrain we traverse with it.
On the other hand is the fact that we must defer to a handful of civic government installed environmental monitoring stations that use extrapolation to derive a single air quality measurement for an entire metropolitan region. Such data doesn't reflect the dynamic variability arising from daily automobile traffic patterns, human activity, and smaller industries.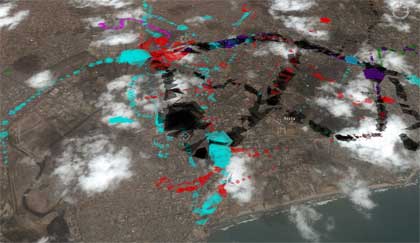 Carbon Monoxide readings made with taxicabs across Accra, Ghana
The goal of Participatory Urbanism is to provide mobile devices with new "super-senses� by enabling sensing technologies such as noise pollution, air quality, UV levels, water quality, etc. to be easily attached and used by anyone, especially non-experts.
Integrating simple air quality sensors into networked mobile phones promotes everyday citizens to uncover, visualize, and collectively share real-time air quality measurements from their own everyday urban lifestyles. This rich people-driven sensor data leverages community power imbalances, and can increase agency and decision maker understanding of a community's claims, thereby potentially increasing public trust.
Other projects Tom Igoe presented: Public Air Quality Indicator, Area's Immediate Reading and i'll add Neighbourhood Satellites.