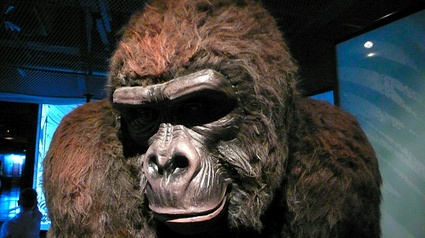 I never thought i'd mention good old Tarzan on wmmna but there you go.
Last week, I went to Paris and ran from one gallery to another. I'm not sure what got into me but at some point i decided to change plans and swap the Martin Parr exhibition at the Jeu de Paume for the Tarzan one at the Musée du Quai Branly. It's that museum blogs were raving about a couple of years ago mostly because it has a vertical garden designed by Patrick Blanc growing on one of its facades. The content of the museum's permanent collection is one of the most jaw-dropping i've ever seen. I'll probably write more about its post-colonial splendour (and that Parr exhibition) in September when i go back to Paris.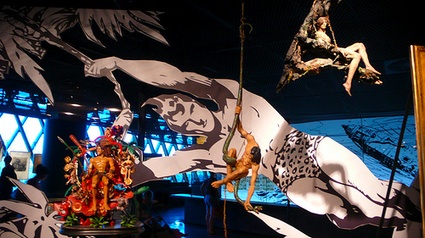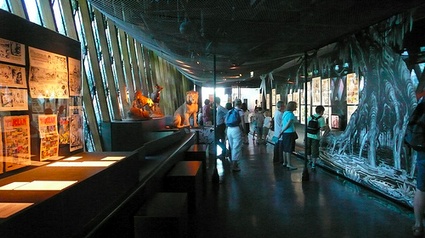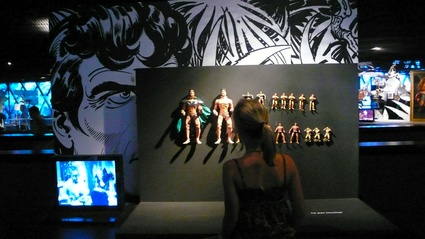 The museum is dedicated to traditional art from Africa, Oceania, Americas and Asia, and ever since its opening, it had to face accusations of reinforcing colonial stereotypes. A temporary exhibition about the famous Ape-Man, created by an author who had never set foot in Africa, was unlikely to tame detractors. But the curators are smart. Their perspective is to help visitors understand how Westerners' misconceptions of Africa, its noble savages, lush jungles and scantily clad women, came about. "The idea is to tackle the imagery through which we westerners see our friends from Africa," explained curator Roger Boulay to The Guardian. "It's about exploding stereo­types and looking at how this big ­western Tarzan myth was created through an intellectual mish-mash of ideas. It's also about explaining the big ideas at the turn of the century from Darwinism to the enfant sauvage, the concept of nature and the King Kong myth of the giant ape kidnapping the white woman."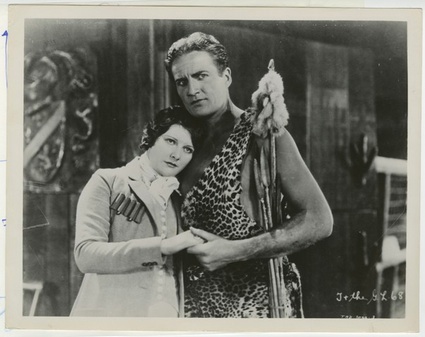 Picture of James Pierce, from the movie Tarzan and the Golden Lion (1927)
Now that was a long introduction for an exhibition i did not really care about until i saw a display about Tarzan and the Leopard Men, a novel in which the hero come into conflict with the murderous secret society of the Leopard Men. Behind a glass display was a statue i found so exquisitely frightening it deserved a post: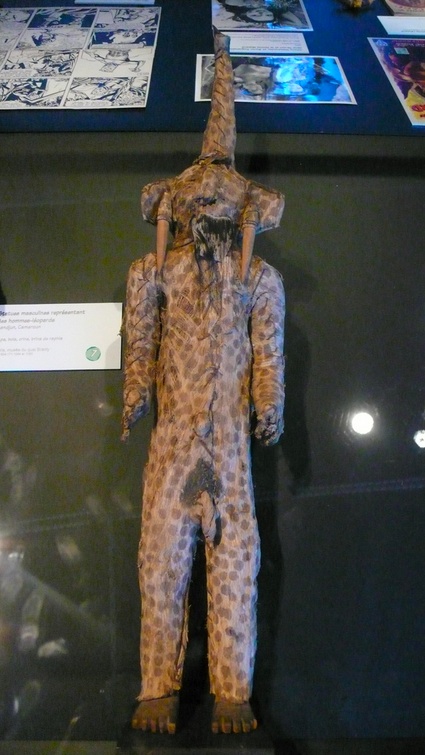 Male statue representing a Leopard Man (Bandjun, Cameroun)
The doll represent a member of the West African animalistic society called Aniotas/Aniyoto or leopard men. Until the mid-1900s, the Anioto would dress in leopard skins complete with a tail dangling at the back, assailing people with sharp claw-like weapons in the form of leopards' claws and teeth. They murdered their victims and left fake animal traces around them so it would look like an animal's assault. The victims' flesh would be cut and distributed to members of the society who would eat it and thus gain "special power." According to the information i could find about them, Anioto were hired as killers to establish or maintain local power relations, administer secret justice and, later, dodge colonial government control.
Here's another statue: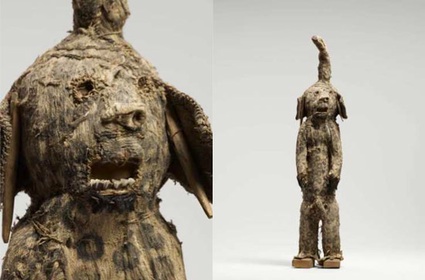 Male statue representing a Leopard Man (Bandjun, Cameroun). © Musée du Quai Branly. Photo Thierry Ollivier, Michel Urtado
Images of the exhibition on designboom, The Independent, L'Express and in my flickr room. BBC has a video reportage. Image on the homepage is a still from the movie Tarzan and the Leopard Woman.
Tarzan is at the Musée du Quai Branly in Paris until 27th September.
P.s. The Leopard Men existed in crocodile version.