The caste system still exists in India, Dalits is another name for untouchables. Every thirty minutes a Dalit is agressed and every day 3 women are raped and 2 are killed. There's 160 millions Dalits in India.
KIP – Knowledge is Power is an association that supports the Dalits. They fight discrimination with clothing made by the Dalits.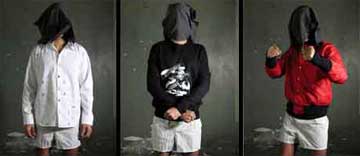 KIP wants to offer a decent work to Dalit women with decent wages but also to inform the rest of the world about the tragic situation of the Dalit cast. Wearing KIP is a political act. The images on the clothes are rather violent (a tigre eating a cow) and the colors used are meaningful: red is for anger, green for the army, black for death, etc.
Via Technikart. Picture from Diane.