Scientists from the Korea Advanced Institute of Science and Technology (KAIST) are to unveil the new KHR-3, in December.
"The robot can walk like a human longer than an hour powered by embedded batteries. We plan to release the self-contained robot's specifications next month," said KAIST professor Oh Jun-ho.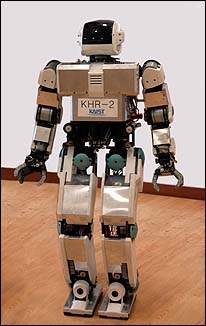 (KHR-2, the predecessor of number 3)
The 1.2-meter-tall KHR-3 is similar in size with Honda's Asimo and weighs 55 kilograms.
KHR-3 can walk by using 41 built-in motors and numerous joints and can also shake hands or lift objects with its five-fingered hands.
With KHR-3, Korea will be able to narrow the gap with Japan in the competition to make two-legged robots.
Considering the decades-long research experience of Japanese robotics engineers and Korea's relatively short development history, Korea has a shot at emerging soon as a major player. Mechanically, Korea lags behind Japan 2-3 years, but is almost on par with the country in intelligence.
Via Nanoblog Korea Times.
See also: Robots to serve people in Korea's post offices.