I made it just on time to see the last day of Heavy Light: Recent Photography and Video From Japan, an exhibition that closed a few days ago at the International center of photography in Manhattan.
The work of the 13 Japanese artists on show visits three main themes. The one i found most fascinating and probably also most Japanese investigates the tension between individual expression and collective identity in contemporary Japan.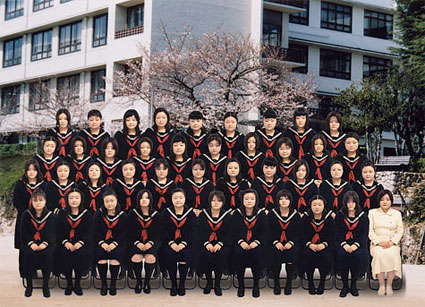 Tomoko Sawada. From the series "School Days," 2004 © Tomoko Sawada. Courtesy of MEM Inc. and Zabriskie Gallery
She might not be as beautiful as Cindy Sherman but that doesn't prevent Tomoko Sawada to create compelling images. Her "School Days" series shows groups of girls in their high school uniforms lined up in neat rows. At first sight, they are all different. But a closer watch reveals that each of the girl (including the teacher's) has the face of Sawada who with subtlety varies her smile, adds an accessory in her hair, stands with an arrogant stance or adopts a demure posture. What was a sweet and innocent school portraits turns into a satire of Japan's homogeneity and emphasis on conformity (interview of the artist on Pingmag.)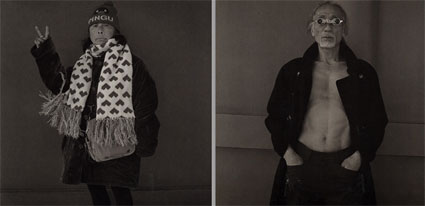 Hiroh Kikai, November 17, 2001 and A Performer of Butoh Dance, 2001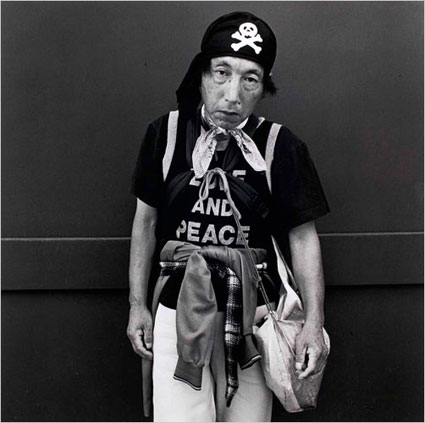 Photo: Hiroh Kikai
Hiroh Kikai's portraits also talk about individuality. Since 1973 the photographer has roamed the Asakusa district of Tokyo, looking for people whom he defines as having a 'take my picture please' aura. So far he has collected 600 b&w portraits of strangers posing against the blank walls of the Sensoji Temple. Most of the people he selected seem to be ordinary. Yet, there is something definitely unconventional about each of them (more images).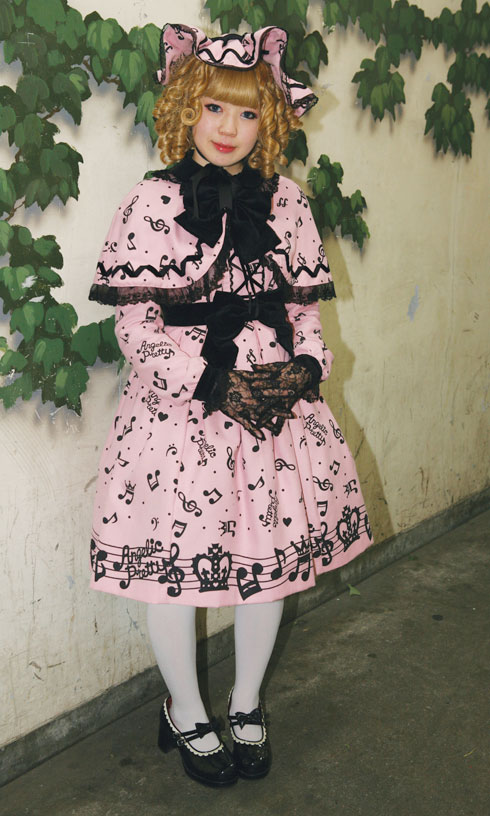 Masayuki Yoshinaga, from the series Goth-Loli, 2006 (more in Radar's slideshow)
We knew about Masayuki Yoshinaga's portraits of goth-lolitas but the photographer also spent 7 years making portraits of Bōsōzoku, the teenage biker gangs, often linked to the Yakuza. A former member of the Bosozoku himself, Yoshinga managed to get access to their activities and had the gang pose for him.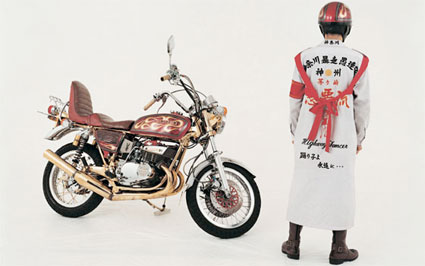 Masayuki Yoshinaga, from the Bosozoku series, 1997-2003 (image topgear)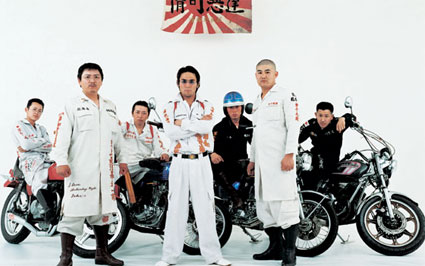 Masayuki Yoshinaga, from the Bosozoku series, 1997-2003 (image topgear)
A second theme in the exhibition examines the relationship of the adult to the child, a key subject in a country facing a rapidly graying demographic.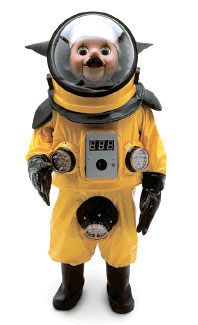 Kenji Yanobe's works explore the idea of survival in a post-atomic world.
The installation Blue Cinema in the Woods centers on a child-size movie theater set on the back of an elephant. Outside the theater stands a ventriloquist's dummy called Torayan, who appears frequently in Yanobe's work. Torayan is wearing a mini Atom suit ('Atom' comes from the robot character in Osamu Tezuka' s comic book Astro Boy), a child version of the radiation suit that the artist wore in 1997 when he carried out a performance at Chernobyl.
In the video shown inside the movie theater, Torayan appears with Yanobe's father, an amateur ventriloquist. Using American civil-defense films of the 1950s, he instructs Torayan about the measures to be taken if atomic disasters were to happen again.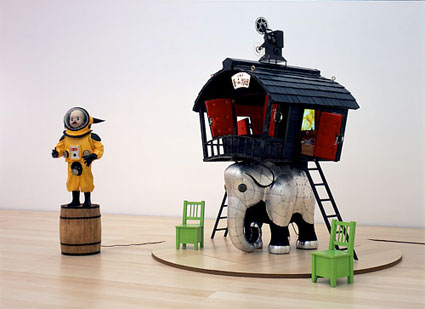 Kenji Yanobe, Blue Cinema in the Woods, 2006 © Kenji Yanobe. Courtesy of the artist
Miwa Yanagi's b&w photo series, "Fairy Tale," consists of reinterpretations of western stories in a very Film Noir fashion. The protagonists are all young girls. The young girls are set upon by nasty old women but they have very little in common with the Disney-like innocence of their age. They put up a fight and prove not so helpless after all. They use their youth and cunning to triumph in rather heartless fashion over their aged tormentors.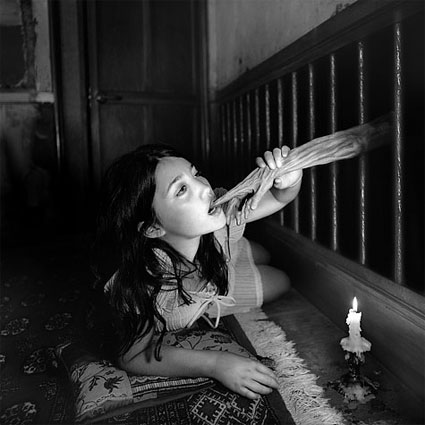 Miwa Yanagi, Fairy Tales Series: Gretel, 2004 © Miwa Yanagi. Courtesy of the artist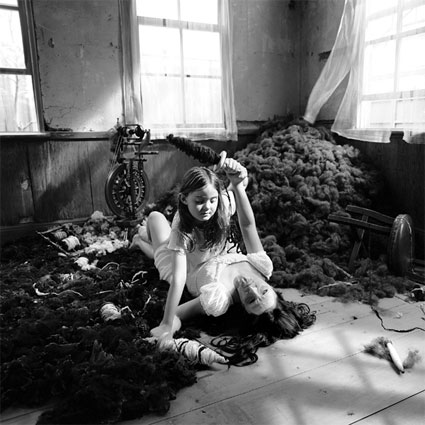 Miwa Yanagi, Fairy Tales Series: Sleeping Beauty, 2004 © Miwa Yanagi. Courtesy of the artist
The third theme in the exhibition Heavy Light is the conflict between human culture and nature, best exemplified in the work of Naoya Hatakeyama and Naoki Kajitani.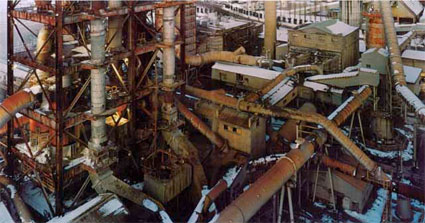 Naoya Hatakeyama, from the Lime Works (Factory Series) 1991-94
Hatakeyama being so famous, i'll focus on Naoki Kajitani. The young digital street photographer takes his camera primarily in the Kansai region around Osaka, one of the traditional centers of Japan's "low" entertainment culture. Despite of this clear location, Kajitani's photos are 'generic', they represent fragments of the whole country. One which is saturated with garish commercial imagery. His large-scale, Pop-style photographs shows Japan as a cramped environment saturated with noisy billboards, posters, pachinko parlours, power lines, adult shops and advertising displays that appear both playful and sordid.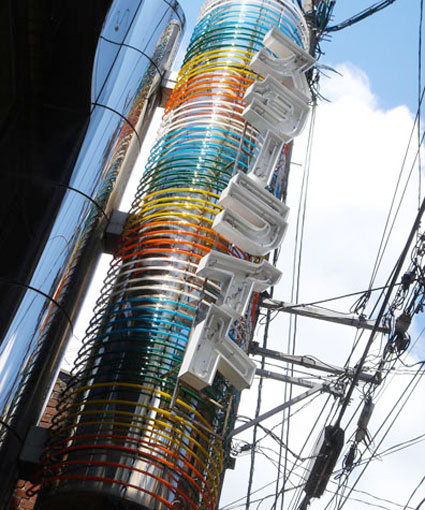 Naoki Kajitani, JPEG / Starlight, Nagasaki, 2006 © Naoki Kajitani. Courtesy of Third Gallery Aya
In an interview for the catalog of the exhibition, the photographer explained that the areas his work focuses on are being redeveloped at a fast pace and are rapidly disappearing. His work might therefore end up becoming a valuable record of the period he is busy portraying.