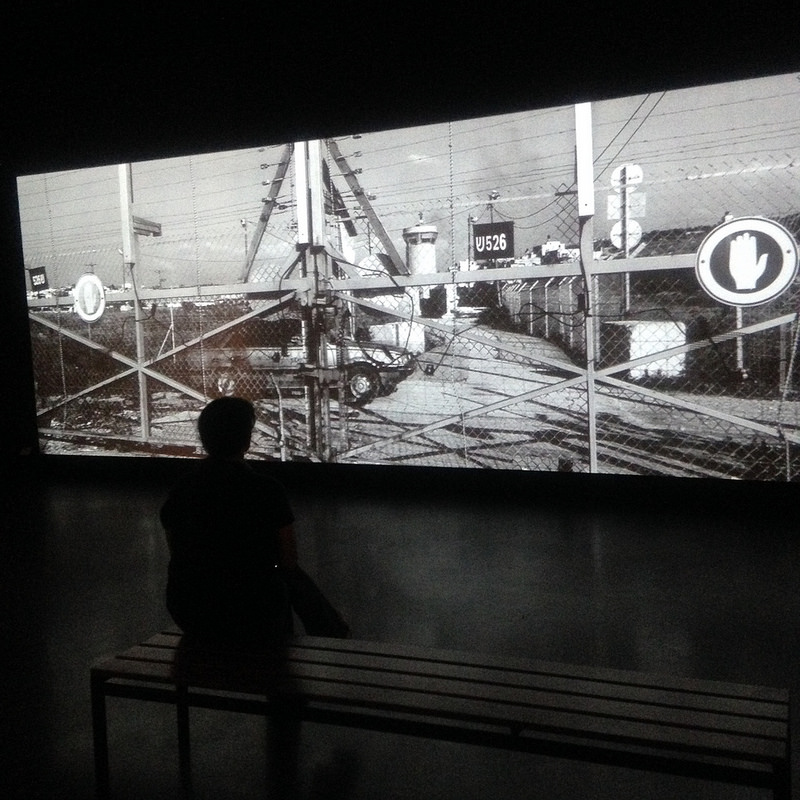 Josef Koudelka . Invasion / Exiles / Wall, view of the exhibition space at C/O Berlin
"Every day that I was there I didn't see anything else but the wall, and I can tell you I couldn't stand it longer than three weeks. I was so depressed that I needed to go away," photographer Josef Koudelka explained in an interview about Wall, a series that documents the monumental wall erected by the state of Israel in the West Bank as well as around Israeli settlements.
In the early 2000s Israel unilaterally decided on building the wall on the pretext of protecting itself from terrorist attacks. A nine meter-tall and today over 700-kilometer-long fortress made of steel, concrete, barbed wire, and motion detectors—almost three times as high and five times as long as the Berlin Wall once was.
One of the reasons why Koudelka found it so painful to be in proximity to the wall is that he grew up behind the Iron Curtain. He is thus more affected than many of us by this attempt to curtail people's freedom.
I didn't grow up behind a wall but i did feel anxiety, claustrophobia and sadness when i discovered some of his panoramic landscape photographs at C/O Berlin. They were part of Josef Koudelka . Invasion / Exiles / Wall, an exhibition that also includes earlier works, such as the ones recording the Soviet occupation of what was then Czechoslovakia and the ones he took while living in exile in other European countries. The whole exhibition is magnificent but -and this won't surprise anyone- i had to single out Wall.
I'll leave you with his photos and accompanying comments:

Rachel's Tomb, Bethlehem.
The Wall intrudes two kilometers into Bethlehem City to encircle Rachel's Tomb, traditionally considered the burial site of the Biblical matriarch. © Josef Koudelka/Magnum Photos


Josef Koudelka, Baqa ash Sharqiya Access gate.
Around 7,500 West Bank Palestinians reside between the Wall and the Green Line in an area called the 'Seam Zone'. © Josef Koudelka/Magnum Photos


Shu'fat Refugee Camp, overlooking Al 'Isawiya, East Jerusalem.
When complete, the Wall will be approximately 700 kilometres long, more than twice the length of the 320-kilometer 1949 Armistice or Green Line between Israel and the West Bank. © Josef Koudelka/Magnum Photos


Aida refugee camp, Bethlehem, overlooking Gilo settlement.
The wall severs the historic link between Jerusalem and Bethlehem, in addition to cutting off Bethlehem from its agricultural hinterland. © Josef Koudelka/Magnum Photos


Hebron.
Around 120 obstacles block off the Israeli-controlled Old City of Hebron (H1 zone) from the rest of the city (H2 zone). © Josef Koudelka/Magnum Photos


Ash Shuhada Street, Hebron.
The majority of the Palestinian shops in the once commercially thriving Ash Shuhada Street have closed as a result of access restrictions by the Israeli military and harassment by Jewish settlers. © Josef Koudelka/Magnum Photos


Roadblock, Route 443.
Roadblocks, checkpoints, and other physical obstacles restrict Palestinian pedestrian and vehicular movement throughout the West Bank. © Josef Koudelka/Magnum Photos


Al 'Eizariya (Bethany), overlooking, Ma'ale Adumminm settlement, East Jerusalem.
The Wall consists of concrete slabs, fences, ditches, razor wire, an electronic monitoring system, groomed sand paths, observation towers and military patrol roads. © Josef Koudelka/Magnum Photos
"I call what is going on in this most holy landscape, which is most holy for a big part of humanity, is the crime against the landscape. As there exists crimes against humanity there should exist the crime against the landscape.
I am principally against destruction — and what's going on is a crime against the landscape that is enormous in one of the most important landscapes in the world," the photographer added in the interview mentioned above.


Al 'Eizariya (Bethany), East Jerusalem.
Although the Wall is the largest infrastructure project undertaken by Israel, no studies have been carried out to evaluate its environmental impact. © Josef Koudelka/Magnum Photos


Near Baqa ash Sharqiya.
Increasingly, Palestinians farmers can only access their farmland on the de facto Israeli side of the Wall with special Israeli issued 'visitor permits' and through designated gates. © Josef Koudelka/Magnum Photos
Wall is part of a larger project, This Place, initiated by photographer Frédéric Brenner that explores Israel as place and metaphor through the eyes of twelve photographers.
The series is currently on view at C/O Berlin as part of Josef Koudelka. Invasion / Exiles / Wall. The exhibition was curated by Xavier Barral in cooperation with Sonia Voss. It remains open until 10 September 2017.