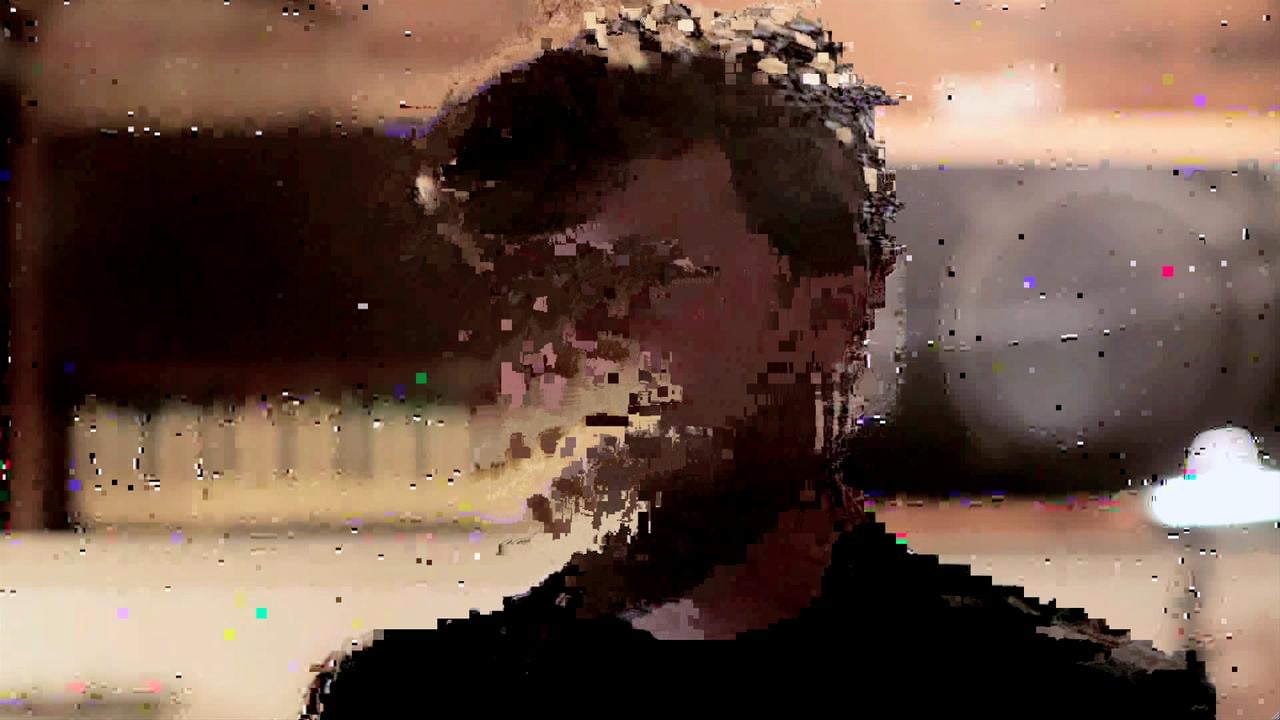 Jon Satrom. Screenshot from the SAIC Alumni profile video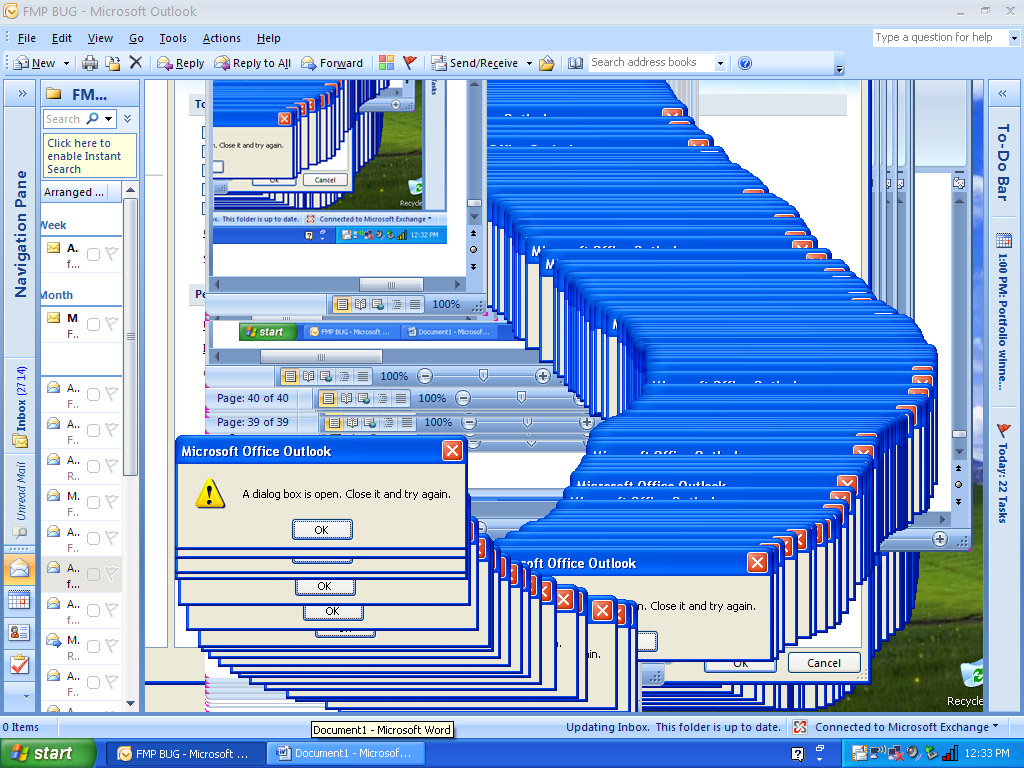 Jon Satrom, Doc1
I'll never forget the first time i first saw one of Jon Satrom's Prepared Desktop performances. It was at the access festival in Pau, France. Beach balls, dinosaurs, little rainbows and rogue folders jumped onto the screen. Failure notifications kept invading the view and files seemed to never fully download. It was very fast, very witty and very funny but it was also everything you hope will never start happening to your own computer. I felt like the performance was slapping me in the face with my worst 'user experiences' nightmares. I saw one of his performances again last year at a brilliant symposium in Paris called refrag. I was equally baffled by Satrom's interventions and i vowed to 1. never ever lend him my laptop. 2. interview him to hopefully learn why and how he could abuse with such ease technologies that are supposed to be fiercely protected.
jon.satrom is a dirty-new-media artist slash organiser. He is also a programmer and a lecturer at the department of Film, Video, New Media and Animation and at the one of Contemporary Practices at the School of the Art Institute of Chicago. With his performances, apps and other works, Satrom is opening the black box of the operating system we daily use. He is even inviting each of us to join the glitch party. Together with Ben Syverson, he created the sOS or Satromizer Operating System, the world's first '100% problem-based operating system' which you can download to turn your laptop, iPad and phone into a neverending glitch party. I hope you will enjoy our online exchanges as much as i did:

Jon Satrom, Velocanim_RBW_X DEMO

Example footage from the Satromizer for iPhone, 'the world's first multitouch glitch tool'
Hi Jon! You sometimes define yourself as a dirty new media artist? Why dirty?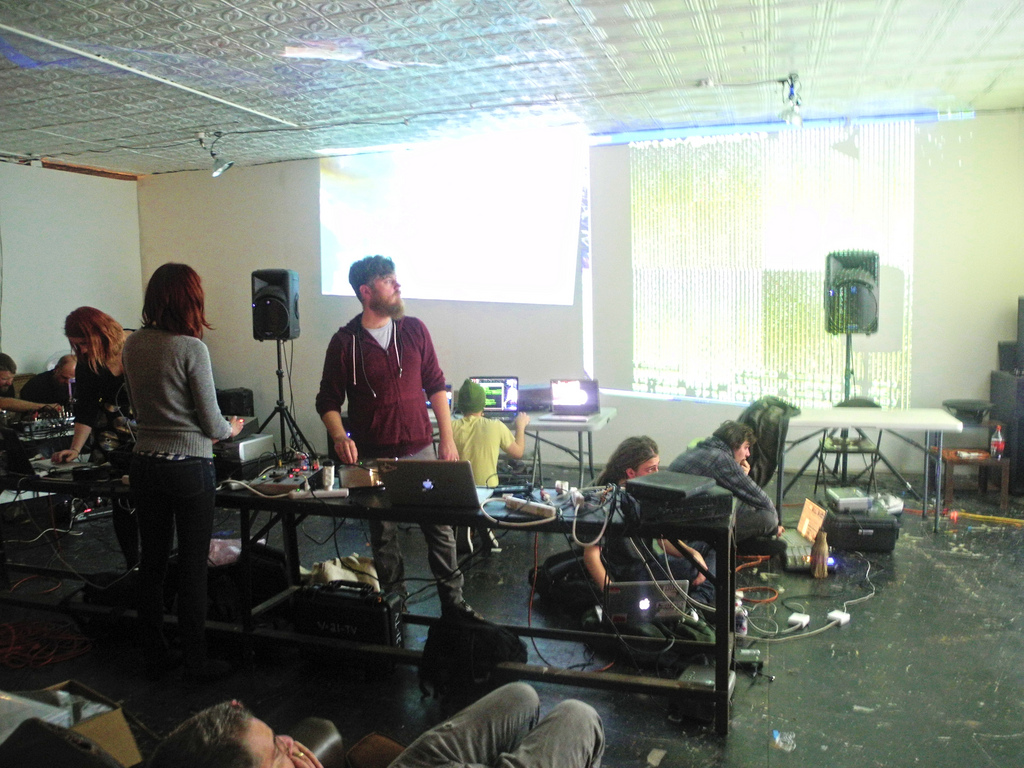 GLI.TC/H 2112, Chicago US. Photo: Antonio Roberts
I like mobilizing the term "Dirty New Media" because there's a self-awareness to it. It seems like–at the turn of the century–the term "New" Media began to gentrify the various networked-neighbourhoods of: net.art, software art and other dynamic cybercultures. Areas of digital expression/dissent/engagement that I found to be super inspiring and exciting were crystalizing and becoming codified. A "Dirty" New Media starts with the fact that, by using media in the first place (old && new), we are already compromised by the systems/conventions/resolutions of the media. Tagging these genres as simply "New" places one in an uncritical masturbatory state of expectation for the "next".
I feel that the term "Dirty New Media" is rooted in approaches by collectives and initiatives I've witnessed in Chicago like, Deadtech, dai5ychain, EN3MY, Beige and criticalartware who were working in the 00's. The term seems to rally folks with the disposition of misusing hardware, software and systems, creatively creating problems and challenging–often corrupt–control structures. These dispositions and energies are/were not new, "Dirty New Media" is/was just our way of articulating them amongst the broken promises of the millennium.
Groups like PaperRad and Beige were using the term "dirt style" to describe cultural and technical dumpster-diving–which gently poked at issues of obsolescence, pop-trends and nostalgia. I began using it after jonCates brought it to the language of r4wb1t5–a collaborative event series that we started in 2005: "(A) r4WB1t5 micro festival is a new platform or framework for (A)narchistic forms of decentralized mini or micro festivals to self-organize around themes + theorypractices of raw bits of digital art + dirty new media." Jake Elliott (who was also involved with r4wb1t5) gave a talk at HOPE (Hackers on Planet Earth) called Dirty New Media – Art, Activism, and Computer Counter-Cultures in 2008. I'm happy it's caught on in certain circles and folks have found it to be useful. (i.e. the Dirty New Media Round Robin in Chicago US: organized by Nick Briz; and Dirty New Media in Birmingham UK: curated by Antonio Roberts.)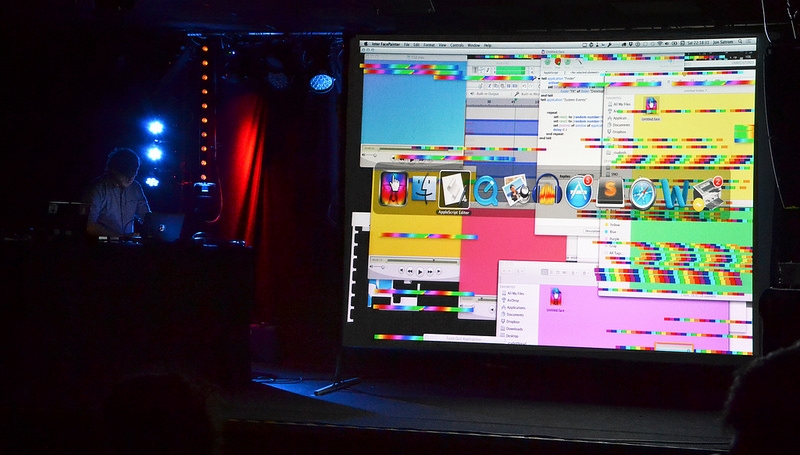 Jon Satrom performing at the Festival acces)s( in Pau, France. Photo: Nicolas Maigret, Disnovation – Festival acces)s(
For me, r4wb1t5 was an eloquent articulation of what Chicago could bring to the sterile hype of technology and the solidifying "New Media Art" genera. Chicago is a loud, improvisational and industrious city. Threads of activism, organizing, jazz and blues are deeply intertwingled with DIY initiatives and a collaborative ethos. Dirty New Media recognizes that the entire system is unstable. It's raw, honest, and celebrates the rough-edges, the raw bits, the exposed wires and glitches inherent to the systems that rule major aspects of our lives.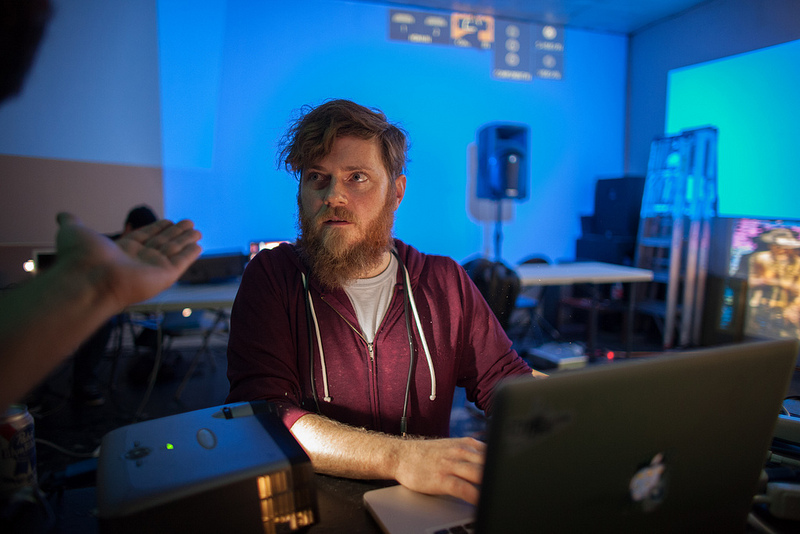 Portrait Jon Satrom. Photo: Ben Syverson, GLI.TC/H 2112
You are an artist but you're also an educator, i think you give glitch art classes? How can one learn glitch? Is it just a question of learning how to code or does one need a certain state of mind?
Yes, I like to do workshops when and where I can and–in general–I love sharing tricks and techniques with anyone who's interested. I was both excited and hesitant to propose a glitch curriculum at SAIC in 2006. My hesitation came from the inevitable institutionalization and canonization of what I perceive as dynamic uncontrollable moments. These things excite me, and I was worried of flattening them.
One must capture and/or articulate glitch techniques to make glitch teachable, however, that process also has the potential of pacifying the glitch. In an effort to avoid turning glitch into a filter or benign aesthetic, I decided to stress approaches over outputs. Since the class started running in 2007, I've wrapped some of those approaches into a sort of "glitch ethos". My hesitations have evaporated and I've learned that glitch affords everyone–even the "glitch artist"–the opportunity to push themselves into uncomfortable situations.
Through open-ended assignments and prompts, I try to encourage students to consider the systems that govern their lives and to observe and (responsibly) take advantage of the instability of those systems. One doesn't need to learn how to code to glitch something, though, I do believe that learning to code or learning about code heightens criticality, deepens literacy, and extends one's potential.
Glitches lurch out any codified system. Glitching requires a certain state of mind and I find it incredibly rewarding to develop participatory contexts and situations that help folks discover, explore and sustain it. Glitching allows us confront our fears about the unknown power of technology. They provide avenues to question the norms that have been constructed to empower and disenfranchise us. By embracing a radically inclusive definition of the glitch, students have helped me come to see it as an aspect of our contemporary condition. Glitches resonate.
Could you point us to the work of some of your current or past glitch students?
Earlier this year, I was a part of the Chicago contingent of the REFRAG symposium (w/ Nick Briz and jonCates) we organized in Paris (w/ Benjamin Gaulon, Shawné Michaelain Holloway, Marie Lechner, Nicolas Maigret, and Ivan Twohig). The symposium was a partnership between SAIC and Parsons Paris and I had the chance to pull together student work from the SAIC Glitch class (2007-2014). The gallery component of REFRAG featured work by: Melissa Barron, Kevin Carey, Joe Chiocchi, Theo Darst, Sam Goldstein, Nunzia Faes, David Musgrave, Paula Pinho Martins Nacif, Bryan Peterson, Olivia Rogers, Sarah Rooney and James Theophilos. It was pretty great to see all of that work on display at the Parsons Paris gallery.

Olivia Rogers, I am Made of Chalk- GLitch remix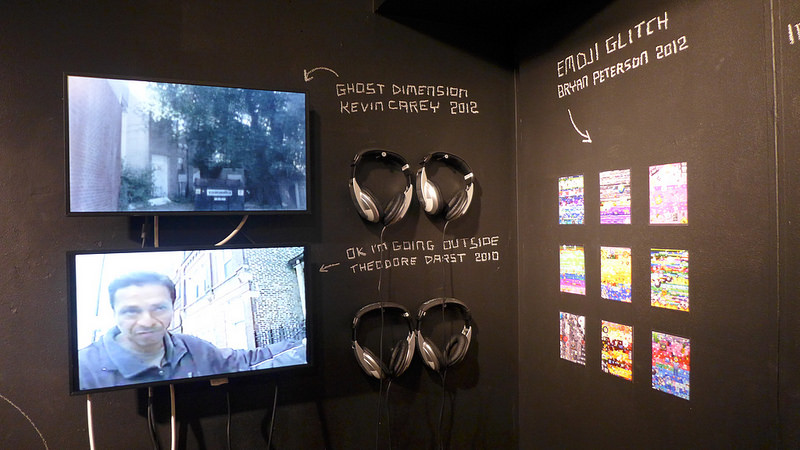 Kevin Carey, Ghost Dimension. Theodore Darst, OK I'M Going Outside. Bryan Peterson, Emoji Glitch. REFRAG exhibition at Parsons Paris gallery, 2015. Photo: Benjamin Gaulon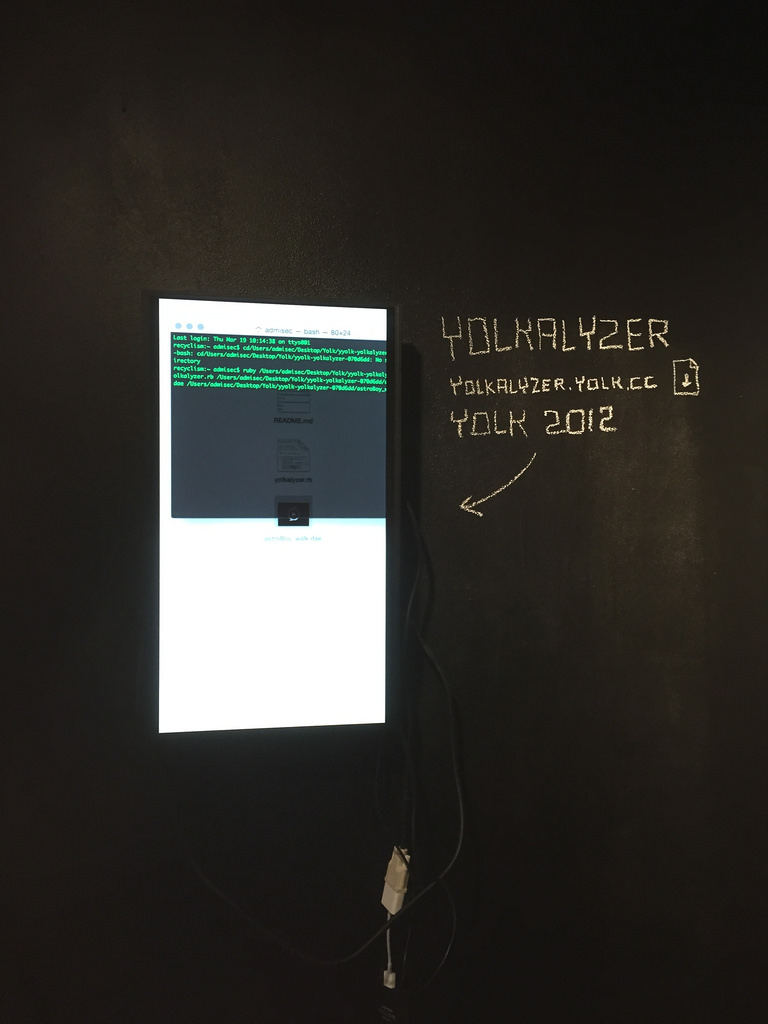 Yolkalizer exhibited at reFRag Festival in Paris in 2015 (Jon Satrom doc)

reFRag Festival in Paris, 2015 (Jon Satrom doc)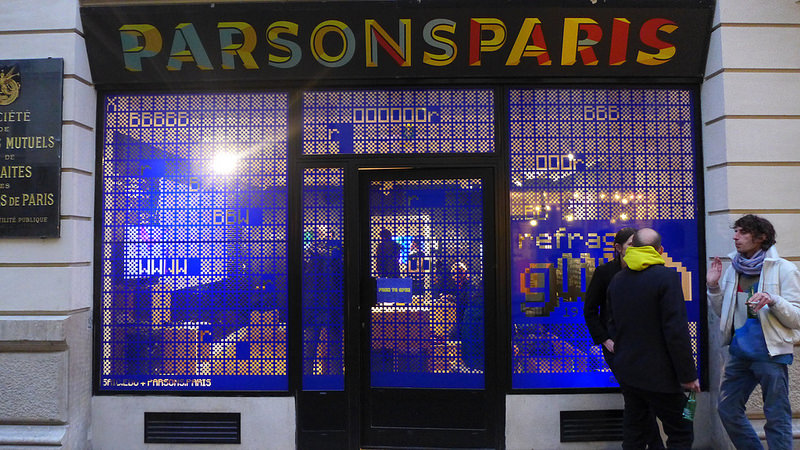 REFRAG exhibition at Parsons Paris gallery, 2015. Photo: Benjamin Gaulon
As a teacher and as an organizer, I strive to create safe contexts for folks to come together and experiment with tools, methods, materials and ideas. I like developing classroom/studio dynamics where the individuals gathering have the chance to impact the trajectory of the group. I've been fortunate to have worked with Ben Babbitt, James Connolly, Alex Halbert, Morgan Higby Flowers, William Robertson, Anna Russett, and Alfredo Salazar-Caro and many others (eep!) when they were undergraduate students and with Nick Briz, Kyle Evans, Peter Kusek, Keven Kalay, Andy Ortmann, and Peter Speer–in little bits–as graduate students. Some collaborations that were hatched in the studios (and greatly expanded upon outside the institution) are: Square Square, Dither Doom, Cracked Ray Tube and DMoDA. In some instances, conversations began prior to convening in the studio; and often, conversations continue well beyond.

Jon "VJ Satrom", Select Media Fest 2003
You graduated from SAIC in 2003. What was the glitch art scene at the time? Who inspired you?
I wasn't aware of a unified "glitch art scene" at the time. Studying and working at SAIC with talented artists and educators like jonCates, Ben Chang, Nic Collins, Shawn Decker, Rob Drinkwater and Kerry Richardson helped articulate my interests and opened my eyes to tools, methodologies and other artists doing inspiring projects. Chicago was a great place to be at the turn of the century. Spaces like Camp Gay, Buddy and Deadtech regularly hosted performances and happenings engaging with playful/glitchy/kludgy approaches, including events like the 2002 Beige Cassette Jockey World Championship and releases like the 2001 Deadtech DeCSS Anniversary Album Circumvention Device.
In 2002, I helped start criticalartware with jonCates, Blithe Riley, Christian Ryan, and Ben Syverson and we built a platform to hyperweave New Media Art with early Video Art. Around that time, I also began performing circuit bent video with Thomas Wincek for his IDM project Emotional Joystick. In addition to playing with hardcore-break folks, I also started performing noise with Jason Soliday and got the chance to extend my realtime tool-kit with I ♥ Presets (Jason Soliday and Rob Ray).
In 2004, I traveled with jonCates and Ben Syverson (as criticalartware) to present at ISEA. I remember meticulously recreating the ISEA logo in order to glitch it as a part of the presentation. From Helsinki FN, we traveled to participate in the ReadMe Festival in Aarhus DK. I feel like ReadMe Software Art & Cultures and the Dorkbot City Camp was a formative experience. I've written a bit more about that trip, inspirations, influences (including: JODI, WIMP and TOPLAP) and early work with I ♥ Presets on my (woefully neglected) blog. Shortly after my time at SAIC, I also got to know and work with a few great folks–who were at around after I graduated and before I started teaching there: Mark Beasley, Jake Elliott, Nicholas O'Brien, Tamas Kamenski and Chris Reilly.
It wasn't until I joined the databenders Yahoo Group and Flickr that I began to find other folks referring to their work as "glitch" (~2004?). Tagging systems like del.icio.us and Flickr allowed content to guide early social network interaction. Through those systems, I was introduced to folks like: Benjamin Berg, Antonio Roberts, Daniel Temkin among others; and through searching around I found and began to cross virtual paths with Nick Briz, Arcangel Constantini, Ted Davis, Benjamin Gaulon, Gijs Gieskes, Karl Klomp, Anton Marini, Shay Moradi, Evan Meaney, Rosa Menkman, Dimitri Lima, Ant Scott and many others who've since been involved with GLI.TC/H…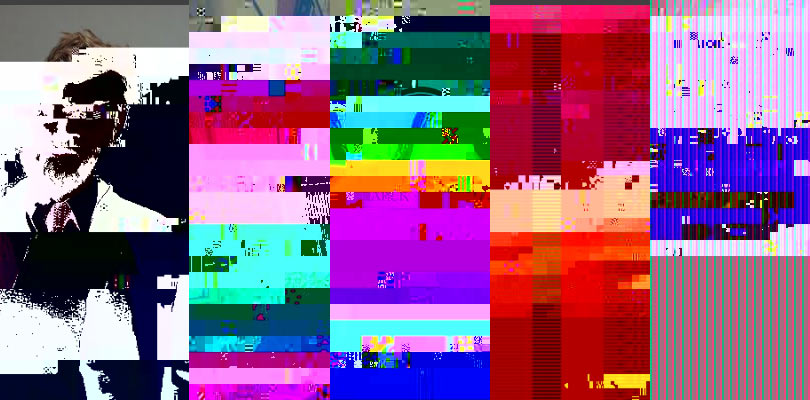 Ben Syverson, Satromizer
Do you have your own glitch art style? An aesthetic or an approach maybe that makes a glitch work definitely a Satrom glitch work? (if that question makes sense)
Thanks to Ben Syverson, in some circles, "satromizing" has (humorously) become synonymous with glitching. But, I guess, it's more of an approach than an aesthetic. In 2001, Ben packaged some glitchy techniques and processes I was using into an After Effects Plugin as a sort of algorithmic remix. He called it the "Satromizer". Over the years, we've turned that piece into a project and ported it to Perl, iOS, HTML5 and making it one of the core components of the Pox suite of artware tools (including the Satromizer OS). Satromizing, doing it the wrong way, creative problem creating, and inspiruption are some ways I can articulate my practice. I try not to take things too seriously.
I don't feel that it's healthy to claim uniqueness, especially with a process that relies so much on the magic of chance and hiccups within technologies developed by others. There's something exciting about witnessing something out in the open–like a glitch–and honing your skills to capture and play with it. There's also something absurd about spending the amount of time and effort on what I do, so I also like to make fun of it to make me feel OK.
Often, I like my work to look similar to the system that it's operating within. In design, architecture, IT and many other disciplines, a job is well done when the user doesn't notice the work done. I often spend a lot of time making certain aspects of my work un-seeable; naturally embedded in the systems where they exist; cloaked in their context in order to break from it. By operating as a UI/UX chamelion, I try to playfully lull folks into experiencing the unexpected. I perk up during awkward silences. I'm invigorated by loud bursts of noise. And I really love when confetti machines go off at the wrong time.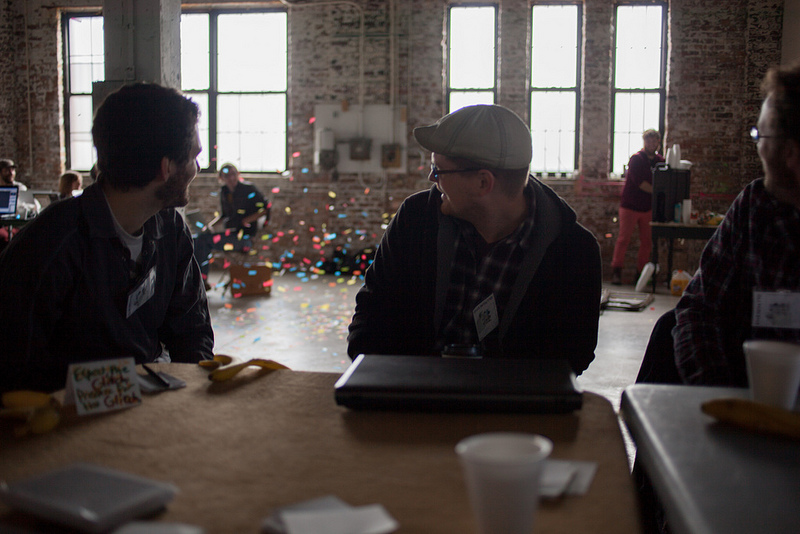 GLI.TC/H 2112 "accidental" confetti cannon going off. Photo: Ben Syverson
Is there anything in and on a computer that you can't or just wouldn't glitch?
I'm writing this while I'm waiting for an appointment at one of the Apple Stores in Chicago… Nothing is clicking, literally… I think my trackpad is messed up. That may point to an answer to your question (pun intended).
On one hand, I desire a working tool to make broken things. I think the most terrifying glitches are the ones that are silent, absent, and/or nonexistent due to non-recoverable hardware and software failures. On the other hand, using something that's broken can breed unexpected results and/or force you to use the tool in a new way. For example, I have a couple bricked laptops that I love intentionally knocking off podiums during lectures. Glitch can be transformational. A hard fault can jolt an object into a new state of functionality.
I feel that one should be able to glitch anything and everything. It should be a fundamental right but it's being eroded. For example, after a recent upgrade, I was trying to minimally modify a core part of OS X and found out that Apple now restricts the root user from the owner of the machine. Traditionally, owners and utilities could leverage root to override permissions (a sort of God-mode for your box). Apple's System Integrity Protection is a new proprietary meta-root user that controls low level aspects of the machine. This action by Apple makes me want to glitch SIP, but that's probably a bad idea…
Things I'd like to glitch but shouldn't: The kernel of my computer, the kernel of your computer, my brain.
Things I'd like to glitch but can't: Capitalism, hegemony, history, reality.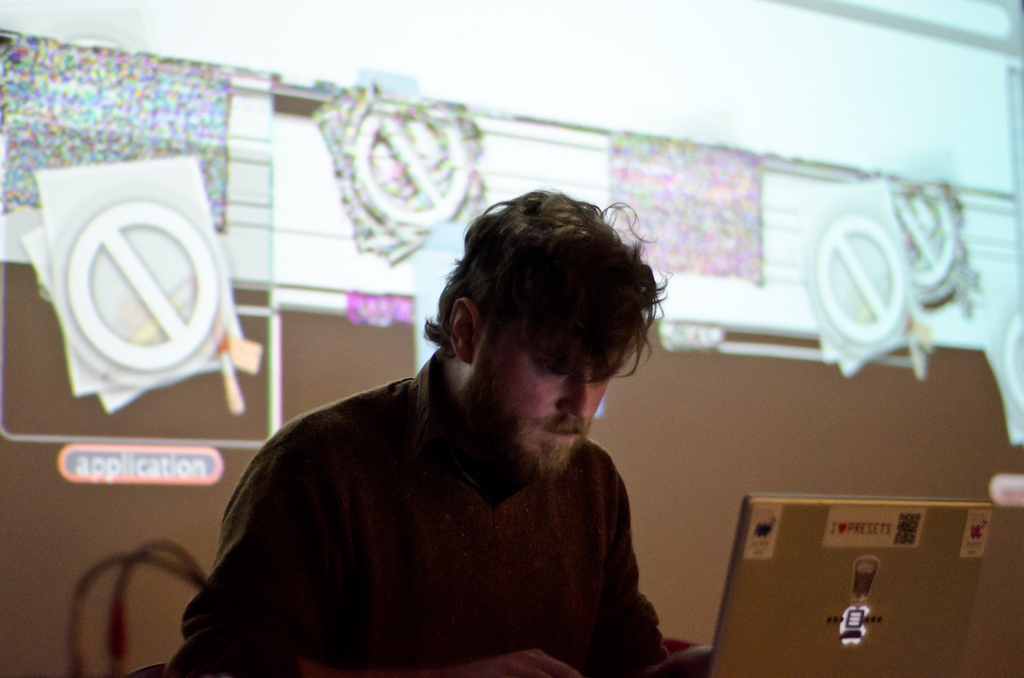 GLI.TC/H 2011 Birmingham, UK. Photo: Pete Ashton
Often folks are appalled to hear that the machine I perform with is also my work machine. I've had situations where I do a performance at night and open my computer the next morning with a client and they shriek! It's a multi-use tool and space. In the past, I tried creating different users for different performances, but, due to licensing issues, organizational shortcomings, preset management and laziness, I've resorted to using my default environment. It allows me to capture and be inspired (or pissed off) by glitches I experience in my everyday. I think there's something honest and a bit vulnerable about that.
(Update: My laptop wasn't messed up… After giving up on my appointment and jiggling my laptop's innards around a bit, it started working. I have no idea what was wrong.)

Jon Satrom, Windows Rainbows & Dinos 2010.02.11
Why is it important to break, corrupt, create accidents when technology is supposed to be about working flawlessly, to avoid failure and surprises? What can a glitch bring to our life as a user?
A glitch is a moment that breaks one from a flow and provides an opportunity to see the systems at play. Technology has gotten away with a lot by telling us that it's suppose to be flawless, perfect, make our lives easier. Does it? Absolutely not… One can't discount the myriad of conveniences we now have via many modern technologies, but, we do need to be broken from a flow every once in a while–especially now, when flows are coagulating into new regimes.


Jon Satrom, x-+ø, 2013
The notion of avoiding failure and surprises, to me, sounds dry and lifeless. Of course that's expected in mission-critical systems of healthcare, transportation and war–but that's not where most of us operate (individually). Even Apple's new TOS states that users should expect these things:
D. APPLE DOES NOT WARRANT AGAINST INTERFERENCE WITH YOUR ENJOYMENT OF THE APPLE SOFTWARE AND SERVICES, THAT THE FUNCTIONS CONTAINED IN, OR SERVICES PERFORMED OR PROVIDED BY, THE APPLE SOFTWARE WILL MEET YOUR REQUIREMENTS, THAT THE OPERATION OF THE APPLE SOFTWARE OR SERVICES WILL BE UNINTERRUPTED OR ERROR-FREE, THAT ANY SERVICES WILL CONTINUE TO BE MADE AVAILABLE, THAT THE APPLE SOFTWARE OR SERVICES WILL BE COMPATIBLE OR WORK WITH ANY THIRD PARTY SOFTWARE, APPLICATIONS OR THIRD PARTY SERVICES, OR THAT DEFECTS IN THE APPLE SOFTWARE OR SERVICES WILL BE CORRECTED. INSTALLATION OF THIS APPLE SOFTWARE MAY AFFECT THE AVAILABILITY AND USABILITY OF THIRD PARTY SOFTWARE, APPLICATIONS OR THIRD PARTY SERVICES, AS WELL AS APPLE PRODUCTS AND SERVICES.
E. YOU FURTHER ACKNOWLEDGE THAT THE APPLE SOFTWARE AND SERVICES ARE NOT INTENDED OR SUITABLE FOR USE IN SITUATIONS OR ENVIRONMENTS WHERE THE FAILURE OR TIME DELAYS OF, OR ERRORS OR INACCURACIES IN THE CONTENT, DATA OR INFORMATION PROVIDED BY, THE APPLE SOFTWARE OR SERVICES COULD LEAD TO DEATH, PERSONAL INJURY, OR SEVERE PHYSICAL OR ENVIRONMENTAL DAMAGE, INCLUDING WITHOUT LIMITATION THE OPERATION OF NUCLEAR FACILITIES, AIRCRAFT NAVIGATION OR COMMUNICATION SYSTEMS, AIR TRAFFIC CONTROL, LIFE SUPPORT OR WEAPONS SYSTEMS.
I feel that by glitching things, we are able to exercise our digital agency in spaces that continue to be locked down. The open-ended back-doors that were once left by developers considering alternative conventions and methods are being replaced by the walled gardens of App Stores and proprietary APIs. Machines once heralded by their makers as personal production environments (Think: Rip. Mix. Burn.) are being reduced to "smart" communication devices for consumption and surveillance. Sometimes glitches can point to fulcrums of power, expose embedded agendas and reveal updated ethics.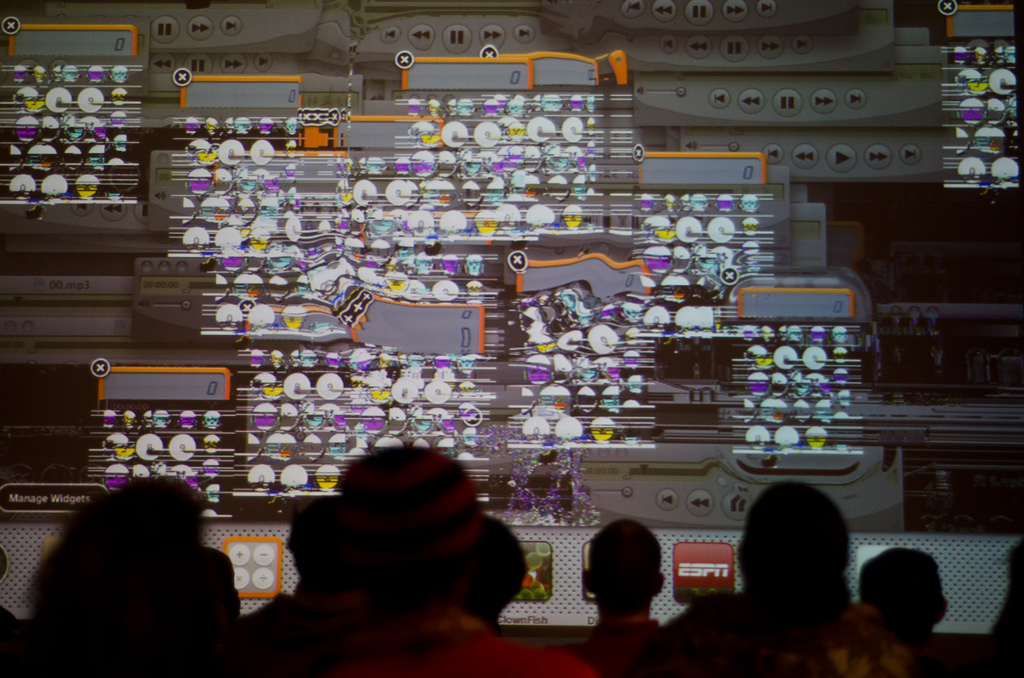 GLI.TC/H 2111, Birmingham, UK. Photo: Pete Ashton
In fact, Mac OS X–which is the context of much of my work–is now actively censoring glitches. It's similar to the choice of manufactures made to mute static on TVs with blue. One could take it as an offense to Glitch Art. The iPhone Satromizer no longer "works". Many of my scripts, widgets and bits continue to become rendered obsolete due to updates and patches "fixing" bugs and situations I found useful.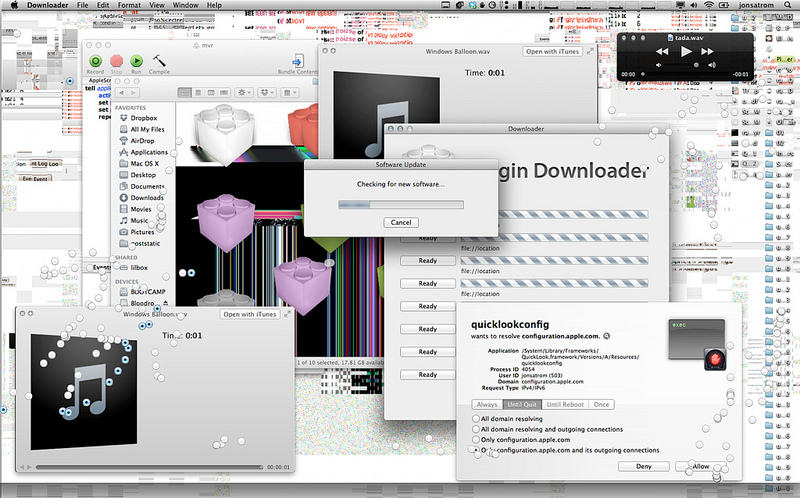 Jon Satrom, 092k12intuit02, 2012
You teach, do performances and develop apps. So that's your rent and bills sorted but have you ever thought of putting your work on the contemporary art market? Selling it, showing it in 'traditional' white space galleries? Would that even make sense to you?
I've participated in a few white-cube shows in (mostly) independent and DIY spaces detached from an Art market. The processes that have formed for me could potentially support a gallery module, however, I'm fortunate to be making enough of a living by occasionally teaching and doing independent projects for non-profits and arts organizations around Chicago.
My work typically consists of a bunch of widgets, scripts, gestures and messy bits that culminate into realtime performances designed for a particular contexts. The performances are usually documented as videos. The documentation and detritus created are available online (admittedly in a disorganized way) and (if they continue working) they occasionally become folded into further projects.
Much of my work is fueled by panic, fear and frustration. And, frankly, as a white American male, I don't feel my struggles are very significant. Also, working within an unstable medium, I can't guarantee things will continue functioning. The market demands certain things and, as someone who was brought up to value hard and honest work above all, I haven't seen an equation I can latch onto… yet.
I don't get jazzed about glitches printed out (2D, 3D, nor nD). They're fossilized. They're static. I guess I place more value–personally–on the moments that happen than the artifacts produced by those moments. So far, performing, teaching and gathering folks has proven more fruitful. That said, I wouldn't dismiss the exploration of the Art market. I welcome the opportunity to glitch the language and conventions of any context.
I have the impression that people are more and more open and appreciative of glitches. When it comes to art at least. Do you see glitches seeping into mainstream culture as well?
It's a mechanic that drives narratives in games and movies, it's a filter for nearly any type of media and it encompasses multiple genres from glitch-hop music to Glitch Art. I believe glitches provide a way of relating to our contemporary condition–and because of that–we see it everywhere.
It's recognizable to folks because nearly everyone has experienced the promise of digital perfection broken: from perpetual beta to forced obsolescence; from product defects to stolen elections. We are constantly reminded that we are compromised by the technology we buy and are increasingly being used by the systems we use. To witness someone leveraging the glitch–opposed to being acted upon by the glitch–is often a triumphant human moment!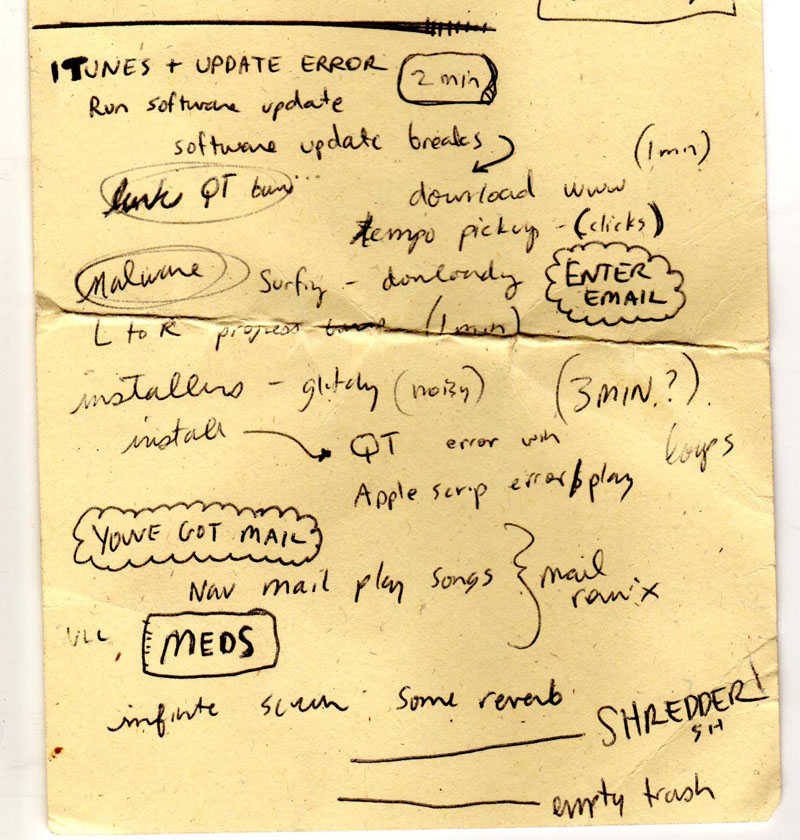 Notes from a Prepared Desktop performance, 2010
Any upcoming project, event or research you want to share with us?
I've been working with some microfiche film from an 1960s IBM Mainframe and a modified reader for a new project called MicroMonotaur. I'm continuing to develop Prepared Desktop performances. I ♥ Presets is convening in Chicago in February for a rare performance. Ben Syverson and I are planning a complete redesign of our project Pox as well as a new release of the Satromizer dubbed Satromizer Pro in Q1. We're also wanting to organize another PoxCon. Nick Briz and I just wrapped up our pilot season of D.R.E.A.M. (Data Rules Everything Around Me), a roughly-monthly conversation series devoted to openly discussing topics around digital agency. I'm considering starting a teacherless community classroom at my studio (currently, its working title is XtraCredit). And, I'm in the process of trying to put together a little European tour around April.
My website is desperately in need of an update. I have loads of garbage to upload and a system sketched out to interlink it. Locally, I'm getting my footing after a recent OS upgrade. OSX 10.11.2 is particularly frustrating due to a number of things that are not not working and I'm still hunting for any upgrade glitches. I am excited to get everything in its place. My goal is to have a laptop running 3 Mac OS versions, 1 Windows, and 1 Ubuntu. In 2016, I'm planning on switching my day-to-day computer use to Linux. Hopefully, with everything "working", I won't lose the frustration that often drives my work… I doubt it…
Thanks Jon!
Image on the homepage: satromized portrait of Jon Satrom by Ben Syverson.
Related stories: Glitch Moment/ums – From tech accident to artistic expression and Interview with Benjamin Gaulon aka RECYCLISM.