I knew Jenny Holzer as the artist whose light light projections sex up the facade of the Palazzo Madama or Palazzo Carignano each Winter in Turin. I was therefore quite surprised to see how different and politically–charged her contribution to the Biennale is.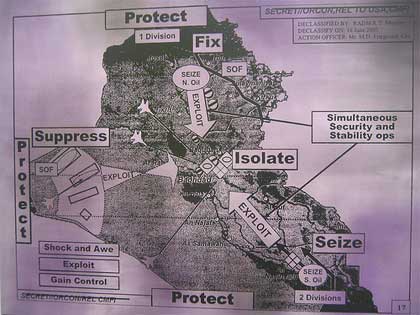 Protect, Protect, 2007
Her work in Venice is one of the many that the artistic director of the Biennale, American critic and curator Robert Storr, had selected to remind us of the values that his country has always stood for but has also more than once betrayed in the past few years.
Holzer's Redaction works (redaction in this case means to edit and or black out text before publication) are enlarged, painted version of declassified government and military material obtained from the American National Security Archive, including issues of prisoner/detainee abuse in Guantánamo Bay and other detention camps, and the ongoing tragedies of war in Afghanistan and Iraq. You can rest your eyes on cold autopsy reports (the "manner of death" of some prisoners being disturbingly registered by doctors from the Armed Services Institute of Pathology, as "Homicide.â€?) and witness statements given to the FBI.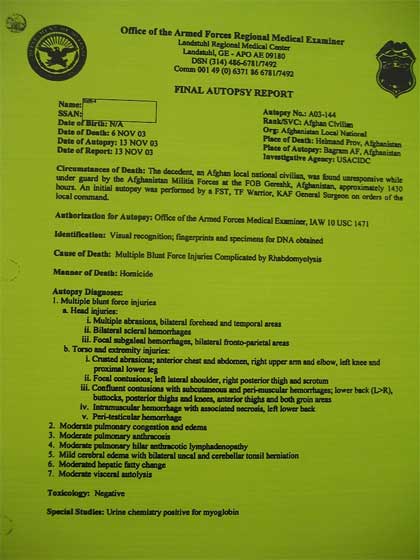 Homicide
As the title of the series suggests, parts of the texts are censored. But all those dark or blank rectangles that hide words have the effect of grabbing your attention. The documents let understand that the treatment reserved to some prisoners included heads wrapped in duct tape, whacked with phone books, low voltage electrocution, hooding, the use of drugs, suspensions, shackling and gagging, ligature injuries and pierced lungs (via.)
And suddenly small painted words remind you of those awful images that you had almost forgotten about because they are not making the headlines anymore…
More about the series of paintings in The Phoenix and Big, Red & Shiny. My pictures and better ones from the Cheim & Read Gallery and Sprueth & Magers gallery.