Issey Miyake's latest innovations, to debut in fall, 2006, build on the computer-driven manufacturing process he first developed, with design engineer Dai Fujiwara.

In 1997, the duo invented A-POC (an acronym for "a piece of cloth"), a means of knitting or weaving entire pieces of clothing — no sewing needed. Because the process produced material that wouldn't fray, wearers could then customize the clothes as they saw fit.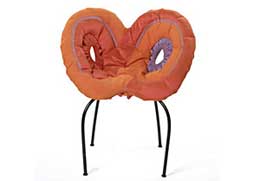 Miyake and Fujiwara are now pushing the A-POC process in directions that could potentially revolutionize the way mass-market goods like upholstered home furnishings and jeans are manufactured. And because no sewing is involved, A-POC technology might eventually eliminate the use of sweatshops and lower costs in both fields.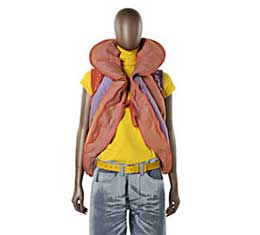 Before the end of 2006, Miyake will launch a product co-designed with Ron Arad that blurs the edges between designer clothing and designer chairs. Called Gemini, it's a streamlined, body-cushioning pillow, made of A-POC fabric, and designed to be used as a cover for Arad's plastic Ripple Chair. But what makes Gemini ingenious is that it can also be worn as a body-hugging jacket.
The A-POC Gemini chair cover and the Ripple chair will make their retail debut in mid-fall.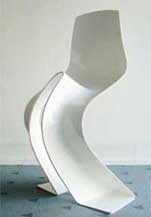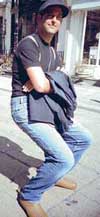 Related: Oliver Peyricot's wearable chairs, Assa Ashuach's 501 chair and My Trousers (a pair of trousers with a built-in seat, pictures above), GoPingPong's wearable furniture collection, Hussein Chalayan's Living Room and Afterward collections (images below) which refer to the reality regugees have to face when they are forced to leave all their belongings behind them.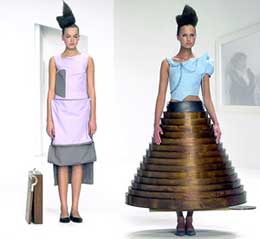 Via Business News The apt. The May issue of Blueprint has a great article about Arad/Miyake collaboration.