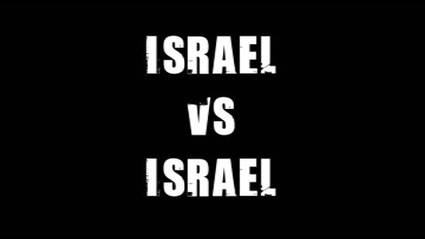 To many of their fellow Israelis, they are traitors. They are attacked, arrested and demonised. Yet Israelis like Yehuda Shaul, leader of Breaking the Silence and Jonathan Pollack from Anarchists Against the Wall continue to struggle for a more peaceful Middle East. They believe that they can save their state by putting an end to the military occupation. But the Israeli peace movement has lost momentum in recent years. There is widespread apathy in Israel against ending the Occupation, especially after the withdrawal from Gaza. 'Israel vs Israel' takes a fresh look at one of the leading tensions in Israeli society.
Trailer of the documentary:
Israel vs Israel follows 4 Israeli peace activists: a grand mother, a veteran soldier, a rabbi and a young anarchist. The one hour long documentary was directed by Terje Carlsson. I had liked his previous documentary, Welcome to Hebron, so much that Carlsson was kind enough to send me a copy of the dvd.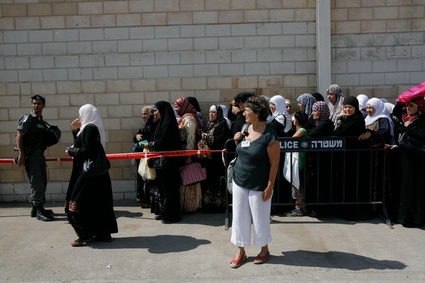 Queue
Palestinians living in in the West Bank and wishing to go to work, attend classes at school, deliver milk or simply get to the hospital on time have to go through checkpoints, roadblocks and other obstacles. There are hundreds of them in the West Bank. Even going from one Palestinian area to another involves barriers and documents. Queuing for two hours is nothing exceptional. My heart bled when the documentary showed old ladies standing under the sun holding a permit that would allow them to visit a relative or pray. Could i imagine my grand-mother going through that?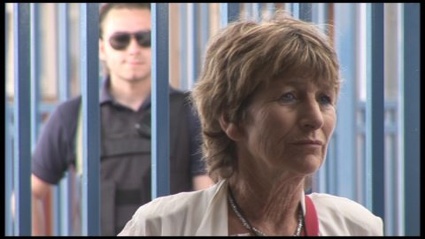 Ronny Perlman
Ronny Perlman, the Jerusalem coordinator of Checkpoint Watch, goes regularly to a checkpoint and documents violations of human rights of the Palestinians. She tries and intervenes in favour of a father trying to get his young child to the doctor, she discusses with the soldiers, chitchats with the women waiting for their turn to cross the checkpoint. She is one of the many Israeli women based in Israel who take a peaceful stand against the occupation of the territories and the repression of the Palestinian nation.
A moving scene in the documentary shows Perlman talking to her son who is serving as a soldier. They have a conversation about the occupation and the army. The theme is taboo in many families. She hopes her grandson will never have to carry a gun, her son differs and says that, once he is 18, his will probably have to kill 'Arabs' to defend his country.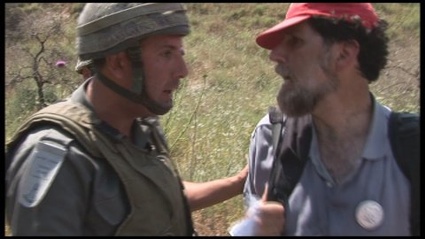 Arik Ascherman discussing with a soldier
Rabbi Arik Ascherman, the executive director of Rabbis for Human Rights, tries to protect the non-combatant Palestinian population against harassment from settlers and soldiers.
The consensus view of the international community is that the building of Israeli settlements in the West Bank, including East Jerusalem, is illegal under international law, although Israel disagrees. B'Tselem reckons that more than fifty percent of the land of the West Bank has been expropriated from Palestinian owners "mainly to establish settlements and create reserves of land for the future expansion of the settlements". Palestinian farmers are prevented from tending to their crops, their olive trees are cut, their houses demolished.
Rabi Arik Ascherman stands between the soldiers and the farmers, sometimes he even stands between the bulldozer and a Palestinian house that has to be destroyed.
Ascherman insists that RHR works for the human rights of Jews, Palestinians and foreign workers alike. It has indeed condemned both Israelis and Palestinians, while recognizing that it is Israel who holds most of the power.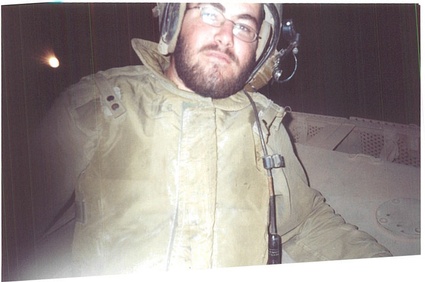 Yehuda Shaul
The third activist portrayed by the documentary is Yehuda Shaul, founder of Breaking the Silence, an organization of veteran Israeli soldiers that collects testimonies of soldiers who served in the Occupied Territories during the Second Intifadah. Soldiers who serve in the Territories are witness to, and participate in military actions which change them immensely. Cases of abuse towards Palestinians, looting, and destruction of property have been the norm for years, but are still excused as military necessities, or explained as extreme and unique cases.
Yehuda Shaul talks about Breaking the Silence to togetherTV
Shaul served in Hebron and as he half-joked "In Israel, people shouldn't be allowed to vote before they visit Hebron." Israel vs Israel includes images from Terje Carlsson's previous documentary Welcome to Hebron (i can only recommend you to watch it on youtube: part 1, 2 and 3.) Although it is the second time i saw those images, they shocked me deeply: children of settlers throwing stones and spitting at Palestinian school girls, kids shouting "Slaughter the Arabs!" and other scenes i wish i had never seen:
Shaul appears as incredibly honest and brave. Not only has he to live with what he has done to Palestinian civilians while he was part of the army, but now he also has to face abuse from settlers who call him a traitor and a terrorist. Like all the activists portrayed in the documentary, Shaul cares deeply for Israel. He explains that one has to chose between the land of Israel or the State of Israel with the democracy and equality that it entails.
Videos reports and testimonies uploaded by Breaking the Silence.
The fourth peace activist is Jonathan Pollack, one of the founders of the Israeli group Anarchists Against the Wall.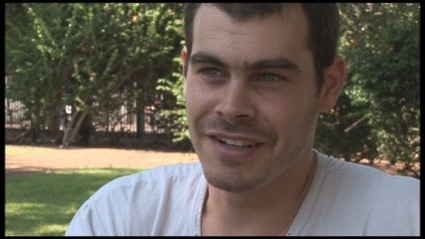 Jonathan Pollack
Pollack and AAW have embarked on a grassroot, nonviolent crusade against the seizure of Palestinian land for Israel's construction of its –illegal– wall and settlements in the territories. He has been injured, arrested and imprisoned several times for his solidarity actions with Palestinian villagers.
Israel vs Israel is as painful and uncomfortable as it is necessary and gripping. It made me sad and angry. As a European who cares for human rights, i'm often exposed to the works of US or European ONG and activists. I've heard the voice of Palestinians, of foreign observers, of concerned reporters. For the first time, i get to see a video that portrays Israelis (some of them Zionists) who care for their country as much as they care for the respect of basic human rights.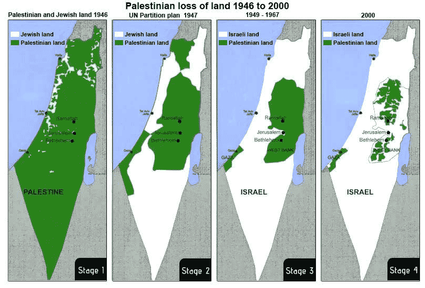 Palestinian Loss of Land map
I hope Israel vs Israel comes to your town soon. Doc Lounge Göteborg will kick off their autumn programme with "Israel vs Israel" on September 21, 2010. Screenings are scheduled in Stockholm, Göteborg, Karlstad and Malmö in late September. Screenings outside Sweden are planned for later this year. Join the facebook group for updates.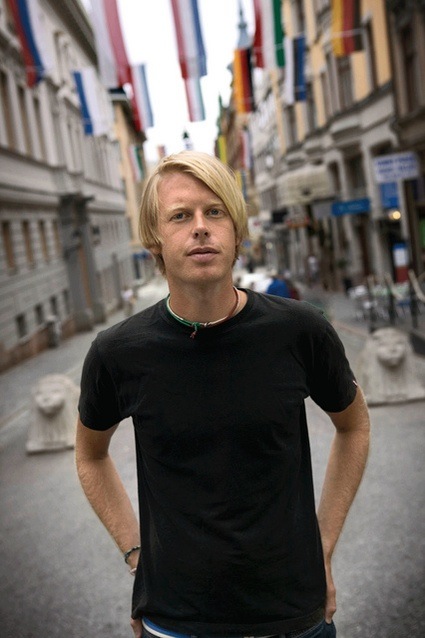 Filmmaker Terje Carlsson is a freelance journalist based for many years in Jerusalem, working mostly for Swedish National Radio and Television. During the last decade, he has produced shorter documentaries and features from ex-Yugoslavia, South Africa and different parts of the Middle East. His first feature documentary, Welcome to Hebron, was released in 2008. The film won several awards at festivals all over the world. TV broadcasters from more than 10 countries around the world bought the rights for broadcast.
Vice magazine has an interview with Terje Carlsson.
Previously: Tip of the day – Welcome to Hebron.
Another Israeli organization worth mentioning: B'TSELEM – The Israeli Information Center for Human Rights in the Occupied Territories. Please add a comment if you know of others.
See also Friday Film Pick: Unrecognized, Architects out of Ariel, Facing jail, the unarmed activist who dared to take on Israel, Walking Through Walls, an essay by Eyal Weizman.