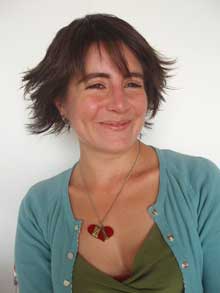 Last month i was in Colombia for (and thanks to) the Pixelazo festival.
I then asked Alejandro Tamayo if he could point me to any artist worth meeting in Bogota. Several names came to his mind but when i had a look at the images of Adriana Salazar's machines, i just said "Stop! Stop! no more names, how can i get to meet her?" How could i not want to know more about a girl who creates delicate and elegant (but slightly ludicrous) machines that smoke, tie shoes, pull thread through the hole of a needle, relentlessly measure walls, switch the light on and off, on and off, on and off, dust walls, cry while another one dries its tears, etc.
What is your background? How did you start creating machines? Is "machine" the correct word to describe them by the way?
I studied fine arts at the Jorge Tadeo Lozano University, here in Bogota. At the very end of my career, just when I was starting to develop my last academic project, I came to the encounter of moving devices, by chance, or maybe because I just couldn't stand stillness. After that I decided to work with a more specific kind of movement: human actions that are performed repeatedly and without any awareness of what happens to the body meanwhile. I started thus with smoking, as an action with a very complex body movement involved. The idea of isolating this action, from its context, resulted in a sort of "machine-like object�, but with the exact opposite functions a machine would usually perform: it just had no purpose, no practical value. Besides, the object that resulted was rather clumsy, simple and almost hand-made, so there is no fancy technological operations involved, and no industrial mass-produced object as a result of the process. The word machine seems then incorrect, in that sense.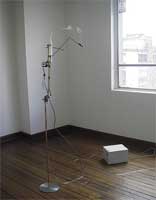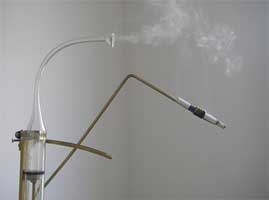 Mademoiselle, Máquina fumadora (Smoking machine)
What fascinates you in the absurd and the useless?
The fact that it is precisely through the absurd and the useless that we can really get to understand what us humans are like: we can perform coherent and beautiful actions that still have no purpose. The purpose of our actions, or even better, their ends, somehow always escapes our comprehension, and yet we keep moving and doing things. It is fascinating then to see, as in a distorted mirror in front of us, what we do, but without our presence: just the action repeating itself over and over.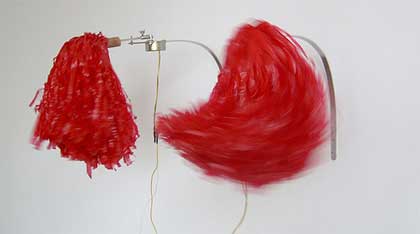 Porristas
What is your relationship with the machines you create? Do you see them as mere objects for galleries or do you develop a more personal relationship with them?
There is something I really like about them: Their design is always the result of very simple mechanical or physical processes, and it is conceived by the mind of an amateur: There is no engineering or high-tech involved. The result is therefore a very personal interpretation of a movement, so it turns to be more an expressive device than a robot or an automatic appliance.
On the other hand there are a couple of pieces that work very well with galleries, but not because they look good in them or because they are commercial. Both the smoking machine (Mademoiselle) and the careless machines (the ones that start making a toast, and end up drunk and unsynchronized) invert the social roles of the actors in an exhibition opening: When the guests drink and smoke while looking at the art pieces, these two art pieces drink and smoke while looking back at their beholders.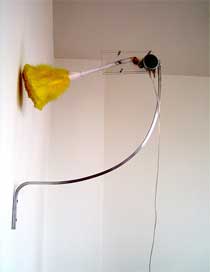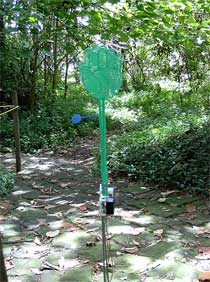 Máquina desempolvadora and La desaparición de las necesidades
How do you develop them? On your own? or do you collaborate with someone else to build up the technical elements?
The whole process of designing and building these objects is rather interesting. I am becoming first of all very comfortable with the fact that they are created in sort of a naïve way. I need to understand what is going on in there, and I need the viewer to do so too, so I tend to avoid complex operations or technological novelties that could leave you just amazed and overwhelmed. Nevertheless, I have always had the support of people that obviously know how to do certain things better than me, especially concerning working with metal or other industrial materials that require special instruments. The rest is just small disco ball motors working!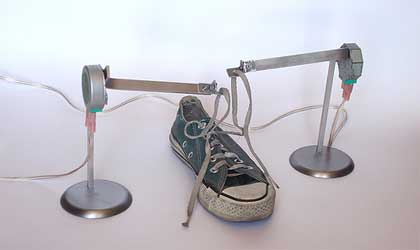 Máquina que intenta amarrar un zapato (Machine that tries to tie shoes)
Are your works a comment on technology, human beings or their relationship to technology? Maybe all of those?
Certainly all of those. I am not a moralist towards technology, but I love to show its ironic side, I love to laugh at the fact that we truly believe technology is progress, and that it is eventually going to save our lives: in my pieces there is always something that remains incomplete, some sort of imperfection that becomes an effective part of the work. It is as if our actions as well as our machines were always failing to succeed their task. Maybe what humanizes our technological world isn't its tendency to boost human form or function, but its constant failure, its fragility.
There is in fact one of my pieces that is actually a "trying machine�, a machine that makes an effort and always fails (machine that tries to thread a needle): it is small, modest, and stubborn as a man.
Is there any artists that has influenced you or that you particularly appreciate the work of?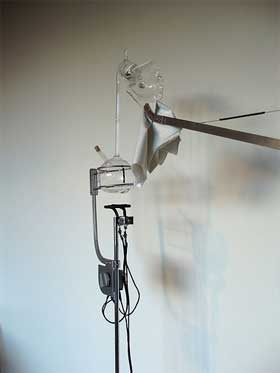 I know I should probably be bringing influential figures here, such as Rebecca Horn or Jean Tinguely, or even Stelarc or Wim Delvoye. I discovered that the artists I love the most are those who are completely alien to my processes and those whose work is most disturbing and uncomprehensible. In the research process for my last piece "llorona� (crying woman), for example, I rediscovered some fascinating Man Ray pictures, and I fell in love with Hans Haacke's Condensation Cube. I also truly related to this last piece in the sense that it is very complex, theatrically complex almost, and at the same time it is the simplest thing of all!!!
What is the reaction of the public when they see your art pieces?
I've seen all kinds of reactions. I like the fact that this kind of things tend to escape the discursive, enclosed, and elitist approach to contemporary art. I like, for example, when people laugh at them or when they become interested in how they work or in how they relate to certain human experiences. I had once a group of industrial design students that came with a very unexpected and interesting approach, from the designer's point of view. I had never thought of my work as design, but I understood that definitely design played a very strong role in it: The human being is able to redesign its body and modify it to perform a certain function, and artists are mostly perception and body designers. I owe this discovery to the input from the public.
Thanks Adriana!
All images courtesy of Adriana Salazar.