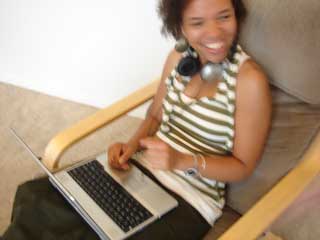 I've been writing about Lalya Gaye's work over and over again ever since i started to blog. She's one of those few people who seem to swim effortlessly in both the artistic and the purely scientific waters.
She's an engineer and PhD graduate working in multidisciplinary projects that search to explore new territories of personal expression and creativity enabled by ubiquitous computing. Her research focuses on mobile media for urban space and on computational repurposing of everyday objects. In 2002, she started working on various research projects at Future Applications Lab, Viktoria Institute in Göteborg, Sweden. But she still manages to find some time to develop smaller new media projects with friends and to get involved in the mobile music and New Interfaces for Musical Expression (NIME) communities.
Your biography says that you are an engineer working in "research projects exploring the convergence of art, technology, and design." Do you feel that your work is welcomed with the same interest in a technological context as in an artistic or design one?
The Viktoria Institute is an innovation-oriented research institute in applied IT that is closely related to the IT-University in Göteborg, Sweden (which is a collaboration between Göteborg University and Chalmers University of Technology). Viktoria consists of several groups with different research focus: telematics (IT and cars), IT for firemen, etc. The group I work in is called Future Applications Lab and was founded by Lars Erik Holmquist in 2002. It focuses mainly on ubicomp applications for everyday life, with a human-computer interaction perspective to it. Basically, we look at what new meanings new technologies can bring to people's everyday life by developing prototypes for rich social and aesthetic interactions.
We are a multidisciplinary group with backgrounds in cognition psychology, design, engineering physics, language technology, physics, computer science etc and the projects we have worked on span across a variety of fields: ubiquitous computing, new interfaces for musical expression, robotics, information visualisation, mobile and locative media, interaction design. We all work on several projects at the same time, either with other group members or within collaborations with other research groups, artists or master students. What projects we are able to work on depend on available funding because the institute's only financing comes from project funding, but our group leader seeks those that meet our research interests so that we get funding for what we want to research about. So we are quite free within a certain frame.
Right now the main themes we research on are mobile media, and robotic applications for everyday life. Marketing potential is not on top of our group's list, we would rather prioritise relevant and interesting findings from a research perspective. However, it does not hurt if something we do has some commercial potentials. A couple of years ago for example, Johan Sanneblad made a computer graphics platform (Gapidraw) and an ad hoc networking platform (OpenTrek) both for handhelds that became a very successful company (Develant), besides enabling a series of projects we have worked on in the group. I have heard they have become a standard for mobile gaming on hand-helds.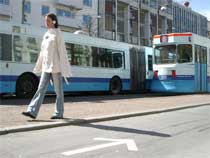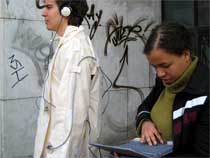 Sonic City
A couple of years ago, you developed a concept of music creation that has always made me dream: Sonic City. Where is that project now? are you still working on it? do you still believe in its relevance today?
Sonic City was my first project when I joined Viktoria in 2002. It was a collaboration among Ramia Mazé and Margot Jacobs at PLAY, Interactive Institute, and a very talented Swedish sound artist called Daniel Skoglund who used to be in the group 8Tunnel2. We ended the project in 2004 after having completed a final user study, so I am not working on it anymore. However, most of the projects I have worked on since then take further some of the concepts we explored in Sonic City: embodied uses of the everyday (everyday activities such as walking, everyday environments such as the street…) as a resource for aesthetic practices (music, photography, etc).
Although this project is now quite old, I think that what it touched upon is still very relevant today. The same way a lot of projects you write about in your blog do, it looked at how ubicomp can enrich our everyday life, help us appropriate public space and provide us with new means of being creative. And there is a growing community of people working with mobile music technology nowadays, which I am very excited about!
What are the new frontiers of mobile music? Do you think that the industry has understood how to fully exploit its possibilities?
It is hard to say what big mobilephone companies have in mind because they are very secret. They could be developing loads of new mobile music applications as we speak, I have no idea. But on the art-design-research side and in smaller companies such as SSEYO, there is definitely a lot going on. I have been organising a series of annual workshops about mobile music technology (together with Frauke Behrendt from Univ. Sussex, Lars Erik Holmquist, Atau Tanaka and Drew Hemment from Futuresonic) to get people who are active in this field to meet, discuss what they do and learn from each other. The workshops are getting bigger each year! By the way, the next one will be in Amsterdam this spring at STEIM and De Waag Society.

Mobile music workshop
What I find interesting with mobile music is that it democratises the use of music technology and takes it to the streets. The field develops very quickly so it can take various directions at the moment: mobile music is by nature multi-disciplinary, at the crossing between interactive music, mobile computing, locative media and consumer audio, so it benefits from all the current developments in all of these fields. Therefore it is since long ago going way beyond ringtones and mp3 players. More towards ad hoc collective actions such as networked music making and sharing for example. These developments do not seem to reflect enough on the products available on the market so far but hopefully in the near future it will.
You often seem to collaborate with people from various backgrounds: how does the collaboration happen? Do you understand each other right from the start? are there periods of adjustement?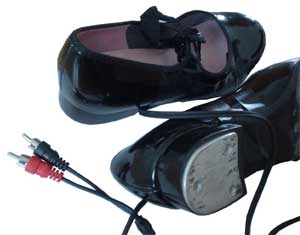 Indeed, I just love collaborating with people! I find it much more fun and enriching than working by myself and also depending on what you work on you might not have all the necessary skills to complete a project all by yourself. Yes, I especially enjoy working with people from different backgrounds, you really learn a lot and the projects get richer that way, more nuanced.
Usually I work with colleagues from Viktoria or from other research groups, or with people I met at festivals/conferences with similar interests in art and technology. Sometimes simply with friends when we have idea we want to explore together. There is no standard way in which the projects happen, it depends: one might have a project idea and search for the right people to contribute to it, sometimes an idea just pops up from casual discussions, sometimes one works in an assigned project with people that have been assigned as well. But in most cases, you need funding to be able to fulfil the projects, except for projects with friends such as Tap-n-Bass where we typically have no budget whatsoever.
But it is a hard process as well. In the beginning, it is a matter of understanding what background people come from and use a common language. The word "design� for example might mean different things depending on if you are an computer engineer or a product designer for example. People are not necessarily interested in developing the same things in a project either but it is all good, you just need to accept it and embrace it. It is all a learning process, and that is what makes it fun.
What can an artistic approach bring to the development of ubicomp technologies?
I guess it could be perspectives on the usefulness and meaning of the technology? Art questions common assumptions of what technology is for and what it achieves. Ubicomp is meant to become a pervasive presence in people's lives and with this come issues of personal integrity, democracy, etc. Therefore it is important to question what form and impact this presence could have. Not everything has to be about work or making people safer, more productive, more socially engaged either… But in my research I am more interested in the opposite actually, what ubicomp can bring to the arts.
Your finishing (?have finished?) your PHD this year. can you talk about what it is about? do you already have plans for the post-PHD life?
Well, finishing this year was the initial plan but it is taking more time than expected so I will probably be done by spring 2007. I am searching for post-docs or researcher positions for after my hopefully very long holidays, but I have not seriously started looking. I would like to continue collaborating with people with various backgrounds in art/tech/hci/design projects. So if you are reading this and have a position available somewhere: call me!
Whatever happens, I will continue to be involved in the NIME and mobile music communities. There is also a book coming up about mobile music, authored by myself and a few others.
How would you describe the situation on the Swedish scene for art forms that use technology as a medium?
I love it. Initially, I was going to be in Sweden for about a year before moving to Paris, now I have been here for almost 7. I just cannot get enough of it.
It is a mixture of very high-tech mobile projects, Scandinavian interaction design, street-art interventions and DIY cut-n-paste works with hacked electronics. There is a number of small local scenes in different cities with a lot of very good pieces in world class that should definitely get more exposure (and funding). In Göteborg where I live, there is an excellent electronic music scene with local artists making music with electrified vegetables or cracked tape-recorders, and booking agencies such as Koloni, sync24 and iDEAL who bring us international underground acts. Add to this high-quality interaction design such as the interaction design collegium at Chalmers for example, a vibrant local culture scene (TSiG, Dance & Theatre festival, Big Love, Röda Sten, etc) and a growing network of international artists staying a couple of years in Göteborg to work or study. There is for instance a Master programme in Art & Technology at the IT-University that attracts super talented art students from the whole world every year. At the risk of sounding like a tourist information office, I would say that there is a good momentum going on here that makes the city very exciting in spite of its very small size. Actually the small size can be a good thing sometimes because it becomes easier for people to come in contact with each other and work together. There is a lot going on in Malmö, Umeå and Stockholm as well. A new research centre called Mobile Life will open in Stockholm next year for example. Stockholm has a dorkbot as well, and a long tradition of electronic music (Fylkingen and EMS), music technology research (TMH) and digital arts.
Can you recommend us some Swedish artists that you think should get more attention from the public?
Absolutely! There are too many great Sweden-based artists, designers and researchers to name them all, but I could recommend Alex Berman aka Nim, Daniel Skoglund, New Beginnings, mixnbrew, Richard Widerberg (now based in Helsinki). Also in interaction design and research: my colleagues at FAL of course, Hanna Landin and Morten Fjeld from Chalmers, Liselott Brunnberg at the Interactive Institute and Kia Höök at SICS. I would like to name a few former Art&Technology students, even though they are not all Swedish and not all of them still based in Sweden: Sue Huang and Brian House (aka knifeandfork), David McCallum, Dylan Tinlun Chan, Alberto Frigo, etc. So many people!!!
That's it and thanks again Lalya!