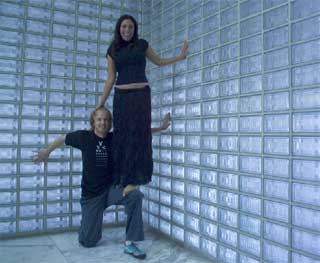 Before meeting Ryan and Francesca from CuteCircuit, I was hoping that they would only be young and talented. I had an appointment with them in November at the Stazione Termini in Rome. I was to look for a girl with a purple fur coat… And here she comes, Francesca is beautiful and smiles; Ryan is waiting for us in their tiny Smart car. Just two minutes after, i am forced to admit that these two are also incredibly nice and funny.
CuteCircuit is an Interaction Design and Product Development Lab, specialized in the development of wearable interfaces for telecommunication, interactive environments and art installations. They've shown their prototypes everywhere, from Bilbao to Los Angeles, from Amsterdam to Osaka (their work is quite popular in Japan as this video demonstrates.)
Ryan is from Maine, USA. He is a musician, an artist, and an anthropologist. He also dances Kuchipudi and runs various kilometers under any weather condition. Before starting-up CuteCircuit Ryan worked in Chicago as art director on web based projects, got tired of it and ran to Ivrea, where he encountered Francesca.
Francesca is from Rome and she was at the time an interior architect, and artist that worked as fashion designer for a number of years for Esprit and Valentino. After being considered crazy for proposing bags with GPS sensors inside for helping forgetful people to get them back after abandoning them at the bus stop, she also ran to Ivrea. It seems that she doesn't do sport, but she dances occasionally and wishes to find a swimming pool with springboards soon.
Ryan and Francesca were part of the first graduating class from the Master in Interaction Design at Interaction Ivrea. They spent two years developing innovative technologies and experiences for Sony, Motorola, Hitachi, etc. As they say: Interaction Design Insititute Ivrea was probably the most innovative thing that ever happened in Italy, besides the Renaissance, Neorealism and Armani.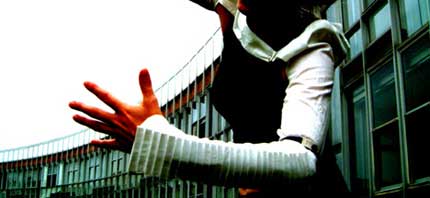 ANerve, a Bluetooth mono-sleeve accessory that changes pattern when a user receives phone calls
Just after having graduated from the Interaction Design Institute Ivrea, you set up your own company. What made you think you could make such a big leap?
First of all, at the graduation ceremony in Ivrea (2003) they told us there would be no jobs for people like us. Not that we are weird, but is that companies still didn't have the Interaction Designer job position.
At that time some companies had a similar position called "Interactive Designer", it doesn't make sense (everybody is interactive), sounds dorky, and makes you think that they are looking for a usability specialist "à la Norman Nielsen" instead of a designer with ideas.
So the choice was: work for a company that doesn't get it, waiting and hoping they eventually will (and that doesn't happen) and watch things happening elsewhere -or- make things happen. We chose to make things happen! The interaction design jobs available at that time were so focused on web design and screen interfaces that they would have used only a small piece of all the skills we learned. We didn't really want to work for other companies because sometimes it is better to work hard building something for yourself. Of course it is harder, and this makes you think that probably you got it totally wrong and is not going to work ever. And you don't have the money in the beginning to build all the stuff you think about, and a dozens of other issues that arise if you try to do the start-up in Italy (with a few rare exceptions). But after that, you see people understanding what you do, and yes it makes you happy!
Any regret?
No regrets, will do it again 1000 times.

What i find striking about your wearable pieces is that they are very fashionable and one would wear them even if they were not so techy. What comes first for you: the good look of a garment or its technological performances?
We design the "experience" of the person that is going to wear a garment, so the two things (looks and tech) come together naturally to make the experience great, funny, weird, useful, exciting, etc :)

But do you sometimes have to sacrifice one for the other?
We try not to. If they are well designed they coexist in peace and harmony. The thing that we sacrifice is bulkyness, and we edit the tools we use. So that if we have a box of ideas, we pull out the ones that make the experience feel right.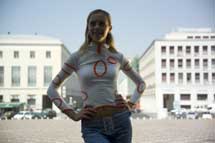 The Hug Shirt
Can you imagine that a piece like the Hug Shirt will one day be sold like an iPod or a pair of Levi's jeans?
Yes! The industry needs that! The market is waiting for the killer-app, right? The killer-app is smart clothing, and the fact mthat it didn't make it to the high-street yet, is that the tools were not mature. Now we have the tools, technology is very small, and you got CuteCircuit making it look good :)
The Hug Shirt has caused quite a stir in the press (especially on weblogs). Aren't you afraid of imitators now?
Yes, they are bad and ugly, we saw the chicken hugger, and we think that is probably needed with all the avian-flu these days. Some people are trying hard to copy, but mainly for university research. The Hug Shirt is not on the market yet and we keep all the people that worked on it locked into our closet at the office. Yes, we feed them occasionally.
And now the million dollar question: how would my mama wash the Hug Shirt or the KineticDress?
She can put the Hug Shirts in the washing machine at 30 degrees, spin soft with the wool wash, and tumble dry low or hang to dry. I don't even think that the Kinetic Dress fits in a washing machine, so just bring it to the Dry Cleaning and for 5 euros you get it back in a lovely shape.
The Hug Shirt is "plug and play", so that the critical stuff can be removed before washing, and the Kinetic Dress is waterproof (and dry cleaning proof), and the electronics are really small.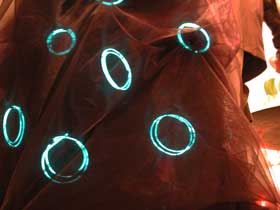 The KineticDress changes pattern when the wearer interacts with others or walks
You also organise WearablesWorkshops in which the participants are invited to design and craft their wearable interface. It sounds like mission impossible to me. Do participants have to be real geek to be able to create a wearable artefact? What's a typical workshop like?
They are not geeks at all and it is pretty fun! The workshops can be 3-week or 5-day, we even did a 3-day (in reality 6 hours) at a conference. Of course when the workshop is really short the things we focus on are ideas and tools, and when the workshop is longer the participants build working prototypes. We had a class in Denmark that never even touched a computer before and by the end of the 3rd week they had working electronics. This is because Ryan is a gifted geek that likes to share knowledge on how to build stuff!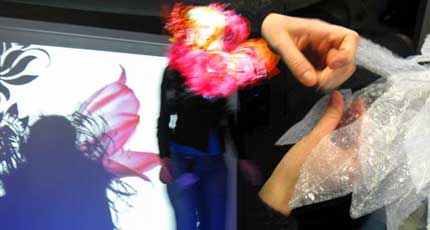 Wearable Workshop at the Oslo School of Architecture and Design
Ryan is from the US and Francesca is Italian and you both travel a
lot. Are Europeans as open towards your wearable projects as Americans (or vice-versa)?
The most open are British, Swedish, Norwegian, Dutch and Belgian.
Like what happened with mobile phone adoption, Americans will probably follow the Europeans. We imagined that for the great mix of fashion and mobiles in Italy that would be the perfect place, but unfortunately in the present economic climate, it is too conservative towards the exploration of new markets.
The Embedded Theater looks very light but how precisely does the system work?
The ET is an interface for exploring narrative on the move (in a building or a public space). A person wearing the ET simply walks through the space, let's say a city, and audio files of the places she looks at arrive into her headset, the closer she is the louder the sound. In this way a person has a tridimensional experience of spaces.
Some people ask "is it like the museum guides?" Not really. In a museum you have a little remote control in your hands and the sound is in the minidisc on your belt. Here just looking at things makes them come alive, there is nothing to hold in your hands or click. Just like looking at things in the real world but with a layer of magic sounds and, like in the real world, moving from place to place lets you experience different things.
The ET system is very light because the wearable part works with ubiquitous networks, so the data does not reside on the device itself but is pulled "on demand" from the network. In this way is not necessary to carry a big bag containing a PDA with all the audio tracks, but just the lighter sensor package (on the head that you see in the pics) that tells your position and the direction you are looking at in the space to the networked computer in order to retrieve the data. So basically it is just connected wirelessly with the network to get all the sounds it needs.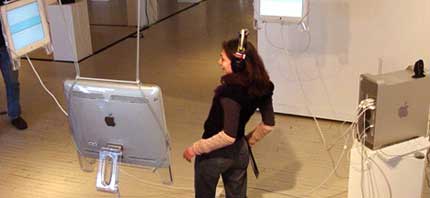 Embedded Theater
You're leaving Rome to live and work in London. Can you tell us something about your projects there?
We want to have fun! For design and fashion London is a much more active city! People even understand what we talk about, there are others with similar interests and the opportunity to create a critical mass for innovation!
We are designing a new collection and will be showing it at the end of the year. We want to prove that wearables can be real clothes, to be used for everyday activities, by developing a "pret-a-porter" collection, and London is a good place to test it: people are willing to take clothing risks and have fun doing that!
Are you two fashion addicts?
Yes! We are also design addicts. We do not follow fashions, in the sense that when the big labels say this is the blue this year, we don't really wear that blue. But we are interested in the language of fashion when it comes to culture, identity and the impact on the media. Sometimes fashion sounds very old. There are big brands that every 5 or 10 years repurpose the 60s OpArt, the Paco Rabanne textures, or the bohemian style, or the wild west couture (how many people are wearing cow-boy boots this year?). We don't really think that copying for its own sake is cool, copying something that was great and experimental 40 years ago because it was inventive back then doesn't mean that is automatically inventive now, on the contrary it looks nostalgic and reactionary. Some designers found a formula that works and are squeezing it into obsolescence. There are a few designers that are truly inventive and they look at the arts, music, and real people out there, trying to make something different. That is why there is a need in the art to invent new expressive materials, to make the body and the person wearing a garment more important than the Dolce&Gabbana outfit they wear. There will always be cultural references in our work, because we like art and history but the goal is to try new things instead of photocopying what has been done before. So to give it a fresh start we stopped buying designers clothes and are sewing our new wardrobe :) Today we are making a hat for a friend!
Unfortunately the friend is not me, but thanks for your answers Francesca and Ryan!
CuteCircuit has just opened their newest office in London. On Thursday the 23rd of March, there's a CuteCircuit Open House Aperitivo in Fashion Street (#30) from 6 to 8.