The School of Machines, Making & Make-Believe has recently announced its programme of workshops, trips, scholarship and classes (PDF) for 2020. This year, the school will be looking at drones as a means to investigate concepts of borders, history, politics and human experience; Smell as another way to engage in storytelling; Sensual Technologies that delve into embodiment, desire and the senses; Ethics, AI and the potential of data to disrupt larger systems; there's also a Made In China program taking place in Shenzhen and focusing on the creative exploration of digital fabrication and IoT. And much more.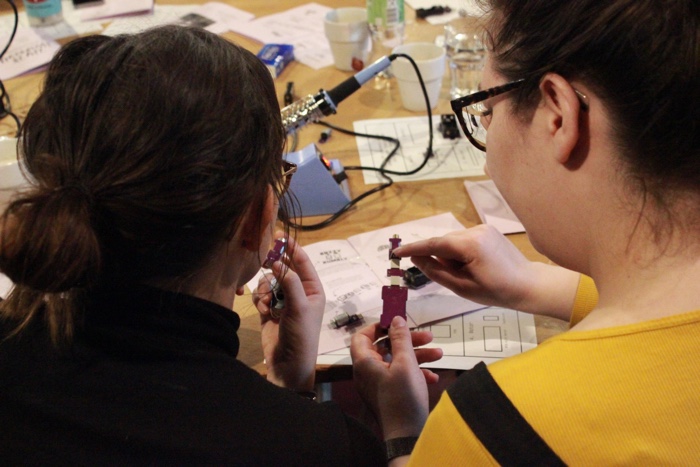 Image courtesy of School of Machines, Making and Make-Believe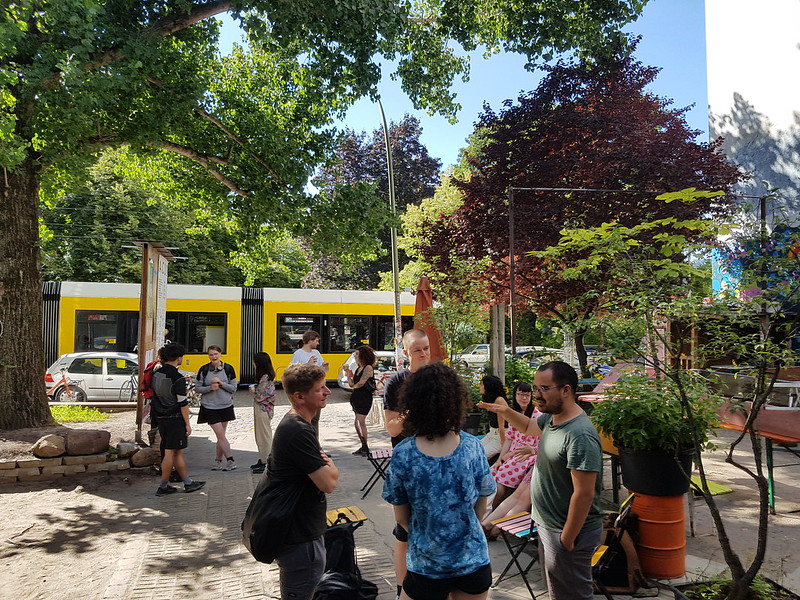 Image courtesy of School of Machines, Making and Make-Believe
The Berlin-based School of Machines, Making & Make-Believe works with renowned artists, hackers, designers and other creators to teach and explore art, technology, design and human connection. Students learn new skills, manipulate new tools but they also get to inquire the political and human dimensions of technology.
I've been involved with the school a couple of times and each time i was amazed by the range of seriously interesting people i met there. The teachers but also the thinkers and tinkerers who attended as students. In my experience, the courses always end up taking the form of an energising exchange between people who have different backgrounds and competences. Another aspect that makes the school so appealing is that it is constantly shifting focus depending on the tech issues and tools that feel most urgent and meaningful at the moment.
I'm not paid to write these lines by the way, i'm just genuinely impressed by the School's ethos and dynamics.
School of Machines, Making & Make-Believe was founded by Rachel Uwa. Rachel is an artist, educator and organiser with a background in audio engineering and VFX compositing. She's also the editor of the art/tech zine ¡MEOW! I talked with her during the Winter break: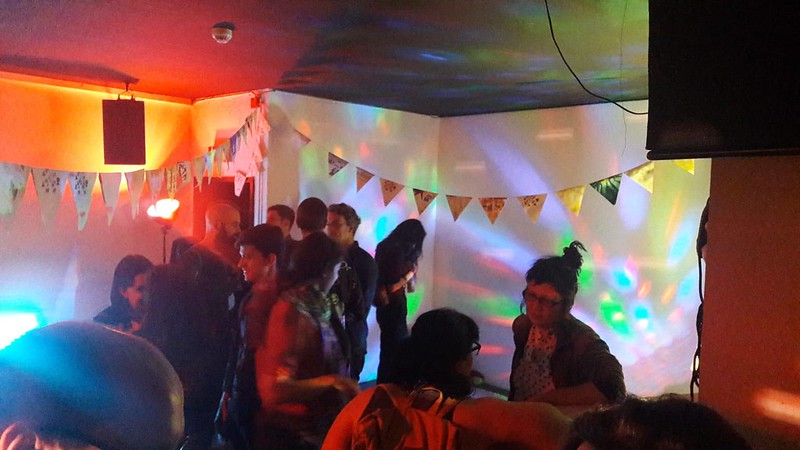 Image courtesy of School of Machines, Making and Make-Believe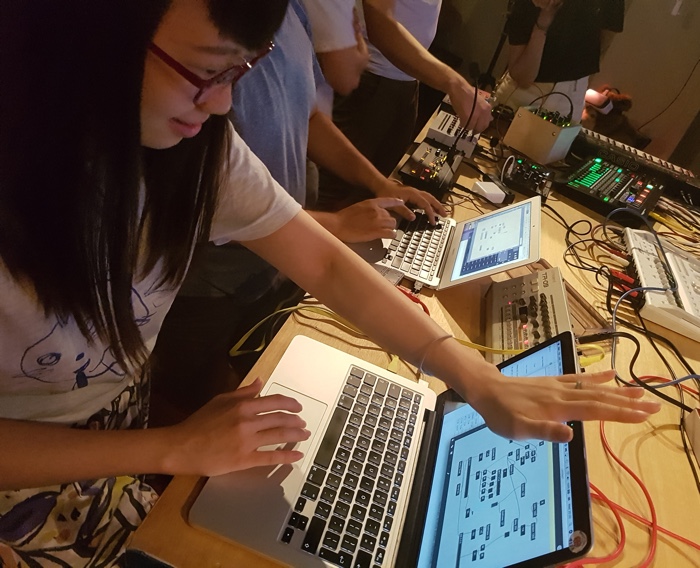 Image courtesy of School of Machines, Making and Make-Believe
Hi Rachel! You're the face and founder of the School of Machines, Making and Make-Believe. Does it mean that you're the one deciding the type of topics and technologies the courses are going to engage with? What guides the themes of the courses and workshops? Is it technology, requests from students, makers and thinkers? Something else?
Humans and society guide the themes of the school more than anything. Each year I look around at the current state of things and ask, Where are we humans at on the whole? Where are we missing the mark and what feels important for us to know now?
I don't believe in embracing technology because we can but rather in questioning it and its purpose in our lives.
Some years ago I used to wake up and only seconds after reach for my phone. Then our alcoholic neighbour burned down his flat and we didn't have internet for a year and a half because the fire burned through the cables. Needless to say, I was forced to reevaluate my relationship to this technology.
This is my approach to it, using technology as a tool that helps us to question the world we live in and ourselves.
So I design educational programs to do just that.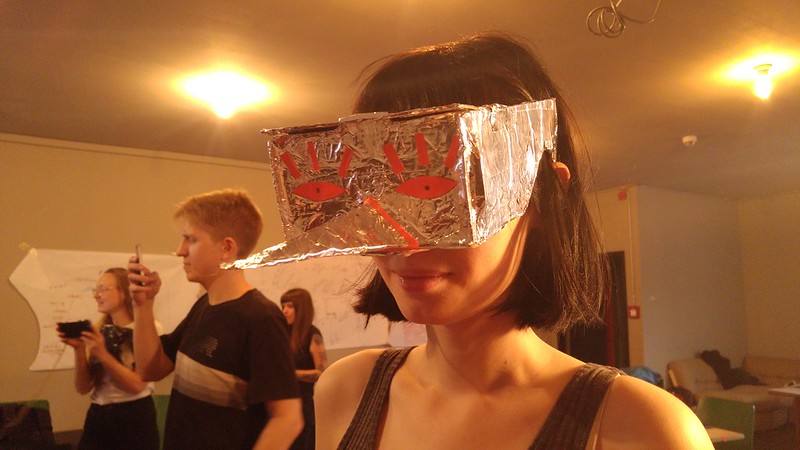 Image courtesy of School of Machines, Making and Make-Believe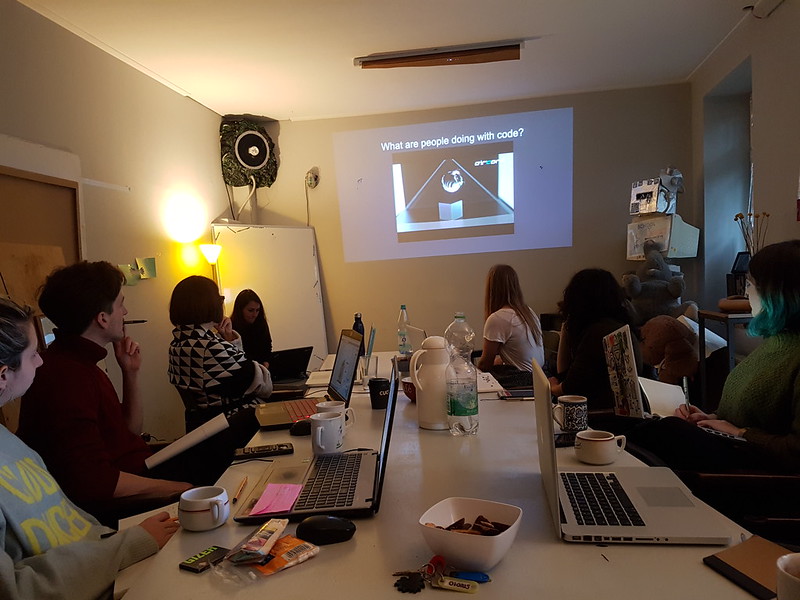 Image courtesy of School of Machines, Making and Make-Believe
I love the title of the school. Why Make-Believe? What does the concept brings to the spirit and image of the school?
For me, Make-Believe has always been about imagining a world that doesn't exist and pretending it's so for reasons of play (fun), experimenting with what could be (future), and simply survival. These are all super important and underrated life skills that as much as possible I try and bring to the fore.
It's the kind of education I would love to have had— a gentle and metaphorical approach to dealing with ourselves by putting the focus on something much easier to deal with— technology.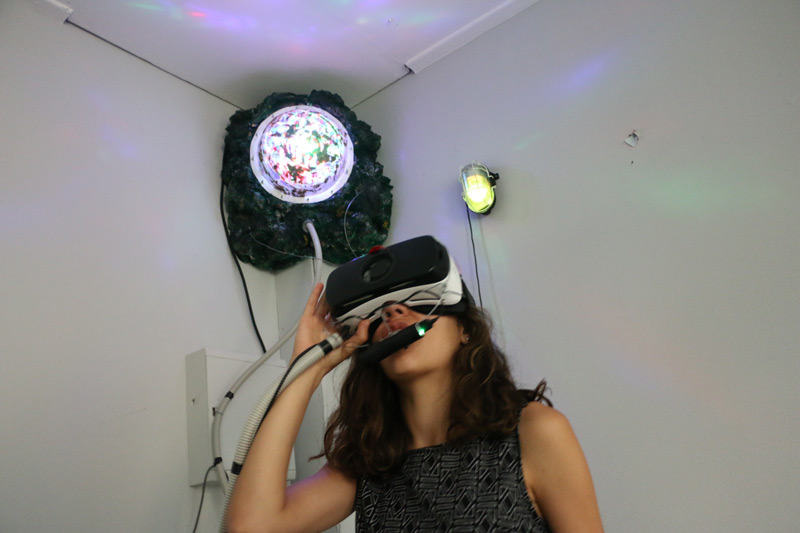 Image courtesy of School of Machines, Making and Make-Believe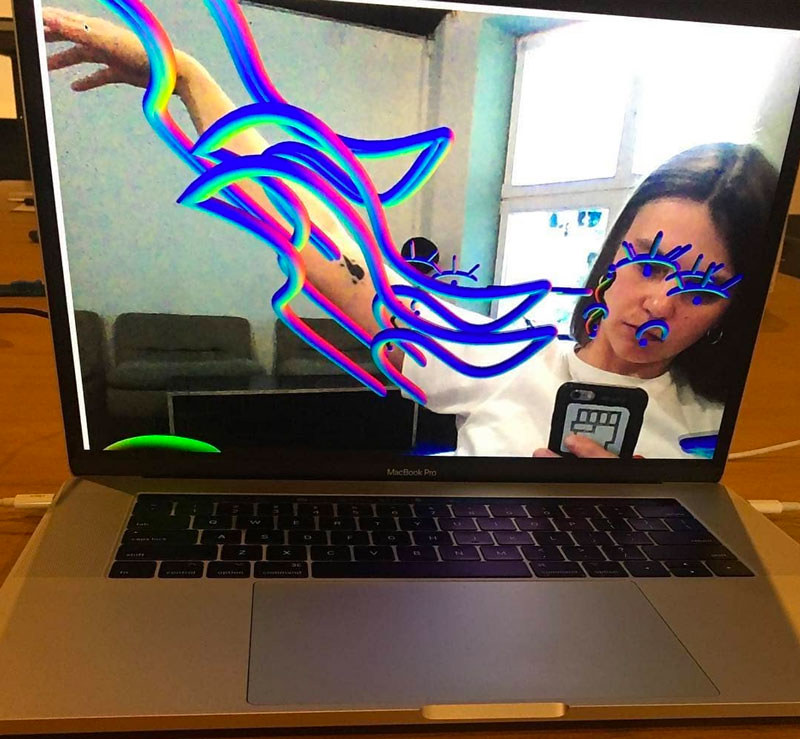 AR body filter by Daria Sazanovich. Image courtesy of School of Machines, Making and Make-Believe
Perhaps one of the most interesting aspects of the school is that you make it a priority to work with women and persons from under-represented communities. I wish it wasn't that ground-breaking to operate this way in the 21st century. And yet, things are moving very slowly it seems. But maybe i'm wrong? Do you feel that the whole tech & creativity world is finally waking up to the facts that talents don't have to be white and male?
I used to work in audio, then visual effects before getting into the code and tech world. At the time, in each of these fields, there were almost no women to speak of. I've always been a person who made it a point to start the women in— audio, tech, etc. group to try and change that.
Looking around now, the situation appears much improved. But not everywhere. I hear often from women in Eastern Europe for example that it's still a struggle to be taken seriously and it is not isolated to that part of the world only.
One of the things I also see is a lack of confidence in under-represented people in tech (understandably so), so helping people build up confidence to even ask for a seat at the table is another priority for me.
Of course, men always receive more attention even still, let's be honest.
So we tackle each of these aspects and keep up the good fight until it's better everywhere. In the end, it's everyones responsibility to improve this situation, to do better. Even white men!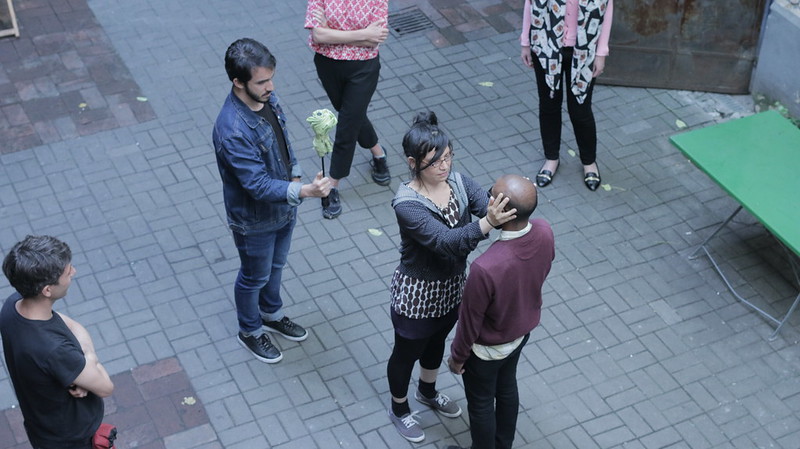 Image courtesy of School of Machines, Making and Make-Believe
The school was born in 2014. I actually thought it was created earlier given how much it has accomplished in such a short amount of time. What are the moments, achievements you're particularly proud of? 
To still be alive, surviving and constantly evolving is right up there on my list of achievements. I see so many organisations shut down operations. Without any institutional support it's really a tough world out here.
I also feel proud about having run programs and workshops in other countries which I've been doing for several years. Thus far we've been in Italy, Serbia, Spain, China and Ireland. It's immersive learning on all fronts— via culture, technology, community, ourselves. I hope to add more countries to the list soon.
The School offers many courses to learn about IoT, VR, data viz, drones, AI, etc. Which sounds very tech-driven but how does the school address a more systemic critique of tech and challenge western-centric notions of progress and innovations?
As I tried to allude to earlier, yes, we run workshops on technology but it's not to fully embrace it; the first step is always to question it.
How does this technology make our lives easier? How is this technology used against us? In what ways can we use this technology to express who we are and what we care about (because it matters)?
Last year I was part of a think tank where one guy stood up and was like, "I don't agree with this idea about diversity in the workplace. I don't see race or gender." After being annoyed because he was actually referring to my comment about the lack of diversity the day before, I realised he did have a point.
In the workplace people mute who they are and what they care about because that's the culture. So you can look around at a group of diverse people and not necessarily see any diversity. I believe that self-suppression, which is very much a part of corporate culture, is doing way more harm than good, giving the false impression that diversity brings nothing to the table. I hope slowly this will start to change.
Of course, I address all these kinds of things and more in each of our programs. These are the fundamentals.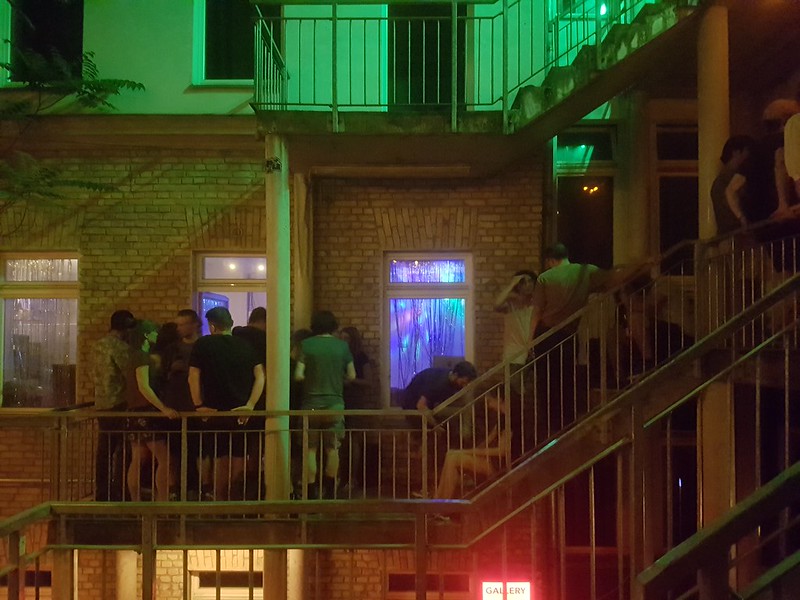 Image courtesy of School of Machines, Making and Make-Believe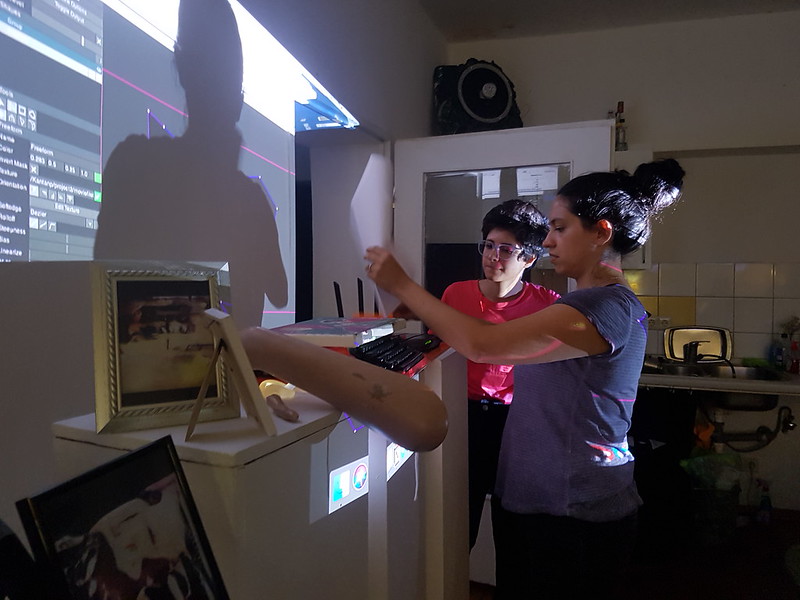 Image courtesy of School of Machines, Making and Make-Believe
This is going to sound super cheesy but i've always admired your maverick and daring attitude. You didn't chose an easy path. An US citizen alone in Berlin builds up her own school from scratch. Would you do things differently if you had to do it all over again?
Well, first of all, Régine, thank you. You know I feel the same way about you! To answer the question, I think living through painful shit makes you a survivor. Of course, I don't wish a hard life on anybody. But I do believe if we have lived through something, in childhood or onwards, sometimes we can use the injustice of our world to fuel our courage.
That said, while I don't have a problem with courage, I do have a problem asking for help. So I'm starting to learn better how to navigate that world of asking for what I need because I finally understand what I need. It can feel so awkward and difficult. If you're a person who's received such an email from me, well, now you know, I'm still learning!
And yet communication is one of those all-important skills we need for survival.
I've been watching some Tupac and Biggie documentaries lately and from what I can tell, it seems if only they'd had a chance to really talk, the story of their lives could have played out so differently! So I think regardless of how it feels, it's worth it to keep at it, to keep trying to improve communication until the end.
And on the other hand, what are the advantages of throwing yourself at a project with a lot of audacity and independence but not a lot of financial backing?
Lots of people have ideas but don't make progress because all they see are the obstacles: I need money, I need a developer, I need fill-in-the-blank. Having an alternative mindset is imperative to a life of making things happen. Would I like funding and financial support? Yes, and if someone reading this would like to give it to me, please get in touch!
But I've been running the school for five years, designing over 27+ four-week, full-time programs with hundreds of brilliant students and instructors from over 52 countries and I am a better person for it. So I recommend to anyone, move forward on ideas that are important whatever it takes and allow these experiences to change and guide you.
Have you ever been tempted to set up the school back in the US?
I've definitely had ideas about running programs in a few states specific to organisations and people I'd like to work with. But there are so many fascinating people and places in the world that in comparison the US feels kind of limiting. I'm not opposed to it. But it's not at the forefront of my mind just yet.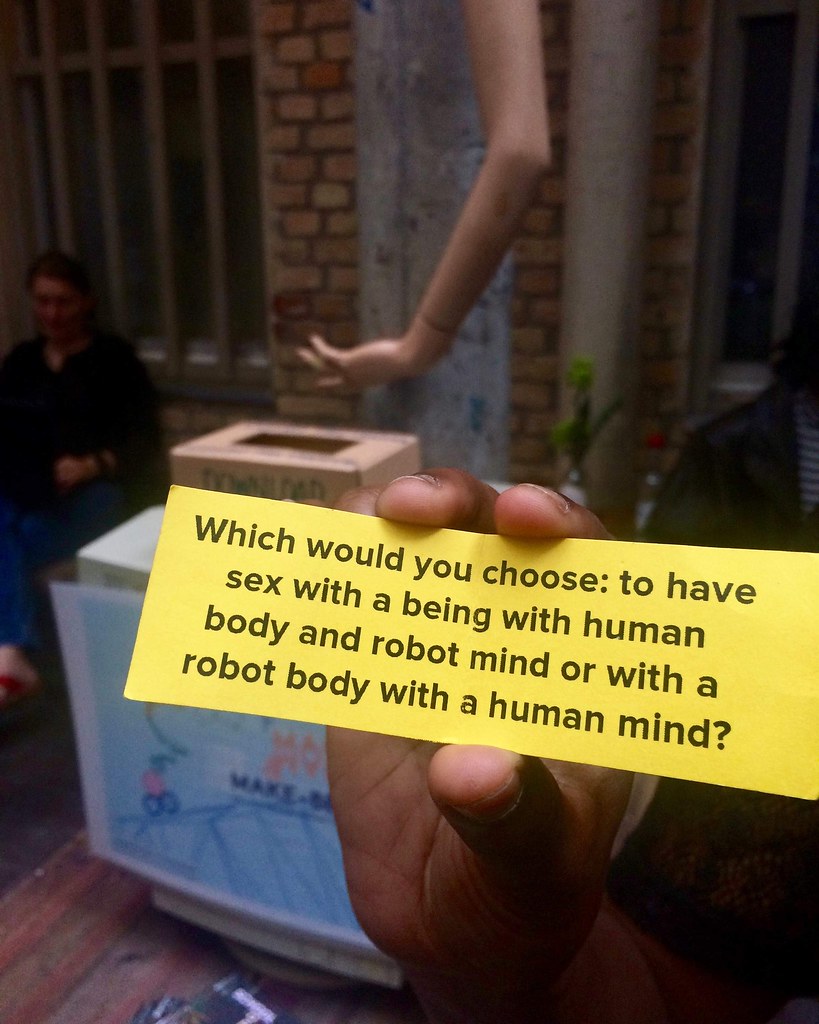 Image courtesy of School of Machines, Making and Make-Believe
Can you take us through the 2020 programme of the school?
Sure! Well, overall it has to do with this idea that if we want better societies we have to become better people.
So what does it mean to become a better person? I'm suggesting that we start off by becoming the greatest observers of ourselves and our own human needs and experiences, because if we want to know others it starts with knowing ourselves. It's not the whole story, mind you, but it's a brave start.
So 2020 classes are all aimed in that direction and are about exploring human experience through play and technology— our senses (Smell, Crafting Food Experiences), our bodies (Sensual Tech), nature (Nature, Generative Art & Machine Learning), our ability to tell intriguing stories and change minds (Transmedia Storytelling), the messages we convey when taking art out of the gallery and into public space (Interactive Berlin), our data and our selves (Ethics, AI and Data) and finally ever-growing in importance, our relationships to other cultures and to machines (Made In China II, Drones, Physical Machines).
My curriculum is my art! Haha. In part, anyway.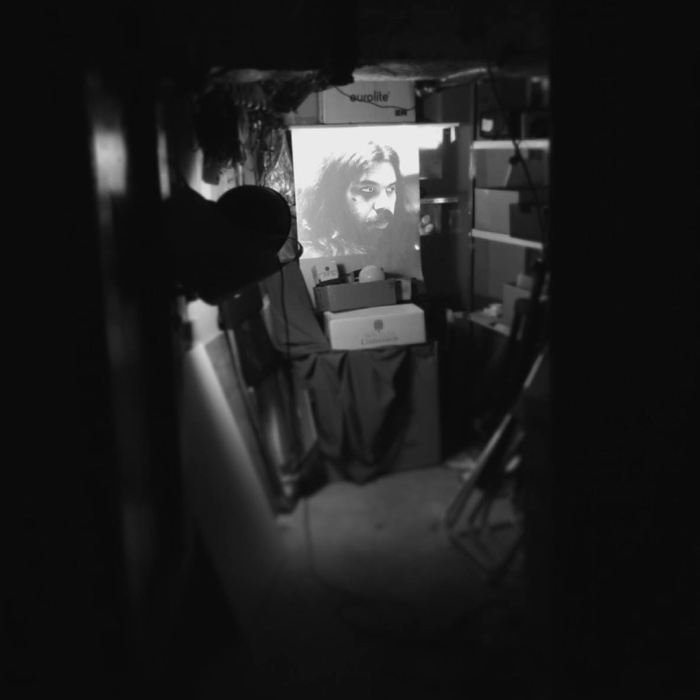 Projected photo that sees you looking at him by Michal Shilo at the Machine Learning course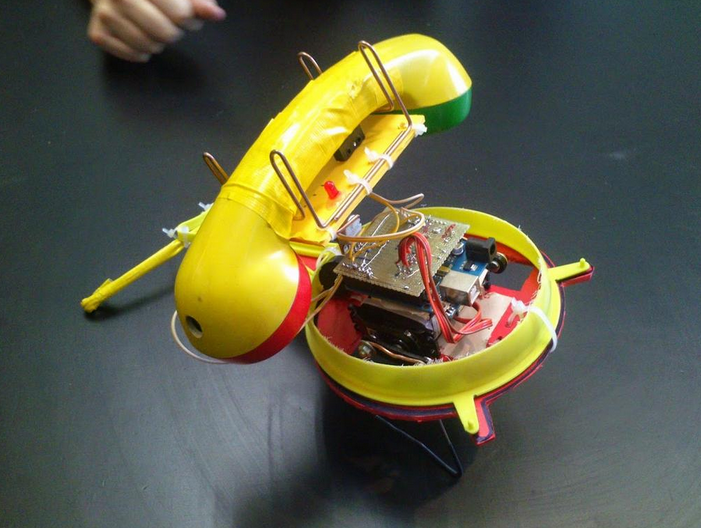 "Mr Blippy" by Brent Dixon
Any other ambitions, projects and wishes for the future of the SoMM&MB?
Always! I'm working on— documentation of the first five years, more online classes, a symposium on designing better societies, more collaborations with humans and institutions I believe in, consultancy in education design, more pancake society events and ¡MEOW! zines, expanding to other countries and holding classes in languages other than English—for a start. And finally securing some funding! After all these years and all this work, I think we deserve it!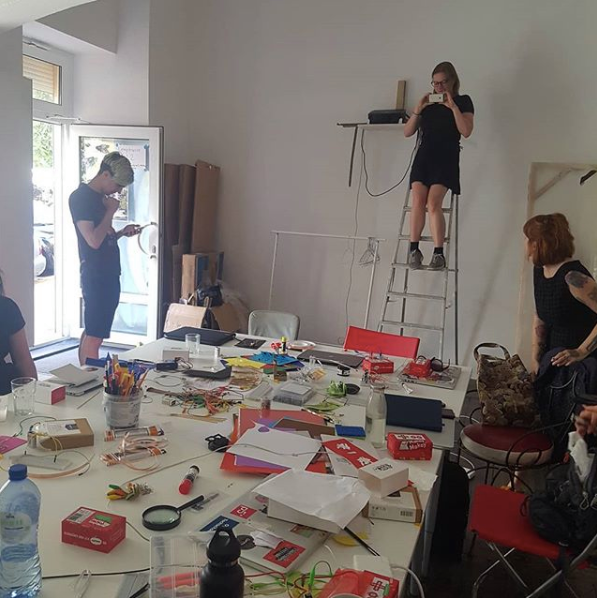 Image courtesy of School of Machines, Making and Make-Believe
Thanks Rachel!
Early program applications and hardship scholarship applications are currently being accepted. Deadline to apply for either of these is 26 January 2020. Early program applicants will be eligible to receive a 20% reduced fee if they are accepted.