The Medialab-Prado people whose workshops i like so much i dedicated them 2 categories on the blog are launching the latest of their increasingly successful interactivos? calls for the presentation of projects.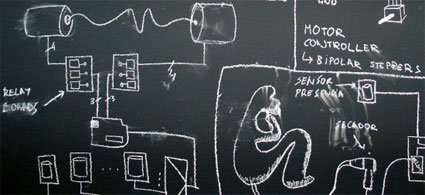 A maximum of 8 projects will be selected for their production in a workshop that will take place in Madrid on January 28 to February 14, 2009. Happy project leaders will count with the help of instructors, assistants and collaborators. Pending application, Medialab-Prado will provide lodging in a Youth Hostel for participants residing outside of the city. They will also cover travel expenses wholly or in part for one person per selected project.
The theme of this edition of Interactivos? is Garage Science and its keywords include: critical design, bio-art, mechanical devices, impossible machines, Rube Goldberg machines, pataphysic, free hardware, fabbing, recycling, biocomputing, biology, biohacking, biopunk, "license to fail". Software, hardware, wetware! The selected projects will show innovative ways to make science, technology and art converge.
Now comes the best part: the Critical Art Ensemble will take part to the workshop.
Deadline for entries: December 14.