I'm spending my last day in Slovenia (tomorrow i'll be in Graz to see the BIX facade and the Island in the Mur, two building i was dying to see for such a long time now). Here i fell in love with the K67 kiosks designed in 1966 by Slovenian architect Sasha J. Mächtig. They are all over the city and used as newspaper kiosks, parking-attendant booths, market stands, shelter booths, fries and hamburger stalls, ice cream stalls, lottery stands, etc.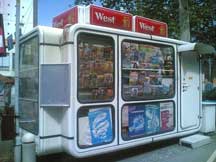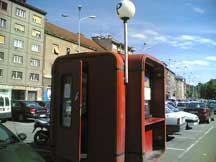 The polyfibre reinforced modules can be used as single units or combined into large agglomerations.
Patented in 1967, K67 was prepared for its serial production in 1968 with the first exhibition of prototypes in Ljutomer (Slovenia). In April 1970 K67 was published in an English design magazine with the article "Low life from the streets" and the Museum of Modern Art in New York included it into its collection of 20th century design. The K67 was sold in large quantities not only to the countries of Ex-Yugoslavia, but also to the COMECON countries and other continents (eg. Japan and New Zealand). Due to the fact that the K67 principle is copied several times by other companies, K67 came to embody the Eastern European kiosk culture.
In the early nineties, the production stopped due to radical changes in the Slovenian economical system.
See also K67 – The Kiosk Shots that collects and maps the kiosks -both, the original design and its several copies all over Eastern Europe.
UPDATE: check also Markus Schlaffke's video of a K67-spaceship!
I maniacally took pictures of the kiosks but there are better images here.
Thanks Corto for the background information!