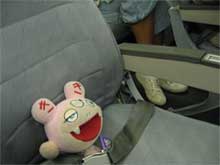 Kaikaikiki and i are back from ars electronica and i hate it. As usual. I want to be back on August 31 and do it all again. Thanks to all the readers, bloggers, artists, students, speakers who came and said hi. It means a lot to me and made me feel like i was Jennifer Lopez (bet no one knew i have a awful taste in music, eh?!?)
I'm trying to list the blogs that cover the festival. I couldn't find that many so far so let me know whom i've missed:
– Pieceoplastic by Jen Zuppinger whose notes i usually rely on but his computer decided to go amuck as soon as he arrived in Linz,
– Jose Luis de Vicente is doing an excellent job at elastico. In spanish,
– Ann Poochareon is getting a bit ferocious on miserychick but that's the way i like her ;-) Ralph Ammer's not too tender either,
– Ruairi Glynn has started posting his reports on interactive architecture and i do hope he'll post something about the cybernetics talks,
– artcast by Hannes Gassert. Snooping in his archives, i found (unrelated) interviews of DJ Spooky, Bruce Sterling and etoy,
– if you ever thought that i can do good reports, then have a look at Jasper Schelling's posts from ars. These are great reports. In dutch though.