The name of the Interaction Design Department at the Royal College of Art in London has now officially changed to Design Interactions. It doesn't sound like much but the name reflects a big challenge. A meaningful and very exciting one. Some of the works i discovered in June when i visited their Summer show were already reflecting the new direction that the course is taking. It was only a transition time, the first year that Prof. Anthony Dunne was heading the department, and changes were already in the air, i'm looking forward to see what the 2007 Show will bring.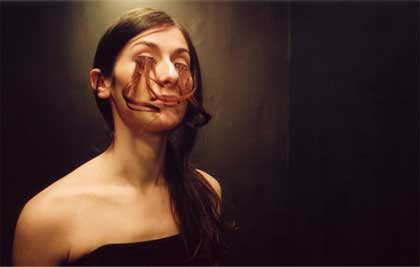 I'll quote the Head of the Department:
"The focus of the department is shifting, and although electronics and computing will remain at the heart of the course, we will begin to explore how design can connect with other technologies, such as biotechnology and nanotechnology. The course has been restructured to reflect this shift and was validated in March 2006.
Design Interactions is a small change, but we think it is significant. It reflects our emphasis on designing interactions of all kinds – not just between people and digital technologies, or even other emerging technologies, but also between people and possible futures, and between design and other fields of art and science.
At the last summer show, we characterised the thrust of the department as follows: 'Design Interactions explores new roles, contexts and approaches for design in relation to the social, cultural and ethical impact of existing and emerging technologies. Projects, which are often speculative and critical, aim to inspire debate about the human consequences of different technological futures – both positive and negative. Students work closely with people outside the College, designing for the complex, troubled people we are, rather than the easily satisfied consumers and users we are supposed to be. Project outcomes are expressed through a variety of media including prototypes, simulations, video and photography. The students have backgrounds in art and design, computer science, engineering and psychology.'"
For a more detailed description of the department and course, and to see recent work by staff and students, go to their revamped website.
Image from a project by Michael Burton, Nanotopia.
Related: Art and design raise awareness about biotechnology.