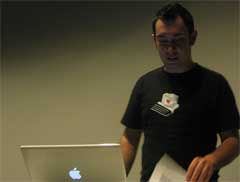 I just realized today that although my stay in Zurich for the Digital Art Weeks last month was super short, there's still a couple of links and projects i'd like to share with you. High on the list is the paper DIY: The Militant Embrace of Technology that documentary director, independent curator and new media artist Marcin Ramocki presented during the DAW symposium.
Marcin sees his paper as an attempt to clarify some of the theoretical issues sparked by 8 BIT, a documentary about art and video games which he created together with Justin Strawhand.
His expose dealt with cultural practices involving the subversion of consumer technology, be it hardware and software. According to Marcin, if the DIY approach in the field of fine art is almost taken for granted, it is still relatively new in the world of consumer electronics and software design.
The PDF is online, Hurray! So i'll let you enjoy that fun and smart text and will just blog a few links to make the reading easier:
A Hacker Manifesto, by McKenzie Wark.
Artistic critiques of technology: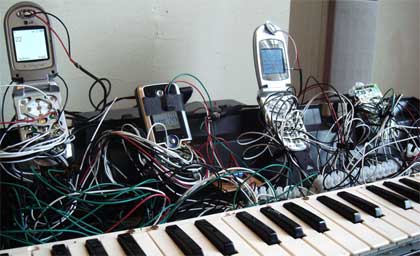 Cell phone piano, each key on the keyboard is wired into a key on a phone so as you play, you are dialing
– when artists are actually hackers who break something they
shouldn't be breaking, like in circuit bending. Paul Slocum's Dot Matrix printer hacked to be a drum machine or Joe McKay's cell phone sculptures.
– classical hack such as the early works by Cory Arcangel and Paul Davis opening and reprogramming of a Nintendo game cartridge.

– structural game works, legal game modifications and machinima. One example of re-dressing the code is SOD, a Castle Wolfenstein modification by JODI.
– re-purposed and prepared hardware such as Study for the Portrait of Internet (Static) in which Lance Wakeling, Ramocki's own Torcito Project, Alex Galloway's Prepared Playstation and Arcangel's Two Projectors, Keystoned.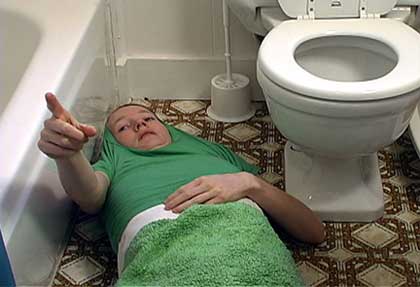 Still from a video re-enactment of "E.T."
– remaking of a piece of software (and hardware), mostly retro-engineering and custom electronics. Plus, fake hacker websites, games rewritten from the ground up, alternative browsers and Hollywood movies. E.g minimal re-enactment of ET by Kara Hearn and Jamie Allen's custom 4 bit synthetiser housed in an old cigar box.