The Centre for Cultural Studies at Goldsmiths, University of London will open on Thursday 13 July Feel, the end-of-year show from students graduating on the MA in Interactive Media. A dozen installations will demonstrate how media technologies can affect the body, movement and sensation. I've never seen the work of the Goldsmiths' College but you know me… if someone informs me they are working on a project or event that sounds interesting i pester them with questions.
The victim this week is Ian Kirk who worked on the show with his students. Kirk lectures in practical methods on MA Interactive Media at Goldsmiths College in London, working closely with the philosopher Luciana Parisi in developing the course.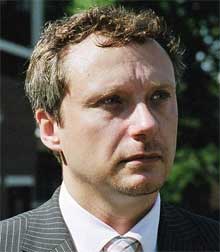 When Ian Kirk is not teaching, he does some commercial work as a marketing and branding consultant, developing new ideas for brands, products and services. He also serves on the board of the international performance art festival, Fierce.
He still finds time to make his own works and exhibit them from time to time (for example at FILE in Brazil), but as he point, "I'm embarrassed to say that this year I have somewhat neglected my own practice, although I recently completed a commission to create visual interpretations of poetry by The British Council." (More in his bio.)
The Feel exhibition deals with the paradox created by the development of technologies. Can you tell us more about this paradox?
IAN KIRK: I think there are three main paradoxes that this year's students have engaged with. The first is the contrast between what is often a utopian view of media technology and its somewhat murkier heritage. Many theorists (Manovich, Kittler, Virilio, Roch, Grau and practically everyone working around ZKM) have pointed out that our creative media technologies have their origins in military technology or forms of social control. Then there are those that suggest the expansion of some forms of media (videos, the Internet) is in large part attributable to the sex industry.
In 'Feel' Andreas Vrahimis, Anthony Corcoran, Christina Lima, Deniz Yenimazman and Meytal Markman have each made works that could be partly – but certainly not entirely – understood in relation to this history of technology. Each of these works is wonderfully intelligent subversive and witty in its execution.
The second paradox is made evident the strong emphasis that is placed on the body, on embodiment and on materiality in the work. The paradox is that I think a lot of casual observers of media technology happily adopt the language of 'virtuality' as if to mean 'immaterial' or lacking any real physical existence. The work in 'Feel', particularly Pia/Maria Gamon, Olga Lamas, and Eleni Voukaki consider the body in terms of physicality, but also its capacity to move or its potential in general.
Lastly, I think a lot of people who haven't experienced this kind of work might expect that exhibitions that make a lot of use of computers and electronics might be a bit dry and un-engaging. This show is called 'feel' because every one of the pieces, but especially the work of Olga Lamas, Brian Kavanagh and Rieko Yamamoto have been greatly inspired by Deleuze's reading of Spinoza, particularly his concept of 'affect'. I'm sure all the works in the show will cause visitors to it to reflect on their own emotions and sensations as they experience them.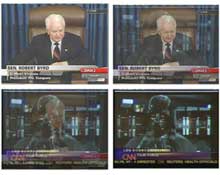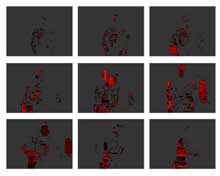 Projects by Deniz Yenimazman and Pia Maria Gamon
Which role should art institutions and galleries play in regards to works like your students'?
I should probably point out that not every one of our students considers themselves artists or wants to think of what they make as art. It's a theory/practice MA but not everyone who does it makes practical work in the service of art at such. Over the years this MA has attracted students from philosophy, sociology, psychology and many other disciplines. Some of them have chosen to continue their engagement within those discourses but to do so by making things. I find the possibilities of these kinds of approaches very exciting because they can provide new ways for people to engage with
concepts.
I would say that globally, institutions – commercial, educational and national non-commercial galleries like Tate – are somewhat ahead of the game in terms of the support and encouragement that is given to interactive media art. There are so many festivals now. Of course this is a complex issue – some people argue that this kind of support can result in work that is of interest only to academics – but this kind of support at this time is extremely welcome whilst we wait for the commercial gallery system to catch up.
Commercial galleries will have to catch up of course, because the current generation of 'fine artists' as well as people on 'media art' programmes naturally want to make use of the media and materials that are available to them. Artists have always done so. Every artist will routinely consider using media technologies, and the eventually term 'media art' will refer more properly to what the work is about rather than what it is made with.
The problem for commercial galleries is that they need to sell things. They have a business model that was originally based on selling individual works like paintings or sculptures. With photography they sold limited editions and they have done the same with video art. With DVD and digital works the idea of single copies and editions becomes less convincing. The commercial problems with installations and performance works in this context are obvious. Interactive works are often site-specific or essentially digital, so they're hard for galleries to deal with because they can't be packaged and sold in limited quantities.
Interestingly, the work on show at Feel places a lot of emphasis on materiality and sculptural qualities. One of the interesting developments in the last few years has been the number of physical objects that being produced in the media arts scene. Commercial galleries like objects because they can sell them. Collectors like objects because they can be reassured that they own the only one.

How would you describe the situation on the British and London scene for technology based art?
Until last year, I would have said that the situation in London in particular was lamentable except for the commissions, talks and seminars arranged by Tate and the work of Lux gallery in Hoxton. Some great work was being done by Andrew Chetty and Mark Ball with Metapod in Birmingam, but London was very poorly served.
I'm incredibly optimistic, however, now that NodeLondon has been launched. Their first year's programme was excellent and I'm sure that they will do a lot to encourage public engagement with this kind of work.
I often see the usual "new media art" addicts at shows like Feel, yet i think this kind of art pieces could appeal to anyone. Can you give us three reasons why lovers of more traditional art forms should come and visit the show?
I totally agree, but would add that the new media art addicts are extremely welcome to come to 'Feel'. It happens with all forms of art – when I go to conceptual arts shows there's a certain crowd, the 17th century painting shows have their own addicts too.
People who are part of that 'qualified audience' will interpret what they encounter in their own way, but I think anyone, 'art lovers' or not, will get something from 'Feel' so long as:
1) they are inspired by creativity and talent
2) they have a body
3) they feel emotions
One of my favourite things about media art shows compared with media shows is the amount of noise, laughter, debate and sharing of experiences that goes on in them. It's worth coming along just to be part of that.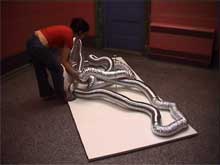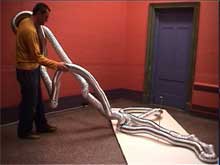 Ian Kirk pointed me to the work of Olga Lamas. Her Dyslexic Ecology piece, which will be deplayed at the Feel show, is made of huge tubes hiding speakers inside so the entire piece resonates when you manipulate it. The sound created depends on how stretched out the tube is and how it is arranged. So you sort of "feel" the sound as well as hear it. She's therefore been appointed "victim number two":
The conceptual frame of the work is inspired by the interactions of neurons of a dyslexic brain, and the concept of the 'Rhizome' by Gilles Deleuze and Felix Guattari. The motor perception factor is very important in the work and will be a critic to the limited possibilities of the dominant and constraining system of knowledge.
Can you describe 'Dyslexic Ecology'? How can the audience play with it?
OLGA LAMAS: Dyslexic Ecology is an installation with more than two sculptures called Interval, Interval I and Interval II. The user can interact with the sculptures, independently or with them together. The sculptures can also interact with each other. The user would have freedom to touch, carry, or move the sculptures within the installation space and this would allow him/her to experience and Feel the interaction in a private and also collective way. The starting and ending point would depend on the user. The movement, bending and the position of the pieces will trigger a sonic and a vibration response that will vary in intensity and cadence depending on the interaction of the users.
All the electronics in my work are analogue – and this is one of my main critics to this cliché that interactive media is all about computers and fast ways of manipulating data. We live in a society ruled by capitalism where fast is better and we do not have much spaces where we can slow down and just Feel.
And YES, the audience can play with it – that is when the piece comes to life – otherwise it will be dead – like some museums are.
How do you feel about the fact that visitors are indeed invited to touch an art piece?
Great, I wish I could touch all the work I see as well. I have had the opportunity to work for art institutions displaying exhibitions and handling there unique pieces of art work that are forbidden to be touched by the public – I find it very sad that there is a lot of information within the physicality of the piece that the viewer is forbidden to Feel.
We live in a visual society and that unfortunately closes other doors of knowledge to us.
You have a background in sculpture. How did you get interested in interactive media art?
Ever since I was a child I remember myself always having a fascination with things and objects that you could physically interact with. I was a very quiet child – my mother was worried because I didn't want to speak to anybody – instead I was always building and constructing things that could be moved – open – or pulled, etc. It was natural for me – when I started to do sculpture – to do pieces with the same potentiality of interaction, although – in that time – I tried to use the potentiality and the energy that the material could transmit. Most of my work was done in wood – you might wonder what energy does the wood transmit? – a lot for me and that was enough. Later I worked on lead and feathers and it was the same again – although my energy interest at that time – was more related with alchemy. Then it was drawings and the potentiality of representing the energy of the gesture in time. Now my work is a consequence of all the previous searches – in this case I am using electricity as energy – and the idea of physically manipulating it and what this manipulation transmits or what one can discover from our playful interaction with it.
Which dimension does the use of interactive media art add to your work?
Recycling Ian's comment on 'media art' I will add that interactive media art 'will refer more properly to what the work is about rather than what it is made with' and my work has always been interactive. What has added a difference and very interesting dimension to my work is the understanding that anything can be a conceptual interface. In the particular case of Dyslexic Ecology the use of electricity as raw energy to interact with has become a very versatile interface for developing physical knowledge and also to conceptually criticize the constrain that other interfaces create.
The amount of information that we perceive through our body is so fast that our consciousness is not fast enough to process it – but then – when we manage to create spaces that slow down our interaction with the world, this is the moment when we are able to perceive something very simple in a very different way. That is when we marvel ourselves of the potentiality of the simplicity – that is when we marvel ourselves with ourselves – with and within our ecology. Is the dimension of perceiving through your body, a material dimension, pure physicality?
Thanks Olga and Ian!
The Feel MA Interactive Media degree show takes places in room MB300 in the main building of Goldsmiths College and starts on Thursday 13 July at 6pm. It then runs until Sunday 16 July – it's open from 10am until 5pm except on Sunday when it opens at 11am.