I've posted 28, 237 pictures on flickr so far. Most of them fal into oblivion as soon as they are uploaded. Other generate an insane amount of 'favorite' tags. The latest in the band is one photo i took at the Fondazione Re Rebaudengo which is currently showing one third of the Turin Triennale. Proper report will follow. All i feel like saying right now is that it is a good art event. In a clinically clean sense. All is tasty, carefully selected, i just wish there were more surprises. Wait! i wish there were surprises. But i guess that no surprise is better than bad surprise.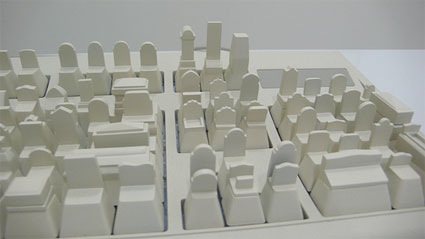 Alll that blabla to say that one of the most popular photos i made at the Triennale is the one of the Keyboard cemetery by Paul Chan. It is a physical referent to Alternumerics, a work on fonts that explores the relationship between language and interactivity by transforming the simple computer font into an art form that explores the fissure between what we write and what we mean. By replacing individual letters and numbers (known as alphanumerics) with textual and graphic fragments that signify what is typed in radically different ways. Alternumerics transforms any computer connected to a standard printer into an interactive artmaking installation.
The Torino Triennale runs until February 2009 in various venues.