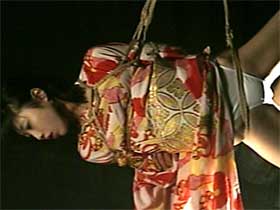 I arrived last week at Documenta in Kassel pulling my suitcase along the bumpy pavement with one hand, while the other was busy crossing its fingers "Let's hope there is less video art than at the Venice Biennale!" Turns out that there is an acceptable proportion of videos at Documenta, some of which are worth mentioning:
In 1987, film director Hito Steyerl was 19 and agreed once to be a model for a bondage photo shooting in Tokyo. Lovely Andrea (dubbed "A La Recherche du Cul Perdu") narrates the search for that photography in the Tokyo bondage scene. Helped by self-suspension performer and guide Asagi Ageha, Steyerl and her team find the image in a sex archive and set out to meet the photographer. Along the way, people interviewed talk about freedom, shame (that "libido of the brain") and tell stories such as the habit at the time of tricking young girls to bondage photo studios under the pretense of offering them some other kind of job. Once there the girl was so frightened that she worked for free, the promise that the men would let her go was enough of a reward. The plot is intertwined with images of performances by Asagi Ageha. While watching images of the performance, i never thought of sex, perversion or pain, just elegance, lightness and sheer beauty.
The lost photo shows the artist half naked and tied up, a bondage picture in the nawa-shibari style, characterised by women bound and suspended in the air. Today Japanese bondage has an unmissable sensual and erotic dimension. But it developed from the martial arts, Hojojutsu being the art of restraining a person using cord or rope.
It seems that a trailer (all i could find was this little interview with the artist) as kinky as befits the subject was available on the website of Documenta 12 before the opening of the exhibition, it was soon removed "due to terms of use violation.� The press and blogosphere immediately suspected that Documenta organizers were just looking for a cheap PR coup.
"But in a wider context, there is bondage all over the place", the video states at one point. In fact, the work entangles images of Japanese bondage girls with superheroes Spiderman and Spiderwoman (found those a bit easy cheesy) but also bound captives in the US-detainment camp at Guantanamo Bay. And pop music, there is a lot of pop music.
As i wrote there are videos all over the place, yet this room was one of the very few which was always packed. Sex has you sit for hours.
Images from Documenta presskit and HR online, more pictures of Asagi Ageha in TokyoBound.