Shoppers in Paisley (Scotland) have been banned from entering some retail outlets wearing hoods and baseball caps.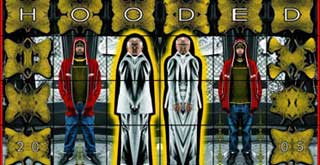 Police said the measure could help them catch or discourage shoplifters who used hats to conceal their faces from CCTV cameras. A number of shops now display signs warning customers: "Please note this store operates a hats off, hoods down policy."
Strathclyde Police have also stepped up officer patrols in the area over the festive season and officers have been giving advice to shops on how to deal with people wearing either caps or hooded tops.
Via BBC News. Picture from Gilbert and George (more images.)
More hoodie bans: in internet cafes, school, malls, etc.
Related: Asbos – anti-social behaviour orders.