The documentary i was dying to see at the Homo Ludens Ludens exhibition at LABoral in Gijon was Gold Farmers, by Ge Jin.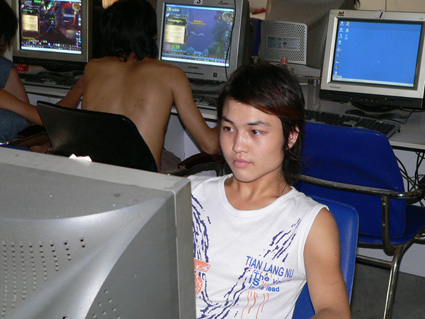 Image courtesy of Ge Jin
Gold Farmers are young people who earn their living by playing MMORPG games. They acquire ("farm") items of value within a game, usually by carrying out in-game actions repeatedly to maximize gains, sometimes by using a program such as a bot or automatic clicker.
They sell the artificial gold coins and other virtual goods they've harvested to players and/or farming organizations and get "real" money in return. Players from around the world will then use the golden coins to buy better armor, magic spells and other equipments to climb to higher levels or create more powerful characters.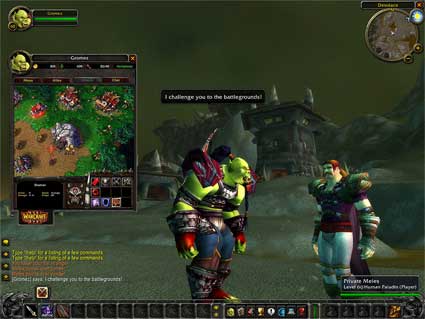 World of Warcraft, image gameslander
Many companies have attempted to block the use of gold-farming services by specifically stating in their End User License Agreements and Terms of Service that any and all game assets (from the player's characters themselves, to any items that they may be carrying) remain the sole property of the company itself, and taking aggressive action to close the accounts of any that are found to be using gold-farming (or similar) services.
Although there are gold farmers or gold farms in countries like the Philippines, Indonesia, and Mexico, Chinese are by far the most dynamic. There, young players typically work twelve hour shifts, with just a lunch break somewhere in the middle.
There are gold farmers or gold farms in other countries as well, such as the Philippines, Indonesia, and Mexico. However, they do not approach the scope and scale of the Chinese farm industry.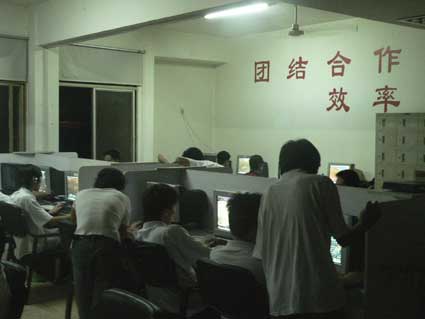 Image courtesy of Ge Jin
Ge Jin, a 30-year-old Shanghai native and a Ph.D. candidate at the University of California, San Diego, has shot a Gold Farmers, a documentary that delve into the background and lives of Chinese gold farmers.
Gold farming puts down the mechanisms that govern a universe in which everyone starts at the same level, no matter how rich their parents are, no matter how many degrees they've collected at the university. Players trying to work their way up according to the rules and in all fairness are the ones who get hit hardest by the practice of gold farming.
Watching the documentary, you can't help but feel some compassion for the gold farmers: they have very little free time, they are paid quite poorly to feed the whims of the Western consumer, they have to deal with the ire of a family who doesn't approve of what they do for a living, they must face the hostility of other players as soon as these realize that gold farmers are on their turf, their english is not good enough to enable them to communicate with other players, and they work hard. Don't be fooled, they don't sit there for hours just for the fun, most of their activity is extremely repetitive. In fact they would sometimes end their day at the "factory" by playing a real game in WoW. Just for the fun.
Chinese Gold Farmers Preview video (Ge Jin has uploaded more video previews):
I asked Ge Jin to discuss his documentary for the blog:
First of all, is the video on show at laboral only part of the documentary you are making or is it the full version of it?
I have another 40 min. long version, but this one is complete in itself as a short version.
Gold farmers have the challenging task of constantly navigating between clandestinity and the need to advertise their service. i suspect that finding and getting the "gold farmers" to talk must have been difficult. how did you locate the players and how did you gain their trust?
It is indeed difficult to get into the exclusive "gold farming" circle. But I was lucky to have an old friend in Shanghai who was running gold farms from 2003 to 2005. This friend introduced me to some gold farm owners. But the reason that the gaming workers/gold farmers trusted me was mainly because I treated them with respect. They face discriminations from non-gamers who see them as game addicts who are losers in real life as well as discriminations from gamers who think they care about more about money than gaming itself. I tried to be a good listener for them and they can see I didn't approach them with many assumptions.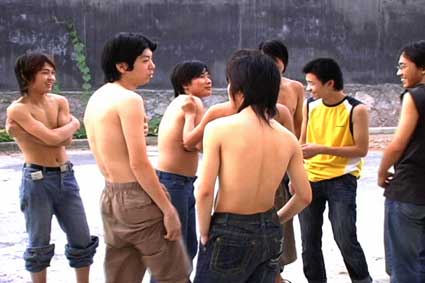 Image courtesy of Ge Jin
How much has the phenomenon evolved since you started working on this documentary in 2005 (it think)?
Yes I started following this phenomenon since 2005. I think the market become much more competitive and the profit margin for gold farmers are much smaller now. Meanwhile, more sophisticated services like power-leveling have become the mainstream of real money trade. Also, the domestic demand for in-game goods in China has risen so much that Chinese gold farmers no longer just work in foreign games.
In your documentary, you are neither pointing the fingers to gold farmers and saying "look this is evil!", neither are you saying that this is kind of labor embodied in play is the best thing that happened to the gaming scene. I had the feeling that you are not taking a stand. Am i right?
You are right that I'm not taking a stand. And I try to let the people involved in real money trade to tell their own stories in my documentary. But I think some of my "biases" do make their way into the documentary. For example, I don't really care if real money trade changes the regular gaming experience, I'm more concerned with how people's virtual life and real life affect each other, so you don't hardly hear the game industry's point of view in my documentary.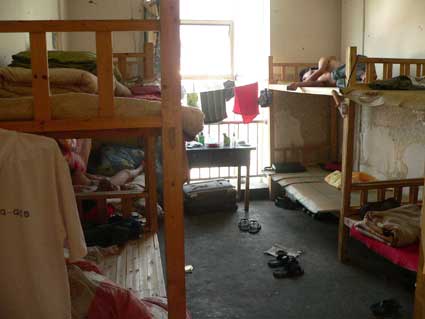 Image courtesy of Ge Jin
Is gold farming regarded differently in China than it is in the USA, Europe or Japan for example? Is the practice seen as more acceptable by the public and the government? How much does China try to tax and regulate the business?
Culturally, real money trade is indeed more accepted in China than in other countries. For example, the successful game Legend from Giant. Ltc thrives on incorporating real money trade in game design. Western game companies dare not do so blatantly because many gamers may think the game is not a level playing ground that way. But the Chinese gamers seem to accept this inherent unfairness, as if they see so much injustice in real life that they don't expect the virtual world to be better. The government doesn't seem to have any problem with the gold farming business. It has not figure out a good way to tax virtual trade yet, in some rare cases, some gold farms pay a fixed amount of tax based on very rough estimation of trade volume. There is currently no policy directly regulating this industry. Though there are regulations generally aiming to purify content of games and limit how long people can play online games.
Did your research on gold farming sparkle the interest of Western commercial gaming companies? Asking your help to crack down on farmers? Or asking for your opinion on how to make the most of this new form of economy?
To my surprise, I was contacted by gold selling websites who want to use my website to advertise themselves, by gold buyers who are looking for a steady supplier, and by market researchers who want to measure the supply and demand of gold trade. I wish I could seize such opportunities to make some money for myself. But unfortunately I was occupied by exploring the social implications of this economy.
Thanks Ge Jin!
Another documentary part of Homo Ludens Ludens is the fantastic 8 bit movie.
More WoW stories: The Avatar Machine, Joichi Ito on WoW, Life at the gamers' farm.