HOLO – a magazine about emerging trajectories in art, science, and technology.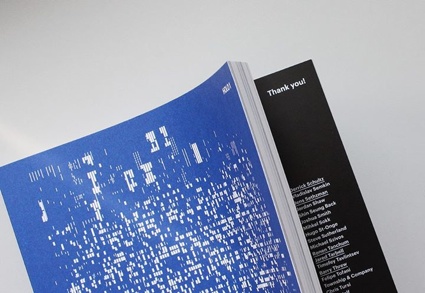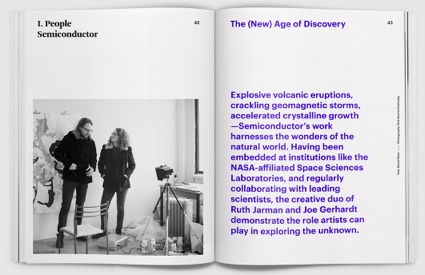 Published twice per year, and weighing in at more than 200 pages, each issue of HOLO provides intimate views into fascinating studios, workshops, and institutions around the world, as seen through the eyes of stellar photographers and talented writers. The pace, depth, and sensibility of print allows us to invest heavily in each story, and draw on months of travel, research, and conversation to craft nuanced portraits that you won't find anywhere else.
HOLO is what happens when enthusiastic minds meet and decide they'd like to use a paper publication to share their passion about creativity and digital technology. The magazine is ambitious, elegantly curated, impeccably illustrated and intelligent. It also manages to convey a feeling of warmth. HOLO opens the door to artists and designer's studios for in-depth conversations and intimate moments. I loved seeing a photo of some of the trophies won by David O'Reilly, dozens of them are casually crammed up on a closet shelf in his L.A. flat. And HOLO is full of little, human touches like that. The content and tone of the interviews in HOLO are not the ones you'd find in your run-of-the-mill interviews. They are incredible conversations between people who have a lot of respect and understanding for each other's work. I love reading about the working life and ideas of David O'Reilly (who wouldn't?), Semiconductor, Zimoun, Philip Beesley, Raquel Meyers. And Wolf Lieser! The founder of DAM, a Berlin gallery selling and championing digital art, has quite a few eye-opening comments on the relationship between digital artworks & the art market.
HOLO also contains essays, called 'Perspectives', that look at the 'emerging representational and perceptual paradigms'. I particularly enjoyed reading an essay on surveillance by James Bridle who manage to give a new twist on an already much discussed issue, and a text in which Greog Borenstein details 'debug view art'.
HOLO closes its over 200 pages on a brilliant and witty "Stream' that charts the most interesting moments of the Summer/Fall 2013, reminding us in the process that we're so absorbed by the now and the next that we've forgotten how exciting our near past has been. The time line mentions lab-grown burgers, discussion on conservation in the computer age, royal pardon for Alan Turing, a robotic petting zoo, etc.
So there you are! HOLO is a beautiful world inhabited by talented and enthusiastic people and I spent a great time immersed into HOLO but it's not my world. Which is both criticism and praise…
Raquel Meyers, The Yeti Sound Machine (more videos)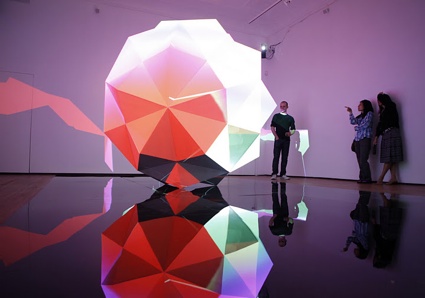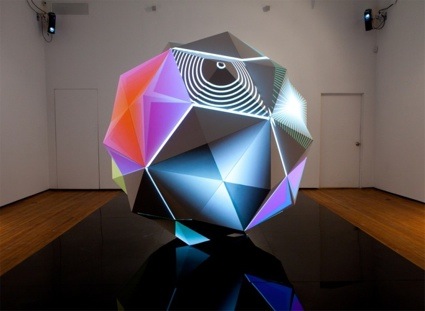 Dev Harlan, Parmenides I (image via Spectacular)
I'm obviously interested in "emerging trajectories in art, science, and technology" (i've been writing about it for 10 years after all) and it is stimulating to see that other people are covering the same areas of creativity from a radically different perspective.
I like everything i find in HOLO: the splendid photos and design, the dense texts, the people involved in the project. I could go on and on. But i do feel that HOLO could engage a bit more with the broader cultural context, it could develop a more critical voice while maintaining much of its contagious enthusiasm for all things digital and interactive. But maybe that's just me, maybe i should stop looking for the potentially worrying political, ethical and social impacts of technology everywhere. We are living maddening times and publications like HOLO allow us to think of something else than crisis, social inequalities, the NSA, speculation on the future of the planet, etc. Both criticism and praise, thus.
I need to add that i did feel a bit uncomfortable when i realized that very few women had been involved in the mag. Gender balance has never been a big concern of mine but i couldn't help but notice that only a handful of women are featured as artists/designers or are part of the editorial team. It would also be good to get outside of our comfortable Northern America/Europe/Japan media art bubble but i guess we all struggle with this.
Anyway, do get a copy. Really. It's ridiculously affordable, smart and entertaining. You'll cherish it for years to come.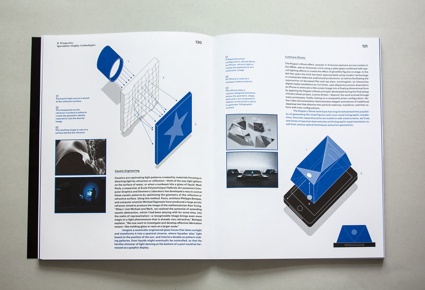 Photo Studio Axel Pfaender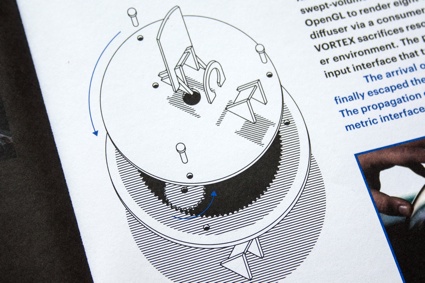 Photo Studio Axel Pfaender