HERE, by Jason Wilson and the members of (N.I.N.E), is a pervasive game allowing 2-16 people to get to know better a city. Players get markers, chalk, sticky notes and 2 identical decks of 50 cards each.
Each team get their cards which come with a set of instructions to follow. The player who draws a BLANK CARD must invent the instruction for that round.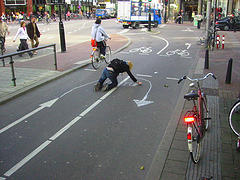 The cards are all printed on sticker paper, and the players are encouraged to stick the action cards up in the locations as they're finished, that way, at some later date, a random pedestrian may end up being inspired toward detournement.
A new version of the game will be launched December 4th during the La Superette event and it will come with a copy of their own "community gaming map".
By the look of the pictures, that game won't come too soon in my town.
Thanks Jason.
First spotted on Nicolas' blog.