In the mountain of ludicrously overdue posts that prevent me from getting the sleep of the righteous is a report on the first chapter of Herbologies/Foraging Networks which took place at the Kiasma museum during Pixelache Helsinki in March.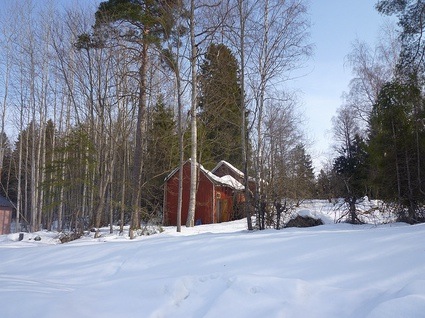 Told you that was so long and cold ago…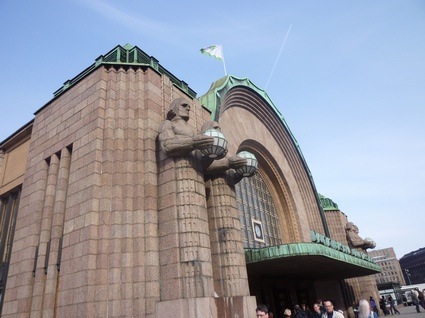 Helsinki Central station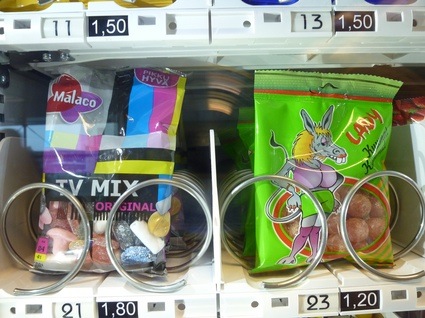 Finnish vending machines sell eccentric sweets
Herbologies/Foraging Networks is a series of workshops, seminars and expeditions that explores the connection between traditional knowledge of herbs, edible and medicinal plants and media networked culture. The result of the Helsinki chapter of H/FN was a wonderful and eye-opening fusion of hydroponic technologies, vodka-making workshop, fermentation sermon, DNA isolation experiments and lectures on herbs and berries.
The conference was particularly good. We snacked on apples that had been foraged during a Dumpster diving trip through the bins of Helsinki and heard about topics as different as biopiracy, urban beekeeping, and the best plants to eat when you suffer from poor circulation.
Here's a few highlights from the two days i spent in the company of the Herbologies/Foraging Networks crowd: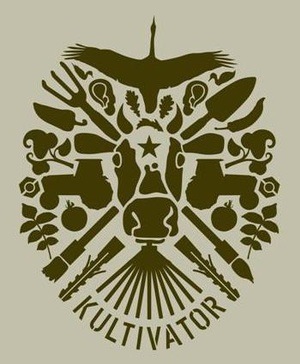 The participants that completely blew me away were the members of KULTIVATOR, an experimental cooperation of organic farming and visual art practice located in the village Dyestad, on the island Öland, Sweden. Founded in 2005 by 3 artists and 2 farmers, Kultivator is a platform for art and agriculture that involves an organic farm with cows, sheep, vegetables, forestry but also residences for foreign artists, exhibitions and screenings on site on Öland or internationally.
Over its 5 years of existence, Kultivator has been harvesting potatoes and milking cows but they have also been busy installing rapeseed oil press in art foundations, building a chicken house with students, inviting foreign artists to leave their mark on the landscape of Dyestad, wondering how the open source philosophy can be applied to farming, producing a Glocal guide for an old walking trail from Dyestad to a nearby ancient ceremonial ruin and organizing a dinner with ruminants.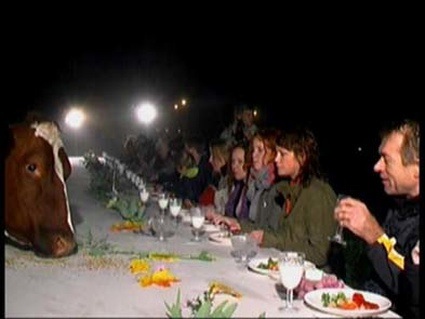 Publik.dk has a great interview with KULTIVATOR.
Another high point of the seminar was Christina Stadlbauer's presentation of her experiences in beekeeping on urban rooftops. She installed 3 honey bee hives in Brussels, one of them at NADINE, another at OKNO and the last one on a private rooftop. She observes the hives, how their weight fluctuate over time, how well they can cope in urban environment, etc. The bees' behaviour and the honey they produce act as monitors of natural processes in the city.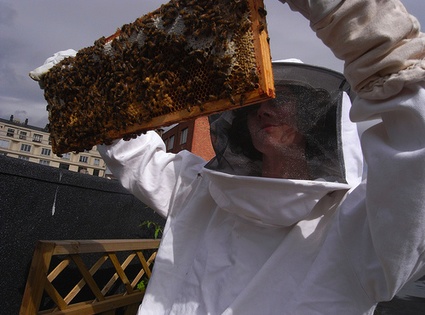 Christina searching for the queen. Photo from thoughtsandatalk
Within half an hour of being relocated on the Brussels rooftops (with the authorization of the neighbours), Christina's bees had understood where they were and set out to find food over the city (they can fly up to 3 km to find flowers.) The flora of a city is much more diverse than one would expect. In cities, bees can feast on wild flowers growing in abandoned parking lots, tulips in backyard gardens, tomatoes cultivated on small balconies, etc. Besides, there might be a lot of pollution in cities but there's also less pesticides on the flowers. The honey that city bees produce has therefore a totally different flavour. In city, there's also less competition for food and the good season lasts longer as it's warmer there than in the countryside. The successful Ginza Honey Bee Project, which has hundreds of thousands of Western and Japanese honeybees living on the roof of a 11-story building in downtown Tokyo, demonstrates that bees can thrive in urban settings.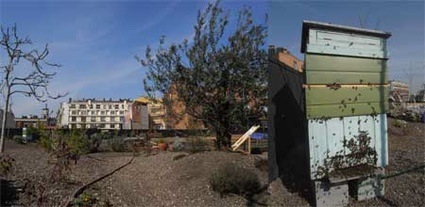 Image thoughtsandtalks
Unfortunately, many of Christina's bees didn't wake up from Brussels' Winter.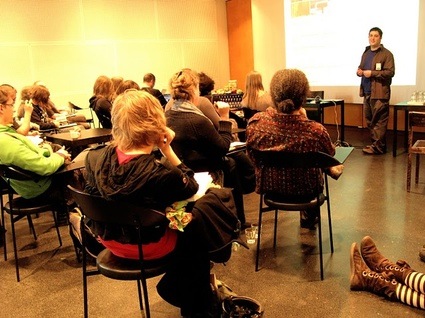 Andrew Gryf Paterson introducing Herbologies/Foraging Networks programme in Kiasma seminar room (Photo by Ulla Taipale)
Next, Andrew Gryf Paterson gave a fascinating presentation of foraging culture. Among the projects he mentioned, was Kayle Brandon and Heath Bunting's The Keepers. Since 2005, they've been mapping edible plants that can be found in public places in Bristol. Each plant is assigned a Keeper whose mission is to learn by heart the locations, uses, histories and biology of the plant, committing to share their knowledge when requested.
Keeping and sharing the knowledge about food that can be foraged is important.
For example, many families and individuals in Latvia or Finland gather herbs for consumption or to include them in tinctures without paying much attention to this tradition. Their knowledge should be documented before it gets lost like it happened in many countries around Europe. As Andrew noted, while we might believe that the knowledge about what is edible and what is not around us is straightforward, poor immigrants are at risk of food poisoning if they pick up the wrong fruit.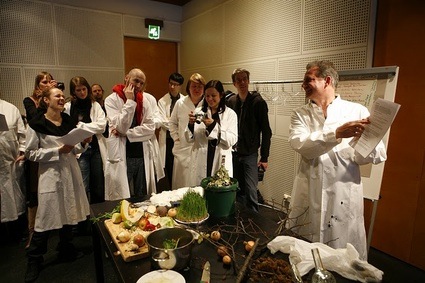 Vivoarts Workshop led by Adam Zaretsky, Photo by Antti Ahonen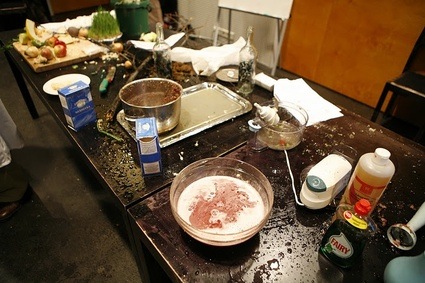 Vivoarts Workshop led by Adam Zaretsky, Photo by Antti Ahonen
That evening, Adam Zaretsky gave a popular and lively workshop on how to extract DNA using everyday households. I'm not going to blog about it since i've covered a couple of Adam's workshops in the past. What i can say, however, is that each time i meet Adam he does something totally unexpected, not to say utterly bizarre. This time he found horse poo on the street of Helsinki, brought it to the workshop and added it to the ingredients he mixed to obtain the juice we extracted DNA from.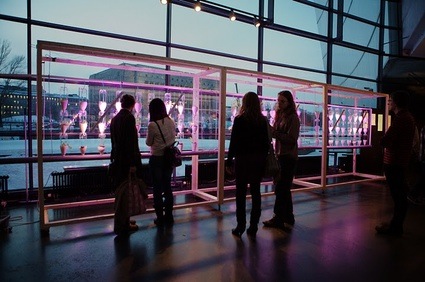 Making of Windowfarms Finland (Kiasma Installation). Photo by Antti Ahonen
The morning after, we met at Kiasma again, this time to harvest some plants that had grown on the Windowfarms installed in February in the museum. Right after that, we moved to the botanical garden for a series of workshops.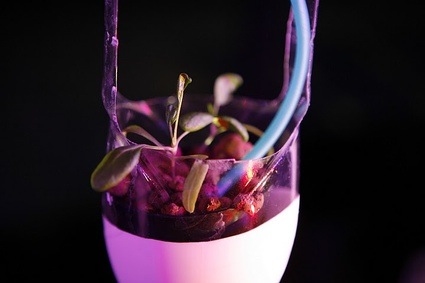 Making of Windowfarms Finland (Kiasma Installation). Photo by Antti Ahonen
Signe Pucena from SERDE, one of the organizers of Herbologies/Foraging Networks, hosted a vodka tincture-making workshop.
The vodka tincture-making workshop was inspired by one of SERDE's research about the instruments people have at home to brew their own vodka. Although it is illegal in Latvia*, moonshining is still alive and part of the intangible cultural heritage of the country. The alcohol produced by homebrewing can be turned into curative herb tinctures that are later used for internal use and external application. Ironically, SERDE organized workshops on Moonshining in Latvia with the blessing of local authorities and even won a State award for their contribution in 'innovation in tradition.'
Turns out that making your own alcohol is much easier than i expected. You just need simple kitchen tools, fermented apples or fermented jam and bread.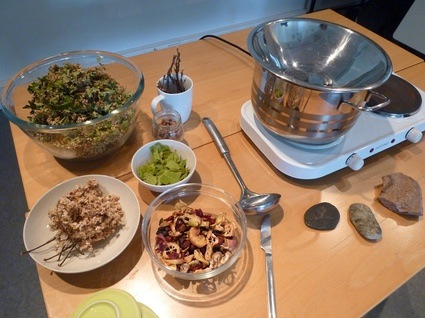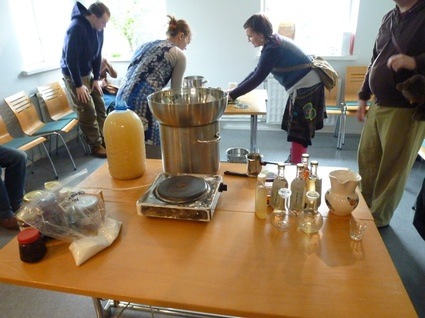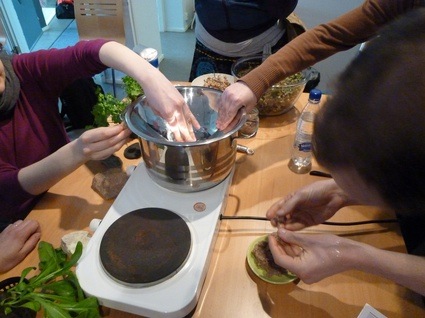 The second half of the programme took place a few weeks ago in the Kurzeme region, Latvia. I'm so sorry i had to miss it. Kultivator wrote a small report and there's some more information on Herbologies/Foraging Networks facebook page.
The initiators/organisers of Herbologies/Foraging Networks are Andrew Gryf Paterson, Ulla Taipale from Capsula and Signe Pucena from SERDE.
* Andrew Gryf Paterson just informed me that 'Since april this year, Latvian government have apparently changed the law so that farmers (who have surplus produce such as apples) are legally allowed to make homemade alcohol (i guess for small to medium -scale sales and use).'
Image on the homepage by Antti Ahonen.
Previously: Pixelache Helsinki: Anisotropics and Herbologies/Foraging Networks.