Having a bit of a hectic week. Too many events to check out, too little access to internet. On Saturday i'll be back to HQ (alas!) and have far more time to spend on blogging business. In the meantime, please forgive the lazy service.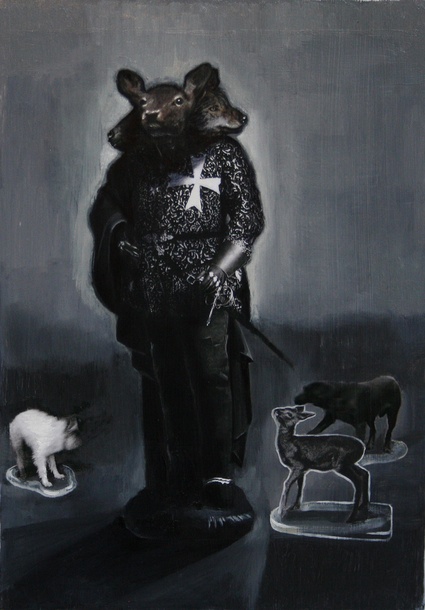 Marilou van Lierop, Ridder, 2009. Zwart Huis gallery
On Sunday i went to the 28th edition of the contemporary art fair Art Brussels. It didn't start too well. The lady at the press office was absolutely appalled and disgusted that obnoxious bloggers had the nerve to present themselves at her office and require a press pass. She told me "Blogs are not press! Anyone can open a blog these days! I've heard that journalists write a blog for their newspaper but otherwise i doubt any of those bloggers can be taken seriously!" I'll spare you the rest. It's true that anyone can open a blog but maybe discarding every single blogger on the sole basis of a rather old school prejudice might not be the smartest way to ensure that the art fair gets a relevant coverage. How about opening a laptop lady and checking who's kosher and who's a fraud?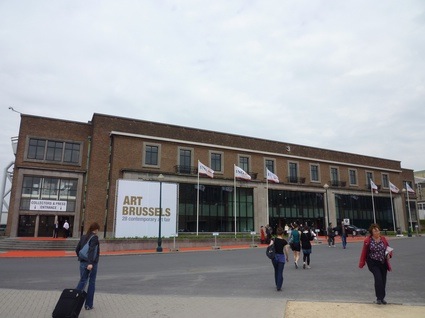 Anyway, got my press pass (but only because i write for paper magazines too) and as soon as i'm back to faster internet bliss i will write to Art Brussels and invite them cordially to join the 21st century. I'm going to post a couple of reports about the art fair soon-ish (i keep writing that, euh?) Here's my first impressions from the events: paintings, paintings, paintings! Not a word you'd often see me write. Yet, that's painting that enchanted me the most.
Starting with Tatjana Gerhard's quirky little characters.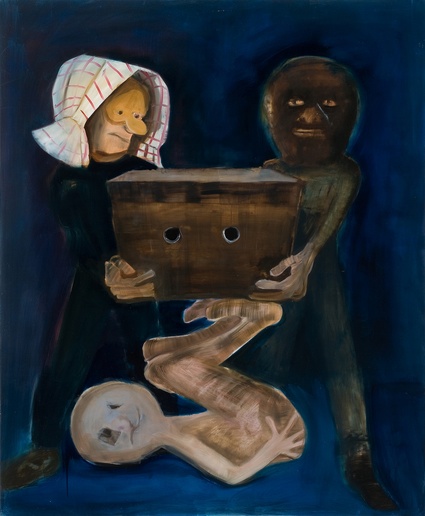 Tatjana Gerhard, 2009. Rotwand gallery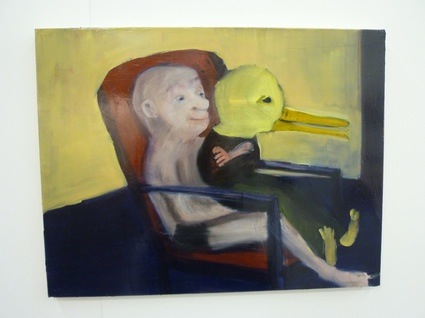 Tatjana Gerhard. Rotwand gallery
Oana Farcas at the booth of Larm Gallery. Her tiny oils are amazing and it pains me that my pictures are the usual crapness: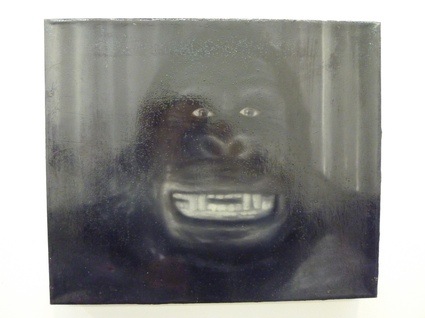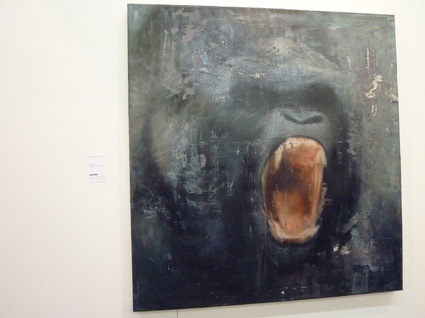 Damien Deroubaix's large-scale street art-ish paintings.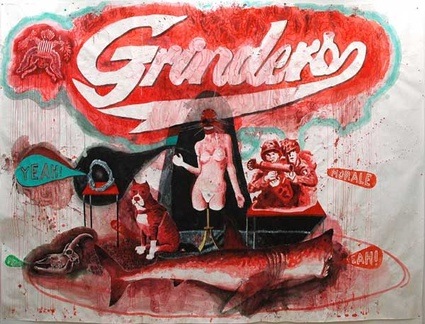 Damien Deroubaix, Grinders, 2006. Nosbaum & Reding gallery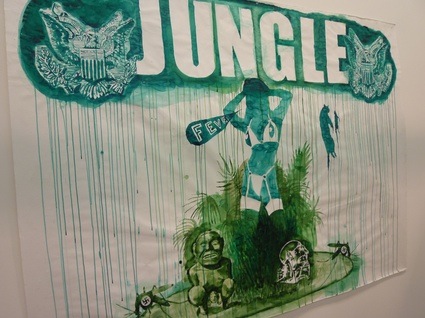 Damien Deroubaix, Jungle Fever, 2005. Nosbaum & Reding gallery
Brussels' gallery Sorry We Are Closed had a solo show of Jansson Stegner's paintings. The one i liked costs 35 000 euros. It was already sold, i can carry on paying the rent.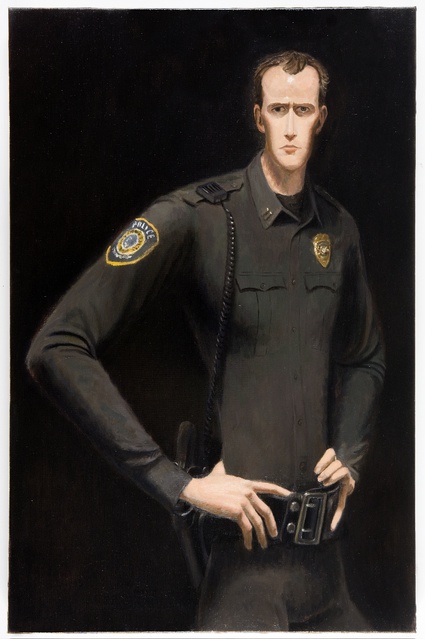 Jansson Stegner, Self portrait as a cop, 2009. Sorry we're Closed gallery
Dawn Mellor's glamorous celebrities get a blasphemous zombie treatment: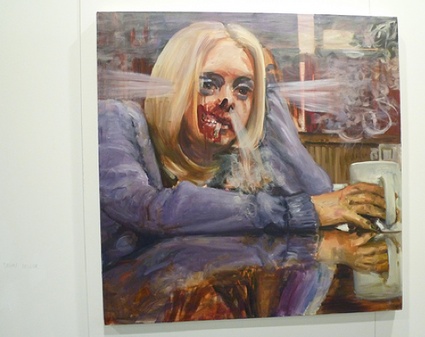 Dawn Mellor, from the series Vile Affections. Gabriel Rolt gallery
The irreverent Erik Thor Sandberg.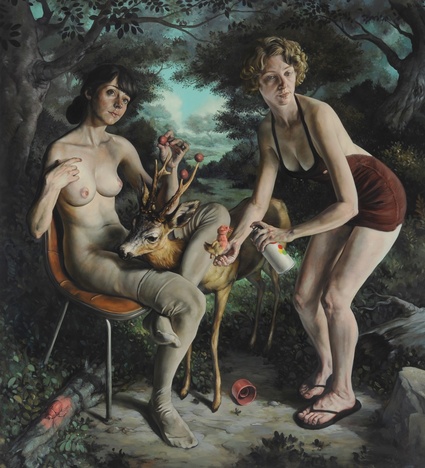 Erik Thor Sandberg, 2010. Conner Contemporary Art gallery
Diamantis Sotiropoulos. I didn't see the work below but the picture i made of the one hung at the fair is so pitiful i thought it would be better to keep it in flickr limbo.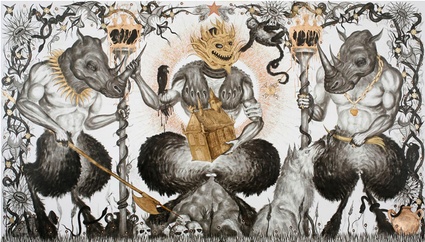 Diamantis Sotiropoulos, Best Among Equals, 2008. Upstairs Berlin
Regine Kolle because she has a very chic name and because who can resist a nurse in uniform?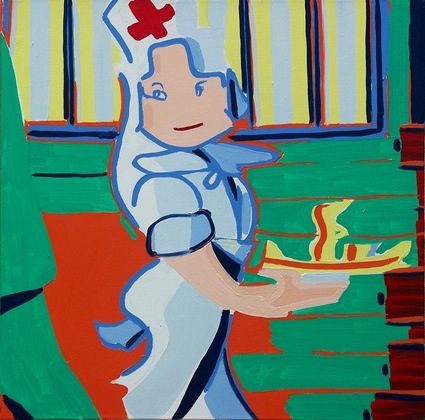 Regine Kolle, Nurse in Love, 2010. gdm
To be continued…