There is a stunning photo exhibition right now at the Musée d'Art moderne de la Ville de Paris. Stunning and disturbing. I had to take a small pause from it after having seen only half of the photos. Yet, you won't find any mention of the show on the museum's website. Nor will you see billboards outside the museum that announce or denounce its existence.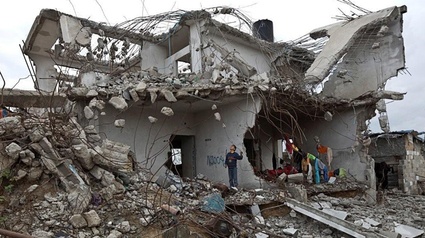 A boy looks at his former home. Gaza City, December 2009
Titled Gaza 2010, the show features over 80 photographs taken by photo reporter Kai Wiedenhöfer between November 2009 and May 2010, one year after Operation Cast Lead, the Israeli offensive on Gaza in the winter of 2008-2009.
The images focus on two main themes: the destroyed buildings (or rather the absence of their reconstruction) and Palestinians civilians wounded during the three-week armed conflict.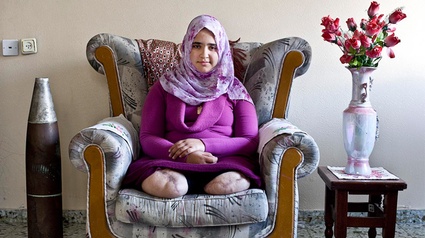 Jamila al-Habash, 16, hit by a missile while she was playing on the rooftop of her house. Gaza City, February 2010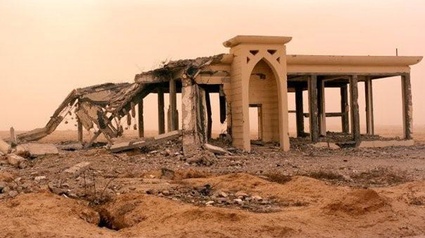 Ruins of Gaza International Airport, Rafah, December 2009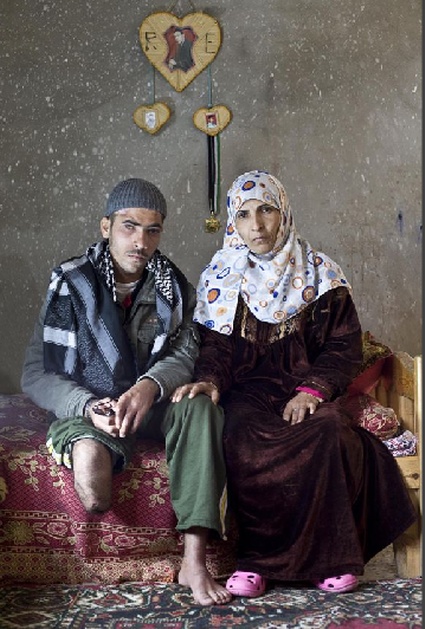 Mahmoud Zorba, 18, student in Gaza. Wounded by a missile, he lost his sight, the inferior part of his right leg and a finger. Seen here with his mother Arnal, 44. February 2010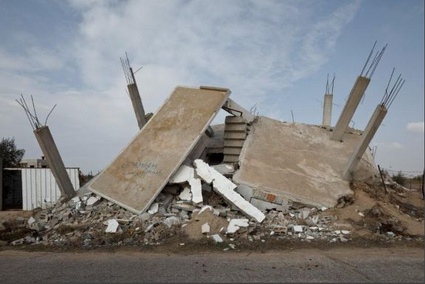 December 2009. Ruins of a house in the village of Abasan Al-Saghir. The characters painted in blue on the roof form the mobile phone number of the owner of the house
The exhibition has been condemned by CRIF, the Representative Council of French Jewish Institutions in a press release that called the show anti-Israeli propaganda, adding that the photographer chose to ignore the numerous Israeli victims.
Wiedenhöfer, who has been photographing in Gaza for the past 20 years, was on assignment there for Stern magazine during the Israeli onslaught. Afterward, he set out to photograph what he said was his most difficult project ever.
"When you work in a war zone you are not really aware of what's happening because everything is going so fast … But these people have all had their injuries for a year so they know what it means for their life and the everyday problems they have.
"When I'm in a conflict situation I have a good excuse to be there. But it's a completely different thing when you say to people, 'I want to come to your house and photograph your wounds.' It's a kind of voyeurism." (via The Daily Star.)
The award-winning photographer is now working on an upcoming book on barriers that will include, among others, pictures taken in the Occupied Territories, Belfast, Berlin and on the border between the US and Mexico.
All images: © Kai Wiedenhöfer / Fondation d'entreprise Carmignac Gestion.
Le Monde has a few pictures. Arte has a video report which i strongly recommend. The website of the Carmignac award has a small video as well.
GAZA 2010 remains open at the Musée d'Art moderne de la Ville de Paris, until December 5, 2010. Entrance is free.