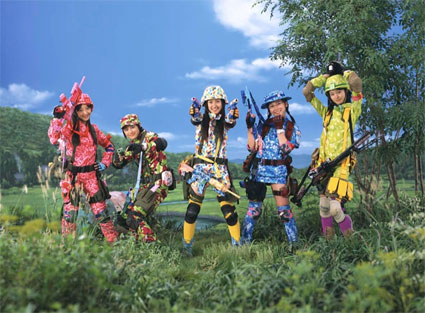 Mr., Team Rabbit, 2008
The Galerie Emmanuel Perrotin in Paris is going all Lolita manga with an exhibition of Mr.'s recent art works. Part of the Superflat movement, heralded by Takashi Murakami, Mr. is showing a series of works that show the girly side of otaku culture.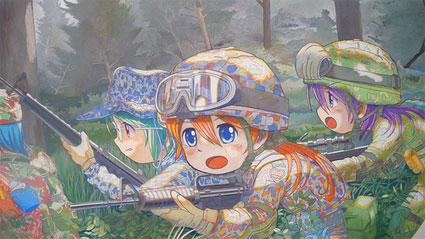 Five Candy Candy-eyed school girls are declined over paintings, photography and video. Wearing pastel-coloured military outfits, they are busy hiding and taking fight position on the battle ground. They carry heavy guns adorned with kawaii little animals and heart shapes. They are Team Rabbit. Once a week they play capture-the-flag 'survival games' while the rest of their school mates might be busy playing tennis or trading their underwear.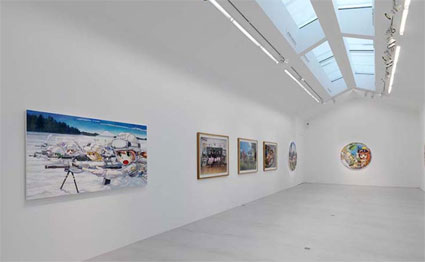 The 30 minute film -a new media for Mr- Nobody Dies was inspired by Mr.'s 2007 painting It hurts when it hits bare skin. The short propels the five teenagers into movement. The first seconds of the screening are nails scratching on a black board. My head was screaming 'Please, please! Could you please stop being caricature of Japanese teenage girls?' But then what do i know? I've never spoken much with any Japanese teenager. Still, i quickly got over that moment of total irritation and enjoyed the syrupy plot, the colours so bright they remained glued on your retina for the rest of the day and the softest form of violence i had ever seen.
I took a few pictures for you:
Related story: Chiho Aoshima, Mr. and Aya Takano in Lyon.
The exhibition Nobody Dies is running until January 10th, 2009 at
Galerie Emmanuel Perrotin in Paris.