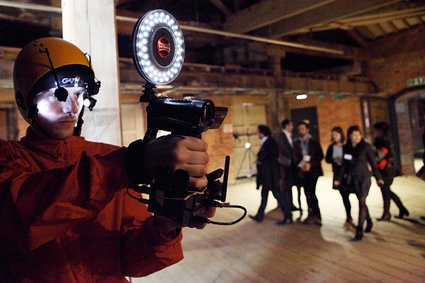 FutureEverything Festival 2012 – Image by TAPE
This year's edition of the FutureEverything festival in Manchester brought a much discussed phenomenon to the fore: participatory culture. From Wikileaks to Iceland's crowd-sourced constitution, to the Arab Spring, participatory technologies have demonstrated their powerful political potential. The world of culture is harnessing the same connected energies with projects that involve citizen scientists cataloging celestial bodies in the Milky Way galaxy, crowd-curated photo exhibitions and of course the many projects created by artists and designers who either directly use collective action or bring it under a new light.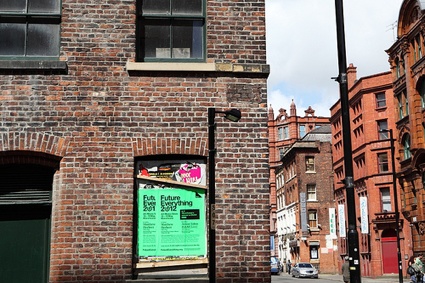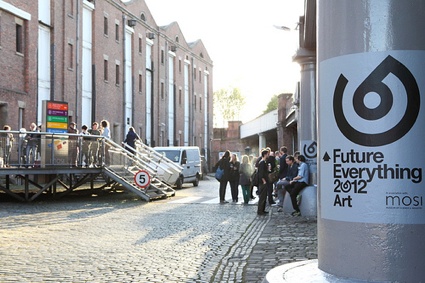 FutureEverything Festival 2012 – Image by TAPE
The festival is over but the exhibition, titled FutureEverybody, remains open till June 10. It is hosted in the spectacular 1830 warehouse, the world's first railway warehouse, part of the Museum of Science and Industry.
The show obviously focuses on the artistic dimension of new participatory technologies, giving a tangible and very approachable dimension to a phenomenon we tend to associate mostly with online practice. FutureEverybody opens with the work of an artist known for putting them spectacularly into practice: Aaron Koblin who, a few years ago, teamed up with Takashi Kawashima and thousands of online workers to create a $100 bill. But you all know Aaron's work so let me call your attention to some of the projects i discovered in the show: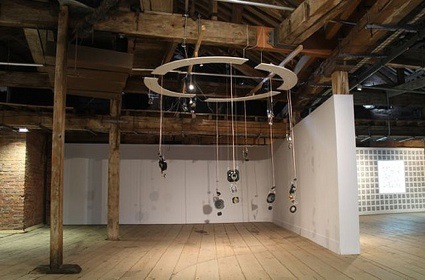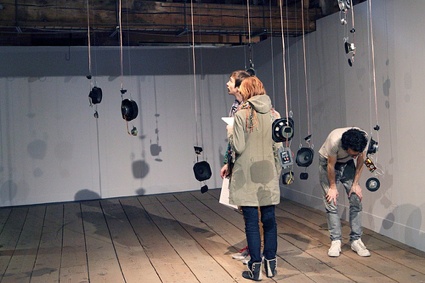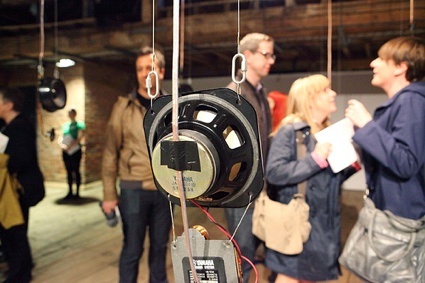 Daniel Jones and James Bulley, Maelstrom. View from the exhibition of the FutureEverything Festival 2012 – Image by TAPE
Over 48 hours of user-created audio is uploaded to the internet every minute, a figure that is increasing exponentially. Maelstrom by Daniel Jones and James Bulley draws on these audio-fragments in real-time and broadcasts them through suspended speakers. By organising these fragments based on their tonal attributes, they collectively form a vast instrument, whose properties are affected by global internet activity.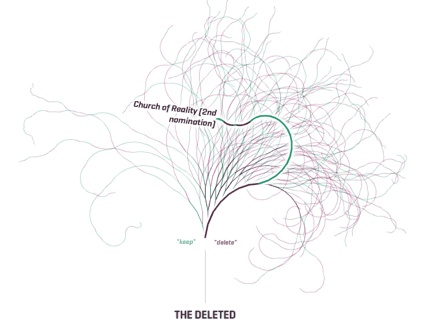 Moritz Stefaner + Dario Taraborelli + Luca Ciampaglia, Notabilia, 2011
Wikipedia articles, especially new ones, are reviewed by the community to determine whether or not they meet Wikipedia's notability guidelines. Articles nominated for deletion are discussed collectively by the editors before they decided in favor or against keeping them. An administrator then reviews the debate and makes the final decision.
Moritz Stefaner, Dario Taraborelli and Giovanni Luca Ciampaglia analyzed Article for Deletion (AfD) discussions in the English Wikipedia. The result of their research is Notabilia, a visualization of the 100 longest discussions that stemmed from the proposal to delete an article.
I was less interested in the data visualization (which is obviously clear and competently designed) than in learning about the articles questioned and the reason put for forward for their remotion from the online encyclopedia. The entries deleted ranged from the surprising (Islamophobiaphobia) to the downright absurd (List of songs about masturbation, List of Playboy Playmate with D-cups or larger breasts). I've also noticed the high number of articles exposing dubious political or religious agendas.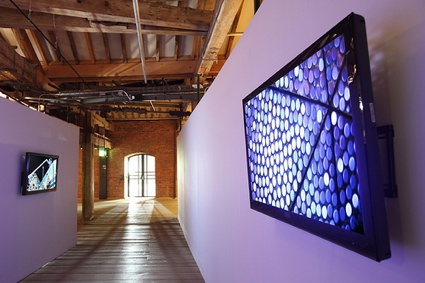 Jamie Allen, Refractive Index. FutureEverything Festival 2012 – Image by TAPE
Jamie Allen's Refractive Index is an ongoing art-research project that uses the large scale public media displays as a kind of camera obscura; inverting typical uses of the screen, and showing us what our screens "see" when they peer into the night sky. I'm not sure i understand what makes it a project that deals with collective action but i loved the rigorous research behind it as well as the way it was documented.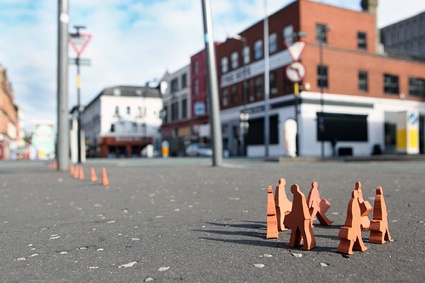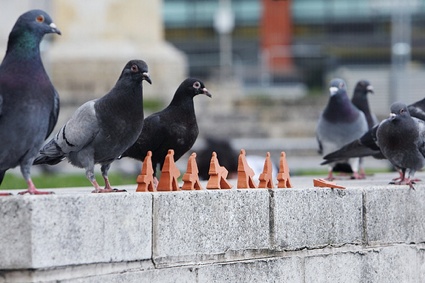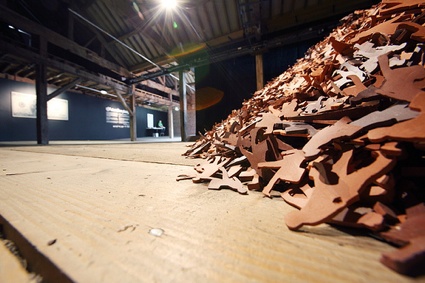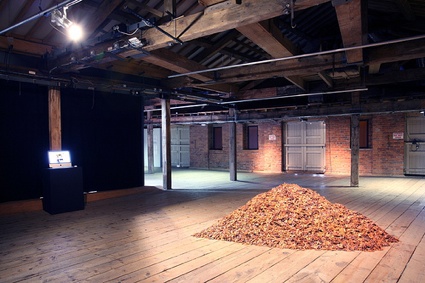 Lawrence Epps, Human Resources. FutureEverything Festival 2012 – Image by TAPE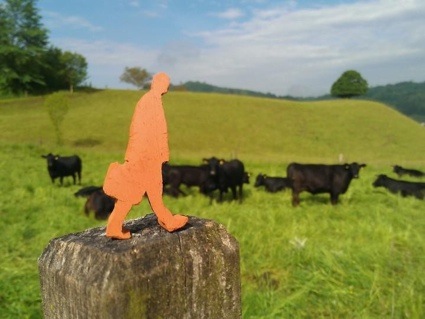 Lawrence Epps, Human Resources, 2012 (in Switzerland)
Right in the middle of the exhibition space was a heap of miniature ceramic figures hand-made by 
Lawrence Epps. A few days before i visited the show, the Sykey Collective distributed 8,000 of these tiny workers in the streets of Manchester. Passersby were then invited to bring them to work, home, on business trips, holidays and document the figurines journey online, either on www.sykey.org and via twitter #littleclaymen.
I wanted to steal a figurine from the exhibition pile and take it with me on the train to London but being a stupidly well-behaved girl, i just looked sadly at them and walked away empty-handed.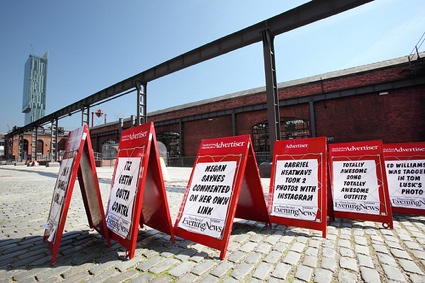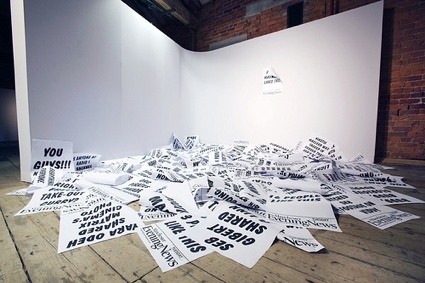 Jeremy Hutchison, Extra! Extra!. FutureEverything Festival 2012 – Image by TAPE
Jeremy Hutchison's Extra! Extra! is a collection of newspaper advertising boards with headlines written by Facebook users on the project's Facebook wall. The messages are printed by the Manchester Evening News, and plastered on newspaper billboards around the Museum of Science and Industry site.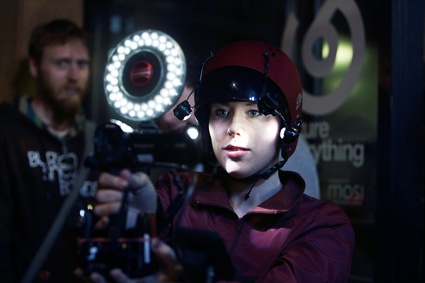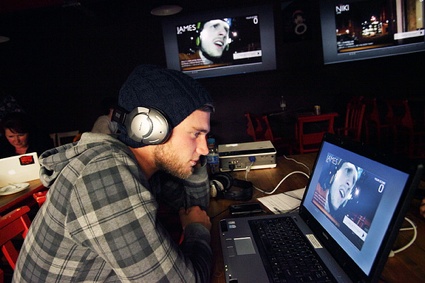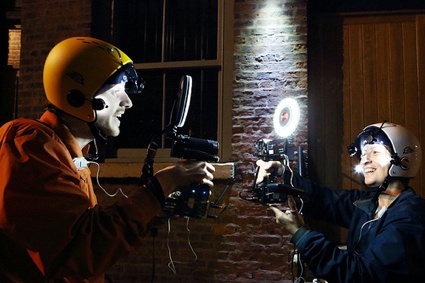 Blast Theory, I'd Hide You. FutureEverything Festival 2012 – Image by TAPE
Blast Theory was premiering their new game I'd Hide You. As is often the case with the UK collective, I'd Hide You is an online/offline game. Only performers play in the streets while the public can log online, follow them and play. Rules are detailed in the trailer:
Who wouldn't want to be one of the three performers with the cool outfits and gadgets running in the streets of Manchester?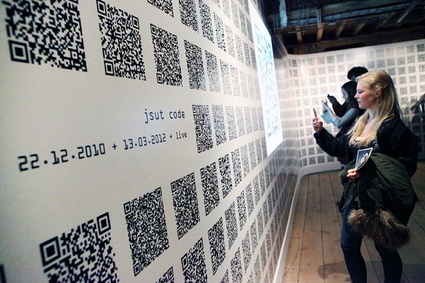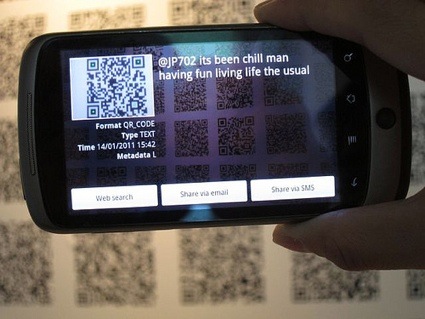 Helen Pritchard + Winnie Soon, Jsut Code. FutureEverything Festival 2012 – Image by TAPE
Previously: An Ant Ballet at FutureEverything.
Entrance to the FutureEverybody Art Exhibition is free. The show remains open at 1830 Warehouse, Museum of Science and Industry, in Manchester until 10th June 2012.
More images by TAPE. I take photos too!