Martyn Ware, a leading figure in electronic music and co-founder of Illustrious Company, is an extremely busy and prolific man. Last summer, the British Pavilion of the Venice Biennale of Architecture unveiled a sound installation he had developed to show Sheffield's relationship with the world at large. Called 1:10,000,000, the soundscape and animation was projecting the British city as both magnet and dispora of people, sounds and virtual connections.
These days, he and a group of scientists and artists who work on the boundaries between music, art and technology, are touring Britain with his latest production, The Future of Sound.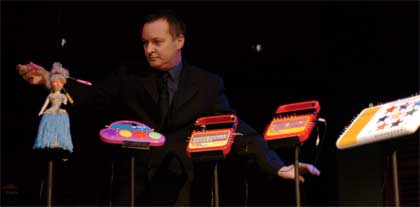 Modified Toy Orchestra
The cast of this tour of performances and presentations includes Brian Duffy whose Modified Toy Orchestra electronic instruments are made from abandoned children's toy; The Sancho Plan that use electronic drum pads to control animated musical characters; Scanner -aka Robin Rimbaud- whose device transforms background street noise into real music; Luciana Haill's Interactive Brainwave Visual Analyser turns a person's brainwaves into a composition, etc.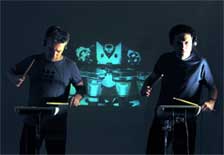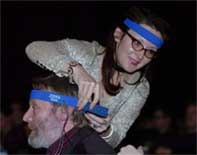 The Sancho Plan and Interactive Brainwave Visual Analyser

Besides, one of the best sound art festival in Europe, Cybersonica, will be presented by squidsoup, The Sancho Plan, Troika and Chris O'Shea (who announced the event a while ago) collaborating with Owen Lloyd.
Martyn Ware is presenting Audioscape, a sound system he developed together with Paul Gillieron Associates. Sound from up to 16 sources can be streamed, visualised as blocks on a computer screen, and moved about with a mouse.
Future of Sound showcases the "cutting edge of sound production and manipulation". What is the audience for such music? Geeks? Fans of electronic music? What makes the event appealing to the general public?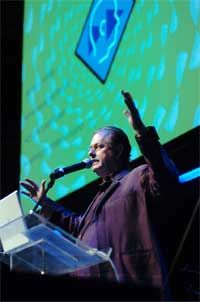 Martyn Ware: It's not so much about an audience for the 'music' as such – we believe that the general public are naturally very interested to get a glimpse of the future in all it's many shades of possibility – we feature music, digital art, performance, ancient historical archeoacoustics, generative sound 'toys', gaming possibilities etc. in a rich mix of convergent art possibilities liberally laced with entertainment and a little bit of 'showbiz'. I don't like the term geek – I think it's yet another perjorative term for people who are genuinely passionate about their interests and care little for following fashion.
Electronic music fans will love the show, I should imagine – but it features many forms of music and sound.
How much inspiration can Future of Sound provide to other art disciplines?
MW: FOS is a showcase for many different collaborative art styles – so in that respect I know that we provide inspiration for people who may not have known or considered such lateral connections as we demonstrate.
Some of the practitioners whose work is part of FoS have collaborated with scientist. Is this kind of collaboration something new? Is there a tradition od such collaboration or does it merely reflect the fact that we live in a world increasingly mediated by technology?
MW: One of our guiding principles is a refusal to acknowledge the articial distinction between the worlds of art and science. Science informs art and vice versa – this is now becomong increasingly obvious to the general public but there are still many vested interests in both worlds who find this simple, positive, idea extremely threatening.
Can you tell us a few words about the Audioscape software? How does it work? What can the audience expect from the experience?
MW: The AudioScape software has been developed and specified by Paul Gillieron Acoustic Design with my help and expertise – for the first time it is now available to run on Intel Macs – the software allows up to 16 discrete soundstreams to be moved around at 20fps in any direction within the confines of the location of the speakers. This is a world first and will eventually revolutionise our listening world.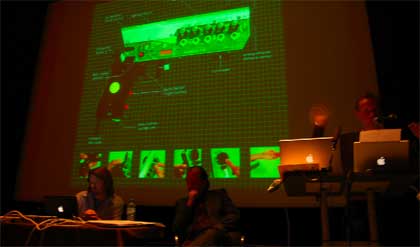 Scanner and Martyn Ware
Do you have any plan to bring Future of Sound to other parts of Europe? What are your plans after April 2007?
MW: We are very keen to take the event to Europe – so any ideas are welcome – feel free to email me on martyn at illustriouscompany dot co.uk.
We are planning to take the show to New York, Boston and Los Angeles
We already have a confirmed event at California State University Long Beach in spring 2008.
Catch up with Future of Sound:
1 March Goldsmiths College, London
15 March Royal College of Art, London
12 April Queen Mary, University of London.