I suspect that my opinion of Damien Hirst is fairly common: i like his work/i don't like his work. I find the guy likeable and then i don't. I did however, enjoy visiting the two exhibitions that presented a small selection of his private collection Murderme. I saw a part of it 6 years ago at the Serpentine Gallery in London. The show was called In the Darkest Hour There May Be Light. A skeleton dressed like an Inuit was lying on an ice cube and Sarah Lucas had her Chicken Knickers on. The collection is having another outing right now but in Turin, at the Pinacoteca Giovanni e Marella Agnelli. The title of the show this time is Freedom Not Genius. The artists shown are roughly the same (the artworks aren't): Francis Bacon and Andy Warhol; Richard Prince and his nurses; many of Hirst's YBA friends; a couple of Banksy. But also artefacts i don't remember having seen in London: taxidermied exotic animals, 17th-century vanitas paintings, vintage photographs and old skulls.
There were a few works i didn't care about (mostly the ones by Jeff Koons), a couple that surprised me (and that includes one by Jeff Koons) and many more i found rather uplifting. The Murderme collection is pure entertainment. Death is made dramatic and sometimes even cheerful. The artists have names most people have heard about. I found the exhibition curious and fascinating, it's that contemporary art world I find seductive but also utterly alien to me.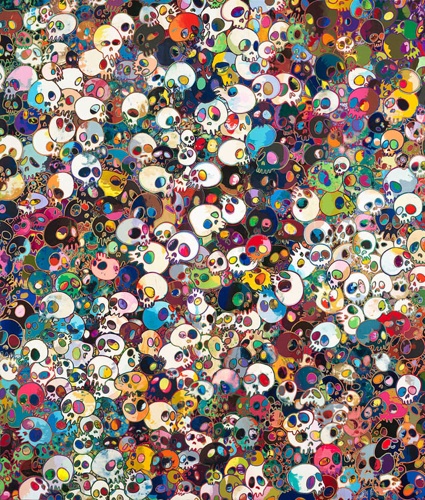 Takashi Murakami, There are Little People Inside Me, 2010
One of the rooms was dedicated to various memento mori with skulls from past centuries, a Picasso's Nature morte au crane et au pot, skulls adorned with a variety of materials, a Murakami (obviously my favourite), the skeletons of Tweety And Sylvester, etc.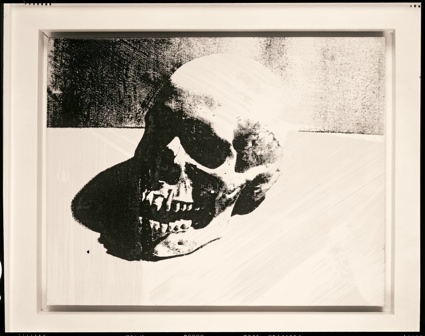 Andy Warhol, Skull, 1976. Image credit © The Andy Warhol Foundation for the Visual Arts / ARS, New York / DACS, London 2012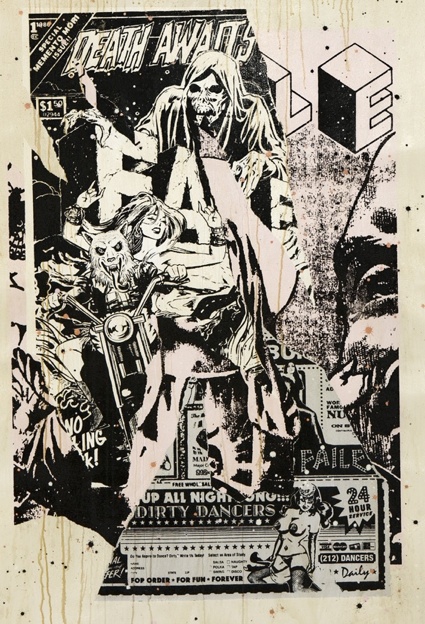 Faile, Death Awaits Damien Hirst, 2008. Image credit Copyright the artist / Courtesy Lazarides Gallery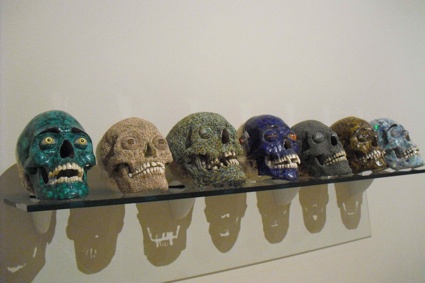 Skulls by Steven Gregory. Image artribune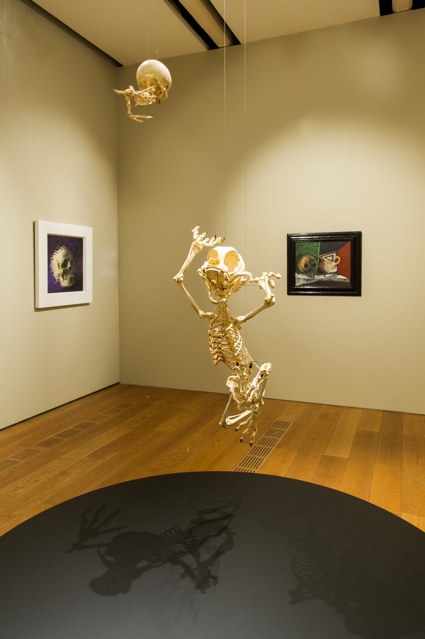 Hyungkoo Lee, Felis Animatus & Leiothrix Lutea Animatus, 2009
Michael Joo, Stripped (Instinctual), 2005. Image credit Copyright at the Artist, courtesy BLAIN|SOUTHERN. Photo credit: Tom Powel Imaging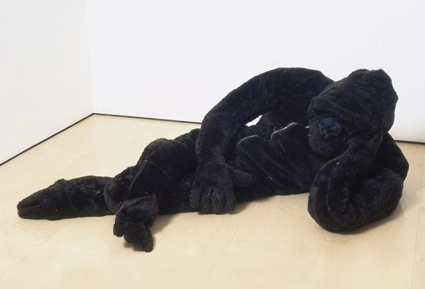 Angus Fairhurst, A Cheap and III- Fitting Gorilla Suit, 1996. Image credit © The Estate of Angus Fairhurst, courtesy Sadie Coles HQ, London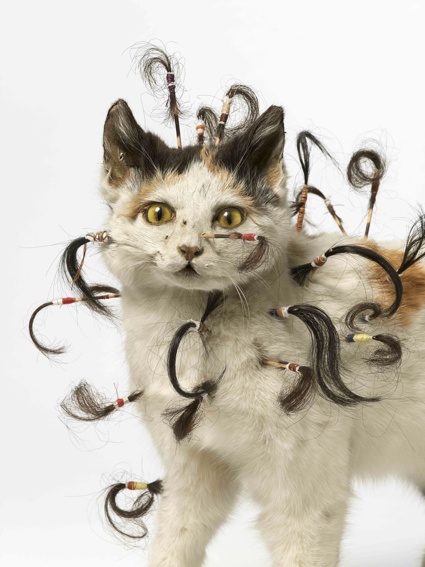 Colin Lowe, You Will Never Forget Me, 2007. Copyright the artist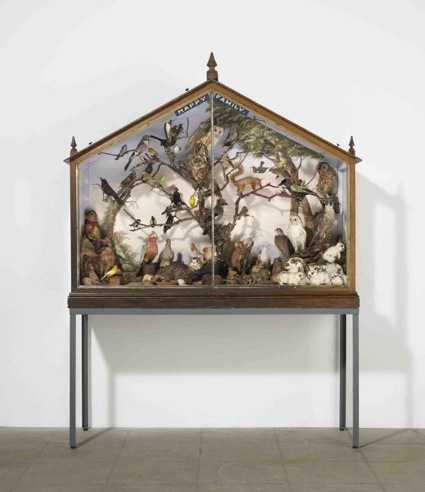 Walter Potter, The Happy Family, date unknown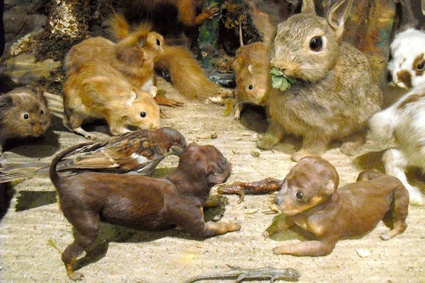 Walter Potter, The Happy Family (detail), date unknown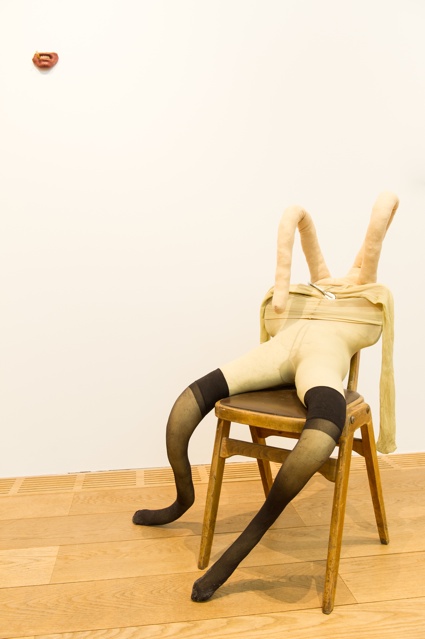 Sarah Lucas, Bunny, 1997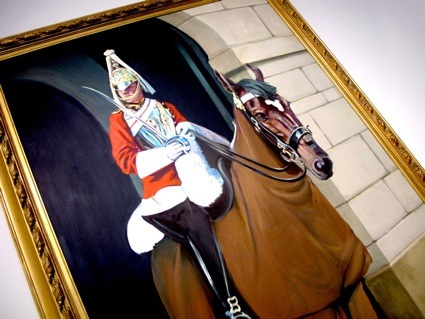 Banksy, Modified Oil Painting #24, 2005. Photo Marta Galli for Purple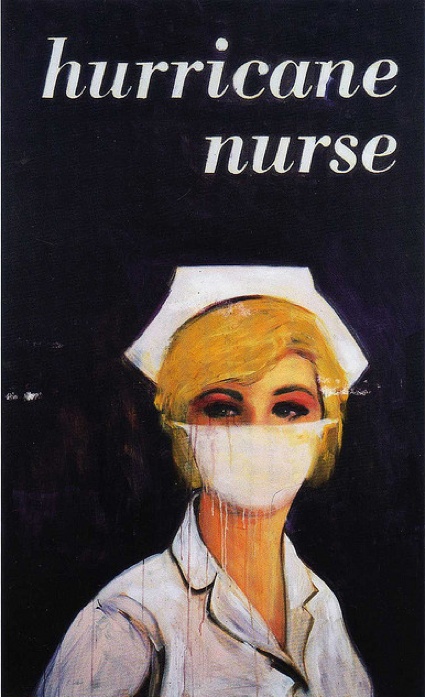 Richard Prince, Hurricane Nurse, 2001
Collishaw's The Garden of Unearthly Delights was probably the most photographed (or rather videoed) work in the show. The zoetrope was illuminated by stroboscopic lighting, giving the illusion that the figures were animated and that little children were gleefully throwing rocks at butterflies, crushing snails and bashing fish.
Mat Collishaw, The Garden of Unearthly Delights, 2009. Video by Dariusz Sebastian Burdon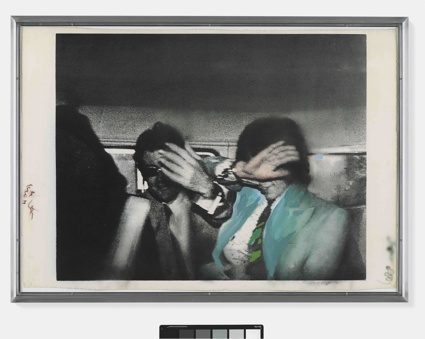 Richard Hamilton, Release – trial, 1971. Image credit © Richard Hamilton by SIAE 2012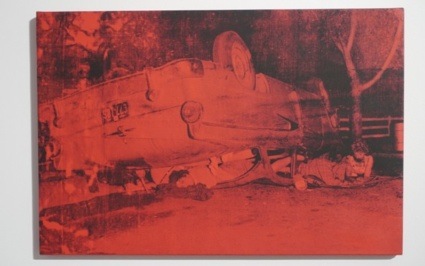 Andy Warhol, Car Crash. Photo Arte Sky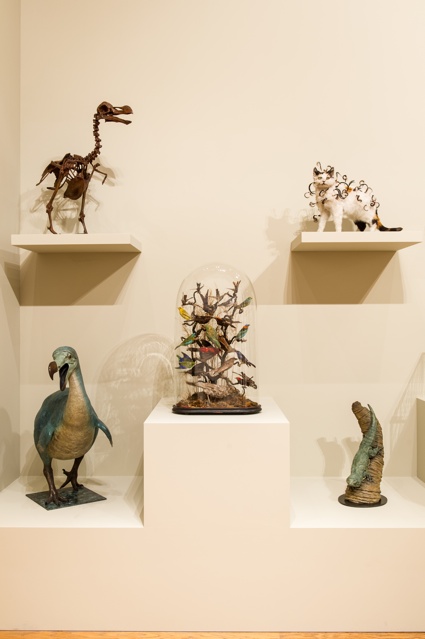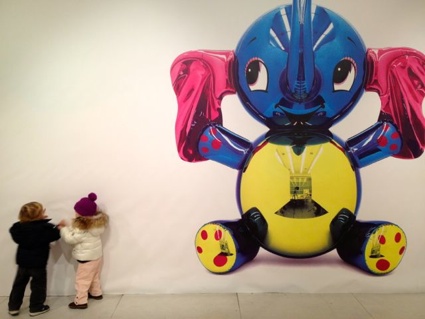 Jeff Koons, Elephant, 2003. Photo olianoolamoda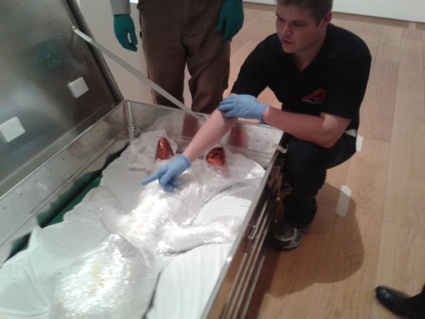 Jeff Koons's Titi being unwrapped upon arrival at Pinacoteca Giovanni Agnelli. Photo Pinacoteca Giovanni Agnell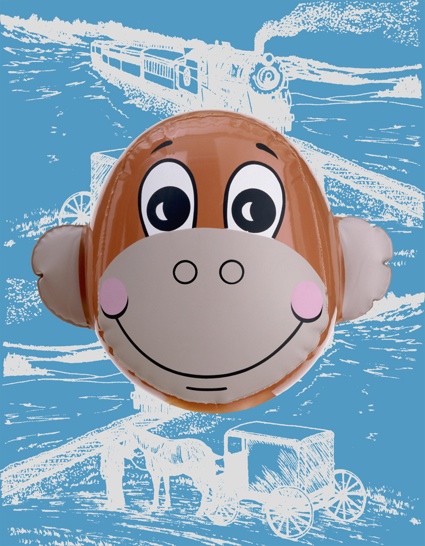 Jeff Koons, Monkey Train (Blue), 2007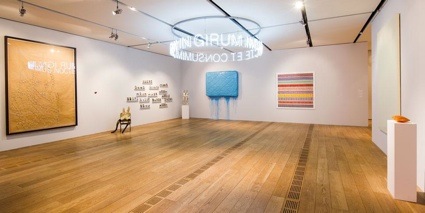 View of the exhibition space. Photo Pinacoteca Giovanni e Marella Agnelli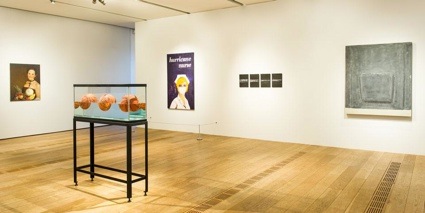 View of the exhibition space. Photo Pinacoteca Giovanni e Marella Agnelli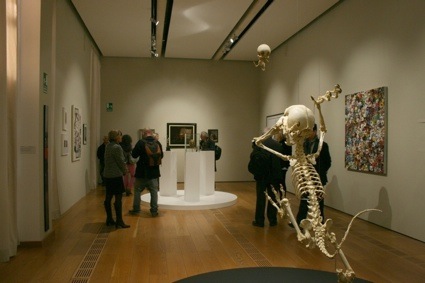 View of the exhibition space. Image Grazia
Freedom Not Genius remains open at the Pinacoteca Giovanni e Marella Agnelli in Turin until 10 March 2013.