If ice skating's not your thing, check out Somerset House's ongoing exhibition about London's Forgotten Spaces and the way to reclaim them. The projects can be found in some of Somerset House's own forgotten spaces: damp lightwells, coalholes as well as hidden passages known as the Deadhouse. The whole itinerary is so labyrinthic and dusky, it sometimes feels like a treasure hunt.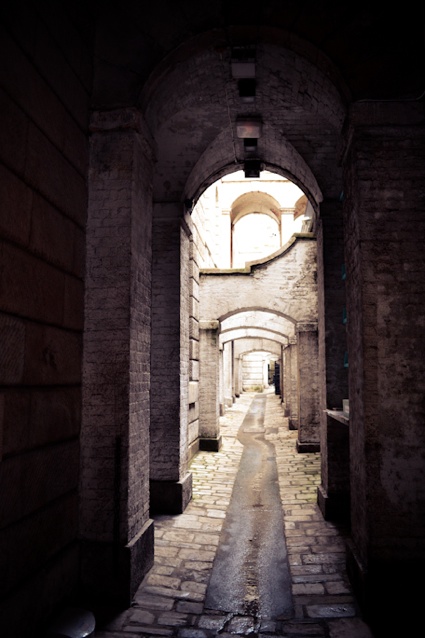 Photo Yin&Yang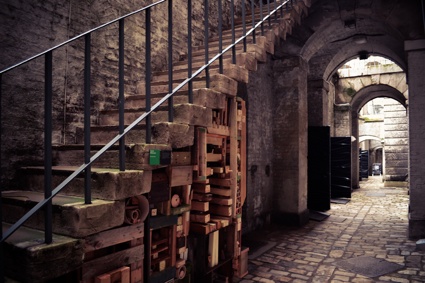 Photo Yin&Yang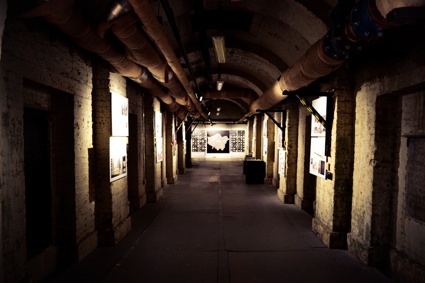 Photo Yin&Yang
Forgotten Spaces shows 28 projects shortlisted for a competition launched in Spring by the Royal Institute of British Architects (RIBA.) The call invited architects, engineers, students and designers to submit proposals that reclaim overlooked spaces across Greater London. Inspired by success stories such as New York's High Line or Rotterdam's De Hofbogen, the competition aims to demonstrate how alternative way of thinking about urban space can inject new life and energy into some of London's most neglected corners.
The selected entries range from underground climbing tunnels to Atlantic salmons in the Thames, firepits in Crystal Palace, bee keeping, rooftops of tower blocks turned into social hubs and artist studios nested inside church spires.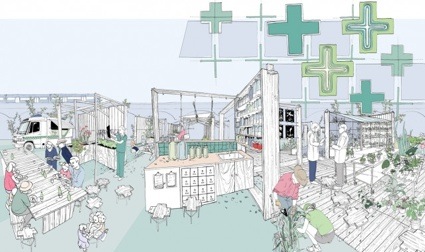 Wayward Plants, Urban Physic Garden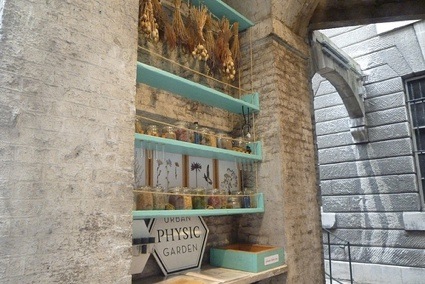 Wayward Plants, Urban Physic Garden
Urban Physic Garden by Wayward Plants transforms a forgotten yard on the King's College and Guy's Hospital Campus into public garden where medicinal plants and healing herbs are grown for the public.
During the Summer, Wayward Plants put the Urban Physic Garden into practice, transforming a derelict site on Union Street SE1.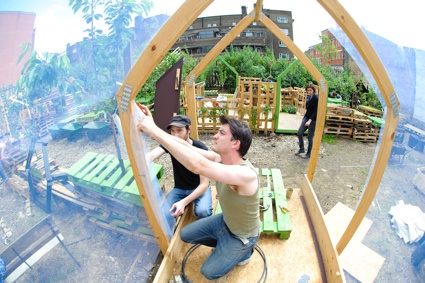 The Union Street Urban Orchard, Photo credit: Mike Massaro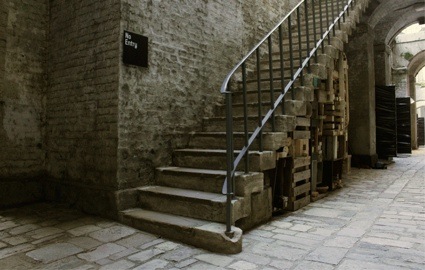 Denizen Works, City Bee-House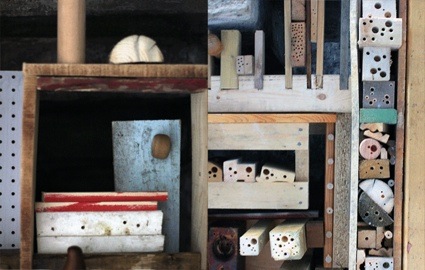 Denizen Works, City Bee-House
Half way between street art intervention and community service, Denizen Works's proposal would give members of the public a set of simple instructions that they could follow to install accommodation for the declining bee population. The little bee houses would nest in unused gaps of land between buildings and boundary walls in central London.


Studio Dare, Bee Project
Studiodare's Bee Project is more ambitious. The architects propose to combine urban park, 'agroforest' and bee-keeping aviary to highlight our dependency on bees and the delicate nature of our ecosystem.
Bee Project can be enjoyed as a park for recreational purposes, an educational facility for school children and the unemployed, an activity for pensioners or a business for community organisations. Furthermore, the project offers the potential to create an economic market for the exchange of fruits, jams or honey on a 'farmers' market.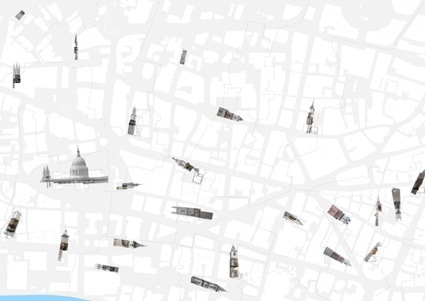 Alex Scott-Whitby (Studio AR), (IN)SPires
The winning entry, (IN)SPires by Alex Scott-Whitby from Studio AR, proposes to strike a deal with the Diocese of London to turn 38 of the 51 of the disused belfry's of the City of London's church spires into low-cost studios for creative people. The architect is apparently already residing at the top of the Church of St Mary Woolnoth above Bank station.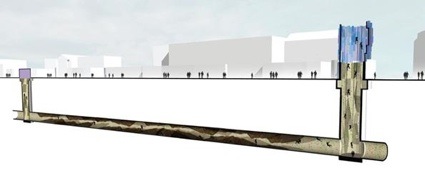 Steve McCoy, The Urban Climbing Wall
Second Prize went to Steve McCoy's Urban Climbing Wall that would turn the tunnels and vertical shafts of a disused air raid shelter situated under Clapham High Street into climbing, abseiling and potholing centre for children and thrill seekers.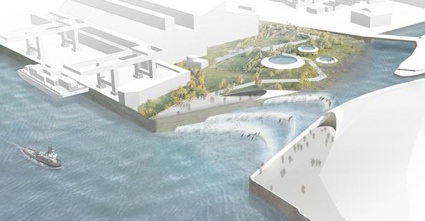 Area Landscape Architects, The Wandle Leap
Area Landscape Architects's proposal suggests to reintroduce the Atlantic Salmon in the Wandle. At the mouth of this river sits a largely unknown wasteland. A sweeping fish ladder spanning the mouth of the Wandle will provide the Salmon access from the Thames to the breeding grounds in the upper reaches. A salmon hatchery will be set in a mosaic of riparian habitats, including marsh and wet woodland – a parkland reclaimed from adjacent post-industrial wasteground.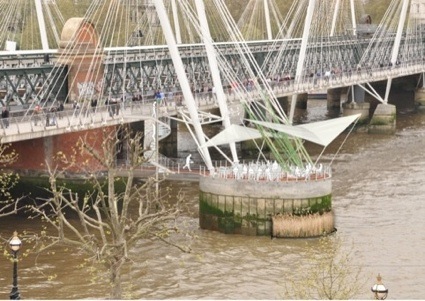 Aurelie Pot, Brunel's Café
Aurelie Pot had a simple and charming idea: hosting a Brunel's Café on the platforms underneath the South pillar of the Hungerford and Golden Jubilee Bridges.
More images from the exhibition: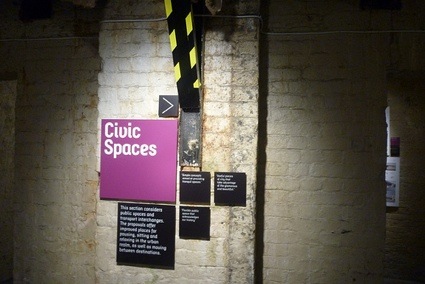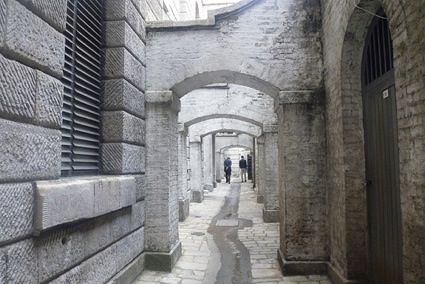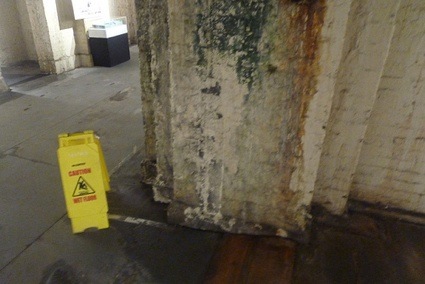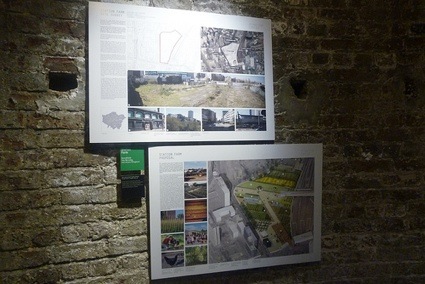 Forgotten Spaces is open until January, 29, 2012 at Somerset House. Free Admission.
Image on the homepage: The Firepits, Crystal Palace.